OAK HARBOR, Ohio — Calling warnings of the Davis-Besse nuclear power plant's premature closure "real" and the need for a bailout "urgent," FirstEnergy Corp.'s top nuclear official left little doubt Friday that Ottawa County's largest employer is in trouble.
Sam Belcher, FirstEnergy's chief nuclear officer, said the utility's other nuclear plants — the Perry nuclear plant east of Cleveland and the twin-reactor Beaver Valley complex northwest of Pittsburgh — are likewise in danger of premature closing by the summer of 2018 unless a buyer emerges or the utility gets help from legislators in Ohio and Pennsylvania.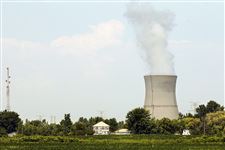 The Davis-Besse Nuclear Power Station in Oak Harbor, Ohio, has taken a hit from fracking.
THE BLADE
Enlarge | Buy This Image
He also cited FirstEnergy's coal-fired power plants, including its massive Sammis plant in southern Ohio and its Bruce Mansfield plant, which is also northwest of Pittsburgh. The Beaver Valley and Bruce Mansfield plants are both near Shippingport, Pa.
The plants are in dire straits because of how fracking has disrupted energy markets.
Coal and nuclear power generators are having trouble competing nationally against natural gas and renewable energy, especially after the oil and gas industry developed its game-changing horizontal drilling technique for fracturing, or "fracking," shale a few years ago. That has unlocked vast reserves of previously inaccessible natural gas, dropping its price to record lows.
The hit has been especially hard in Ohio, Pennsylvania, and other states with deregulated electricity markets, where competition is — by design — fiercest.
"Our plants have been losing money. We've continued to operate them at a loss. But, at some point, those economics don't make sense," Mr. Belcher told The Blade during an hourlong telephone interview from his corporate office in Akron.
He discussed reasons why FirstEnergy announced just before Christmas it was going to "exit competitive generation."
"We no longer can be exposed to continually changing market conditions," Mr. Belcher said.
The utility decided in December to give the situation another 18 months to play out.
Now, three months closer to that self-imposed deadline, nothing meaningful has been done to turn around the situation in Ohio and Pennsylvania, Mr. Belcher said.
"The situation is real. It's urgent," Mr. Belcher said. "In the absence of something happening, we're going to have to make some tough decisions."
The easiest solution would be to re-regulate electricity markets. But he said he doesn't expect either state to do that, because it would require them to do away with competition.
FirstEnergy's effort to get guaranteed cash flows over 15 years to ensure the survival of its Ohio coal and nuclear operations through a power-purchase agreement was eventually accepted by the Public Utilities Commission of Ohio — but only after the two sides agreed to shave that window of time by about half, to eight years.
That effort then was subsequently blocked by a challenge by the Federal Energy Regulatory Commission on the grounds that such a plan, decried as a bailout by critics, would be akin to introducing a wild card into energy markets.
"Clearly, the negotiations and discussions we had with PUCO were an attempt to save Davis-Besse and Sammis," Mr. Belcher said. "I make no apologies for that."
FirstEnergy could have fought FERC's challenge harder, but "our situation and timeline doesn't support that," he said.
So now — barring legislation on the federal level — FirstEnergy is studying how New York passed a bill in its state legislature to save the James A. FitzPatrick and Robert Emmett Ginna nuclear plants in upstate New York from premature closings, and how Illinois followed suit with plants in the southern part of that state. It also is tracking bills being considered or expected to be submitted in Connecticut and New Jersey, Mr. Belcher said.
"We're hopeful something like that could be in the cards in Ohio," he said.
No bill sponsor has been identified in Ohio, said Jennifer Young, a FirstEnergy spokesman.
But according to a column written by John Funk of The (Cleveland) Plain Dealer, the utility began shopping around a 13-page document to lawmakers in January, outlining a proposal to increase customers' monthly bills by at least 5 percent in order to raise an extra $300 million a year in perpetuity. The report said the Plain Dealer downloaded a copy before it was removed from the Internet.
Critics such as Dick Munson of the New York-based Environmental Defense Fund claim it is the latest bailout attempt for a corporation that has mismanaged its assets.
Mr. Belcher said the utility is in the early stages of deciding what it would like to propose.
But he acknowledged that, under multiple scenarios, ratepayers could wind up paying a surcharge or extra fee to support continued nuclear operations.
FirstEnergy's message will likely mirror that which has been promoted on Capitol Hill by the Washington-based Nuclear Energy Institute for Congress.
The NEI argues nuclear plants — to give the nation more diversity in fuel sources, thereby strengthening national security — should receive special consideration in energy markets for what it calls their "unique attributes."
That includes the ability of nuclear power to generate electricity around the clock for up to two years at a time, and to release no climate-altering carbon dioxide or other forms of air pollution while in operation.
Nuclear plants operate on 18 to 24-month cycles, depending on the type of uranium used in their reactor cores.
Some emissions occur within the nuclear industry on a cradle-to-grave basis, including the process of mining, milling, and packing uranium into fuel assemblies; spent fuel's transportation and disposal, and production of vast amounts of concrete and steel used to build plants.
But an NEI analysis shows that only solar and hydroelectric power do better in terms of cradle-to-grave emissions, producing 14 and 15 tons of carbon dioxide per gigawatt hour of electricity generated, respectively, to nuclear's 17. The footprints of natural gas and coal are exponentially greater, 622 and 1,041 tons of carbon dioxide per gigawatt hour of electricity generated, according to the NEI study.
Contact Tom Henry at: thenry@theblade.com, 419-724-6079, or via Twitter @ecowriterohio.
Guidelines: Please keep your comments smart and civil. Don't attack other readers personally, and keep your language decent. Comments that violate these standards, or our privacy statement or visitor's agreement, are subject to being removed and commenters are subject to being banned. To post comments, you must be a registered user on toledoblade.com. To find out more, please visit the FAQ.