Thidapa Suwannapura poses with the trophy after winning the LPGA Marathon Classic at Highland Meadows in Sylvania.
BLADE/KURT STEISS
Sunday, July 15
Suwannapura wins Marathon Classic in playoff
All that stood between Brittany Lincicome and her ninth career LPGA Tour victory was a birdie on one of the final two holes at the Marathon Classic.
The par-5 Nos. 17 and 18 at Highland Meadows played as the easiest holes on the golf course for the tournament. The long-hitting Lincicome, affectionately known as "Bam Bam" by fellow tour players for her booming drives, seemed like such a shoo-in that Sylvania mayor Craig Stough could have gotten the street sign ready.
But Lincicome had to rally for a par on No. 17, then had a birdie putt on No. 18, which would have won the tournament, travel the circumference of the hole without dropping in.
Thailand's Thidapa Suwannapura, who polished off a scintillating 6-under-par 65 more than an hour before Lincicome finished, awaited in a playoff. And she wouldn't let the opportunity for her first career win pass by.
VIDEO: Thidapa Suwannapura and Brittany Lincicome
PHOTO GALLERY: Marathon Classic, Day 4
Henderson stays positive despite falling short
Sunday was just one of those dreaded days for Brooke Henderson in the final round of the Marathon Classic at Highland Meadows Golf Club.
After sharing the lead through two rounds and leading all by herself after three, the 20-year-old Canadian and six-time LPGA Tour winner found herself in position to claim the title.
But a late collapse on the back nine left her one stroke shy of a three-way playoff with eventual winner Thidapa Suwannapura and Brittany Lincicome after shooting a 2-under-par 69 in the fourth round for a 13-under 271 total.
VIDEO: Brooke Henderson
Austin Ernst heats up to finish 4th
Austin Ernst loves playing in the heat at Highland Meadows Golf Club every July, and the Florida resident felt at home in the sticky conditions Sunday at the Marathon Classic.
As the afternoon temperatures heated up, so did Ernst's game. Ernst carded birdies on three consecutive holes, Nos. 6-8, before adding three more birdies on Nos. 11, 12, and 14.
Ernst shot a 5-under-par 66 in the final round to cap a solid four-day performance in the heat in Sylvania. Ernst, who started the day tied for 16th place, finished at 12-under 272 to finish in fourth.
VIDEO: Austin Ernst
Chip shots: Lewis finishes strong, and don't touch that ball
There was no shortage of drama during Sunday's final round of the Marathon Classic. A playoff. Brittany Lincicome and Brooke Henderson not making birdie on Nos. 17 or 18, the two easiest holes during the tournament. Thidapa Suwannapura shooting a 6-under-par 65 and coming from three shots behind to win. The only bummer came for the TV crowd, which used a split screen as the Golf Channel also was live at a Champions Tour event.
VIDEO: Stacy Lewis
Briggs: Marathon Classic gets a worthy winner in Suwannapura
If the Marathon Classic wanted a big-name tournament winner, I'm not sure it had eight syllables in mind.
But just the same, Thidapa Suwannapura was a worthy champion Sunday.
To say one star's misery was the anonymous 25-year-old Thai's joy is not entirely right.
Suwannapura deserved every bit of her stunning, life-changing first victory on the LPGA Tour.
Scores and schedule, Marathon Classic
Brooke Henderson is tied for the lead entering the third round of the Marathon Classic in Sylvania.
BLADE/KURT STEISS
Saturday, July 14
Moving on up: Henderson leads Marathon Classic after wild third round
Welcome to the Marathon Classic presented by U-Haul and Two Men and A Truck.
Moving day at Highland Meadows Golf Club was a busy adventure, with players packing up their belongings, loading up their golf bags, and climbing up the leaderboard.
Brooke Henderson takes a solo lead into Sunday at 11-under-par 202, but she has half the 71-player field chasing her down.
VIDEO: Daniela Darquea
PHOTO GALLERY: Marathon Classic, Day 3
NCAA champion Jennifer Kupcho in contention
Amateur Jennifer Kupcho continues to prove she belongs among the game's best golfers this weekend at the Marathon Classic.
In May, Kupcho became the top player in the college game when she won the NCAA women's individual title at Wake Forest University.
Now, the 21-year-old from Westminster, Colo., has worked her way to the upper echelon of the leaderboard at Highland Meadows Golf Club.
VIDEO: Jennifer Kupcho
Marathon Classic could come down to dramatic 18th hole
Construction on a new 18th hole at Highland Meadows Golf Club began immediately after the 2016 Marathon Classic.
The green was shifted some 100 yards to the south and lengthened to as long as 541 yards, part of a $665,000 project, which included an expanded driving range, moving and rebuilding the ninth tee and green and the 10th tee, and constructing a new practice putting green near the clubhouse.
VIDEO: IK Kim
Briggs: Alison Emrey walks alone at Marathon Classic
For some golfers, signing up for a solo round is enough to bring on night terrors.
There is the paranoia of being paired by the starter with the motormouth who takes nine practice swings before every shot he skulls onto the fairway ... of the course across the street. The danger of being stuck behind a stubborn third-base coach (no wave-throughs). The fear of nobody being there to witness all of your holes-in-one.
VIDEO: Allison Emrey
Chip shots: Perry shines, Green left blue, and #ThailandStrong
If you can't shoot in the 60s, Highland Meadows Golf Club wasn't the place for you Saturday. Birdie putts were falling everywhere you looked and scores of 69, 68, 67, 66, and 65 were as plentiful as humidity. But when all the numbers were added up, Brooke Henderson, who started the day as a co-leader, still was in front. She carries the solo one-shot lead into Sunday's final round, trying to fend off an abundance of talent.
VIDEO: Angela Stanford
Scores and schedule, Marathon Classic
Three Groups to watch Saturday
Caroline Hedwall chips out of the bunker near the hole No. 17 green during the first round of the LPGA Marathon Classic at Highland Meadows Golf Club in Sylvania.

BLADE/KURT STEISS
Friday, July 13
Henderson, Hedwall enter weekend tied for lead
There was nothing scary about Friday the 13th for Brooke Henderson.
Not a greenside bunker on the par-5 No. 18. And certainly not the ensuing 5-foot birdie putt.
Henderson sank it, finishing birdie-birdie to grab a share of the lead as the Marathon Classic heads to the weekend. She and Caroline Hedwall are at 9-under-par 133, one shot ahead of first-round leader Thidapa Suwannapura and two clear of Emma Talley, Jacqui Concolino, and In Gee Chun.
VIDEO: Caroline Hedwall
PHOTO GALLERY: Marathon Classic, Day 2
LPGA rookie Talley building in impressive amateur career
LPGA rookie Emma Talley is on a select list of female golfers to win the U.S. Women's Amateur and the NCAA individual championship.
"It's crazy the names that I'm among on that," Talley said. "It's a blessing, and hopefully I can win a major, and then I'll be the only one, I think. It's a good challenge, I think, and it was just two great tournaments I happened to play well at."
VIDEO: Emma Talley
Chip shots: A hole-in-one, local talents, and a Woods on the prowl
Warm, dry, and breezy conditions weren't the easiest during Friday's second round. Nine-under-par is leading at the halfway point, but it doesn't feel like Highland Meadows Golf Club is a birdiefest. Far from it. Only one player inside the top 10 shot as low as 66 — co-leader Brooke Henderson. Moving day will be especially important if predictions of showers come Sunday morning. If the world's best go low in the final round, being within striking distance will be paramount.
VIDEO: Lizzie Win
Briggs: Magic in golf is fleeting
As any weekend golfer knows, some days you're the birdie, some days you're my cracked bay window. (Winner by split decision: the window.)
It's why most of us at Highland Meadows surely can relate with the yo-yoing last week of Sei Young Kim.
One week, you produce the greatest four rounds of golf played.
The next, you're merely world class, shooting only 1-under-par.
VIDEO: Brittany Lincicome
Thursday, July 12
Suwannapura grabs Marathon Classic lead
The scorecard of Thidapa Suwannapura resembled a children's coloring book.
It was an assortment of shapes and colors — circles, squares, and red and black all over.
The Thailand native shot a 6-under-par 65 on Thursday, carding 10 birdies, four bogeys, and just four pars. She has sole possession of the lead after the first round of the Marathon Classic, leading a seven-player pack by one stroke.
Briggs: Mom-to-be Stacy Lewis the perfect ambassador for LPGA
On the first day of the last tournament of her season, the weary mom-to-be looked brightly to the future.
Yep, all the way to ... Sunday.
"I want to give myself a chance to win this thing," Stacy Lewis said after firing a 3-under 68 on Thursday at the Marathon Classic.
The players have changed, but the voices have not
In the past 34 years, plenty has changed about the Toledo LPGA tournament — with the exception of a pair of voices on the tee boxes.
The tournament that began as the Jamie Farr Toledo Classic is now the Marathon Classic.
The women who played the first few installations in the mid-1980s are long since gone from the tour, and in some cases, they have children who now are professionals.
Chip Shots: Notes and observations from the Marathon Classic
Scoring conditions were perfect Thursday at Highland Meadows Golf Club, with 44 golfers shooting under par. They're all chasing Thailand's Thidapa Suwannapura, who bested all 144 players with a 6-under-par 65. She's only made one cut in three appearances in the Marathon Classic, finishing tied for 45th last year.
VIDEO: LPGA player Celine Boutier on No. 18 at Highland Meadows
Pro Maddie McCrary practices putting during practice ahead of the LPGA Marathon Classic at Highland Meadows Golf Club in Sylvania on Tuesday, July 10, 2018.

THE BLADE/KURT STEISS
Wednesday, July 11
Known by one name, Lexi is LPGA Tour's Tiger
Bronson Burgoon, a relative unknown on the PGA Tour, recently said after playing a tournament round with Tiger Woods that he'd never seen anything like it.
"I've played with Jordan [Spieth] and Rickie [Fowler]," Burgoon said. "They bring a crowd, but nothing [like Tiger]. I mean, that's a sea of people. Unbelievable."
It's a similar scene on the LPGA Tour when Lexi Thompson is in the field. It's a tournament director's dream to secure her commitment, doubling as a guaranteed crowd pleaser.
Lincicome ready for PGA Tour debut after Marathon Classic
The LPGA Tour has five major championships.
Brittany Lincicome's 2018 season will feature six.
The eight-time tour winner and two-time major champion will become just the fifth woman to play in a PGA Tour event when she tees it up in the Barbasol Championship in Kentucky next week.
VIDEO: Brittany Lincicome
Now in the field, St. Ursula grads hope to make the cut
In the first round of the LGPA Marathon Classic on Thursday, two St. Ursula Academy graduates will be in the field as Pinya Pipatjarasgit and Lizzie Win both received sponsor exemptions to be part of the field.
Pipatjarasgit graduated from St. Ursula earlier this year, while Win will be a junior at Seton Hall in the fall. Win said Wednesday that the pair is going into the tournament with hopes to last until the weekend.
VIDEO: Pinya Pipatjarasgit on inclusion in Marathon Classic field
Marathon Classic is 'small world' for Jillian Hollis
Some 26 years ago, when the LPGA tournament in Toledo was still in its early stages, tournament director Judd Silverman offered a sponsor exemption to a golfer who helped Ohio State win the Big Ten championship in 1988.
When Jillian Hollis, a native of Rocky River, Ohio, showed up as sponsor exemption in 2014, Silverman crossed paths with Hollis' mother and felt as if he had stepped into a time machine.
Sharon Minnich, the OSU golfer, was now Sharon Hollis, and without realizing it, Silverman had gone into the second generation by giving a sponsor exemption to Jillian.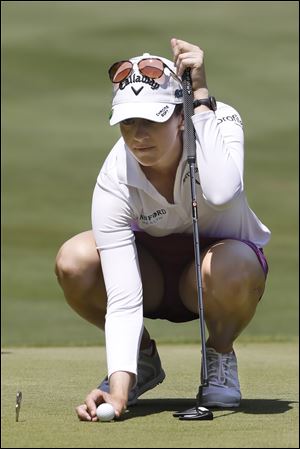 Kim Kaufman lines up her putt Wednesday, July 11, 2018, at Highland Meadows in Sylvania.
THE BLADE/KATIE RAUSCH
Photo gallery: Marathon Classic Pro-Am at Highland Meadows
Tuesday, July 10
David Briggs: Where is everybody at the Marathon Classic?
For a moment, after stealing a final look at the Marathon Classic field, I wasn't sure where I was Tuesday.
Highland Meadows? Or Thistle Weed Muni for the Bingo Bango Bongo Invitational?
Marathon Classic field brings international flair to Toledo area
The LPGA Tour's Marathon Classic will have a field full of international flair when it begins Thursday at Highland Meadows in Sylvania.
The 144 players come from 27 different countries and one United States territory. Most of the players in this year's event come from America, with South Korea next.
Inside the nomadic existence of LPGA Tour equipment reps
Chances are there will be a traffic jam outside Highland Meadows Golf Club this week.
Not cars trying to access Erie Street outside the course's entrance. The commotion will be LPGA Tour players and representatives from equipment companies attempting to get inside the lone tour van at the Marathon Classic.
Daycare allows LPGA Tour moms to concentrate on golf
Major League Baseball players remain on the paternity list for 72 hours.
They go home, experience the birth of their child, and then they're off to faraway cities for the remainder of the season.
When Sydnee Michaels gave birth to her first child in November, she stood on the sideline for a few months. In March, she returned inside the ropes — and she brought her daughter, Isla, with her.
ESPN's Hannah Storm delivers keynote speech in Toledo
The tables were turned on ESPN's Hannah Storm this week, as the longtime sports and news anchor visited Toledo for the Marathon Classic Women's Summit.
Instead of asking the questions, she answered them — first from media during an exclusive interview time, then with more than 400 local businesswomen who attended Tuesday's summit. Ms. Storm, who delivered a keynote speech early Tuesday afternoon, spoke to the attendees about her own personal journey.
Something very fishy about this water hazard
To the members who play this track on a regular basis, it sometimes is a dastardly troll that gobbles up pricey Callaway or Titleist golf balls that failed to hold the fairway, then refuses to give them back.
To the pros that will trek the 18-hole layout at Highland Meadows this week competing in the Marathon Classic, Ten Mile Creek is a water hazard, and a rather meek one because it rarely comes into play when the world's best women attack the course.
Lexi Thompson: Marathon Classic is 'one of our best tournaments'
Even during a long, grueling stretch of the LPGA Tour schedule, Lexi Thompson had the Marathon Classic circled as a must-play tournament.
Thompson, the top-ranked American player at No. 5, is searching for her first win of the 2018 season, but she has five top-10 finishes this year and a history of playing well at Highland Meadows Golf Club.
In-Kyung Kim holds the trophy after winning the Marathon Classic golf tournament at Highland Meadows Golf Club in Sylvania in 2017. She's back for the tournament this year, along with 12 of the world's top 50 players.
BLADE/LORI KING
Monday, July 9
Two St. Ursula grads get into Marathon Classic
The Marathon Classic's Monday qualifier at Sylvania Country Club had a decidedly local flavor.
In the field of 36 women were three former St. Ursula Academy teammates. None of the three qualified — Lizzie Win shot 75, Pinya Pipatjarasgit shot 76, and Lily Rinker shot 80. The best news of the day for Win and Pipatjarasgit came as the sun was setting. Tournament director Judd Silverman awarded two sponsor's exemptions to the duo.
"It's a real testament to our coach [Jim McGowan] and how great of a coach he was for us," Pipatjarasgit said. "I thank him for everything that he's done. I really do believe that a lot of my success is attributed to him and his guidance." FULL STORY
Skapik authors storybook tale in Monday qualifier
In his final days on Earth, Albert Powell told his granddaughter to play on.
Sensing the end was near, his message to Molly Skapik was simple: Play in the Marathon Classic Monday qualifier and shoot your way into the tournament.
Powell passed away July 4. Playing with a heavy heart, Skapik tamed Sylvania Country Club with a 2-under-par 69 on Monday to earn medalist honors and qualify for this week's LPGA tournament. FULL STORY
What to know if you're headed to the LPGA Marathon Classic
Fan guide includes ticket info, parking, a schedule, and more. CLICK HERE TO SEE GUIDE
Sunday, July 8
Host families greet golfers at Marathon Classic
Working for the weekend is the objective in professional golf.
Alena Sharp and Kelly Shon didn't pass that test last week at the LPGA Tour's stop in Green Bay, Wis., which is why they were among the handful of players milling around Highland Meadows Golf Club on Sunday.
Sure, they wanted to make the cut. But spending the weekend in northwest Ohio wasn't a bad alternative. A hallmark of the Marathon Classic is the lasting relationship players develop with host families. Both Sharp and Shon arrived in Sylvania to open arms. FULL STORY
VIDEO: Blade reporter Jimmy Miller previews the 2018 Marathon Classic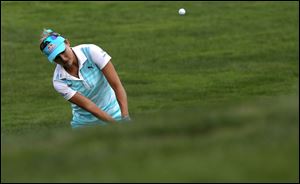 Lexi Thompson chips onto the No. 9 green from the bottom of the hill during final round of the Marathon Classic at Highland Meadows Golf Club in Sylvania in 2017.
BLADE
Fore! Pack: Our picks for the Marathon Classic
Another star-studded field will converge on Sylvania this week at Highland Meadows Golf Club.
The best women's golfers in the world mark their calendars every year for the Marathon Classic. It doesn't matter if it's the week after the U.S. Open or if a trip to Scotland for the British Open is in the offing, Highland Meadows is filled with great players. FULL STORY
I.K. Kim paints a picture of success
I.K. Kim is seven-time LPGA Tour winner and the reigning women's British Open champion. Despite all of her success and a top-10 world ranking, the images of a missed 14-inch putt at the 2012 Kraft Nabisco Championship remain synonymous with her career.
It's the shortest putt anyone's ever missed in the history of golf to win a major championship. The distance was so inconsequential that a weekend golfer would never even consider tapping it in. Yet Kim missed it and lost in the ensuing playoff, authoring one of golf's most brutal defeats.
Six years later, she's doing her best to change that narrative. The South Korea native has four wins dating to October, 2016, including last year's Women's British Open, putting to rest the what-ifs about squandering her major opportunity. One of those wins also occurred at the Marathon Classic, where Kim shot a Sunday 63 to blitz the field and win by four strokes. FULL STORY
VIDEO: 2017 Marathon Classic champ I.K. Kim
Former St. Ursula teammates looking forward to Marathon Classic qualifier
Lily Rinker remembers Lizzie Win and Pinya Pipatjarasgit taking pictures of her asleep — mouth open and all — and posting them on Snapchat during car rides to high school golf tournaments.
"They always made fun of me because I could fall asleep anywhere," Rinker said. FULL STORY
VIDEO: Three St. Ursula grads in field for Marathon Classic qualifier
Libbey sponsors Marathon Classic trophy
Each year on the 18th green at Highland Meadows Golf Club, the winner of the Marathon Classic is presented with a glass vase provided by Libbey, a unique local touch for a tournament that thrives on community support.
The 2018 champion will receive the same prize — and a $240,000 check. FULL STORY
Fans await the threesome of Beatriz Recari, Paula Creamer, and Alison Walshe as the golfers walk to the green on hole No. 2 during the Marathon Classic in 2013. Support for the tour has grown over the past decade.
BLADE
Support for LPGA Tour has grown since Toledo meeting
A mixture of stunning incompetence by former commissioner Carolyn Bivens and a crippling recession nearly doomed the LPGA Tour in 2010.
A coup d'etat of sorts took form in Toledo on July 2, 2009, when a dozen of the tour's top players met in a private second-floor dining room at Mancy's and plotted a mutiny to save the best women's golf tour in the world.
Bivens resigned 11 days later, Mike Whan was named the commissioner in October, 2009, and the tour has flourished in the subsequent nine years. FULL STORY
David Briggs chats with LPGA commissioner Mike Whan
An oldie but goodie, the Marathon Classic will tee off for the 33rd time this week at Highland Meadows.
It just keeps getting bigger and better.
And better and better.
Where can greater Toledo's annual gathering of the best women's golfers on the planet go from here? FULL STORY
Is it the shoes? For pro golfers, the choice is crucial
One of golf's sacred rules is players can only use 14 clubs.
But for professionals, a 15th club on their feet can be as important as a putter or an extra wedge: golf shoes.
While weekend hackers nationwide simply drive to their local sporting goods store, try on the newest pair of Nikes, FootJoys, or New Balances and head to the cash register, professionals go through rigorous testing and research before they pick their footwear. FULL STORY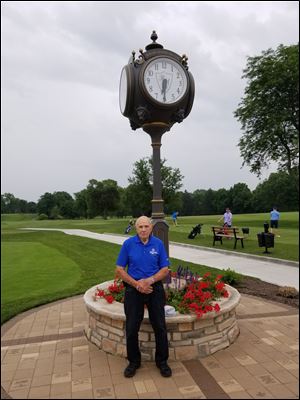 Roy Rozell
90-year-old Roy Rozell still enjoys volunteering
Every July for the last 32 years, Roy Rozell has risen in the predawn hours to drive from his farm in Montpelier to hang out with the best female golfers in the world in Sylvania.
Rozell first volunteered his services at the LPGA's stop in Toledo in 1984. Now 90 years old, Rozell shows no signs of stopping. He will once again serve as an area hole captain at the Marathon Classic at Highland Meadows Golf Club. FULL STORY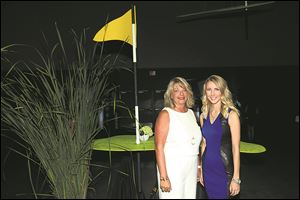 Carol Gibbs, left, and Taylor Gibbs.
THE BLADE
For young volunteer, Marathon Classic all about connections
For Sylvania resident Taylor Gibbs, volunteering at the Marathon Classic each year has become a very important part of her life.
Each summer, she is able to reconnect with other volunteers who she says have grown to become almost another family. FULL STORY
Marathon Classic Look Back: 2008
Paula Creamer shot a 2-over-par 73 in the final round at Highland Meadows but hung on to win the 2008 Jamie Farr Owens Corning Classic thanks in part to a record start. FULL STORY
Marathon Classic Look Back: 1998
South Korean Se Ri Pak tamed Highland Meadows at the 1998 Jamie Farr Kroger Classic, shooting a 23-under-par 261 to win by nine strokes over runner-up Lisa Hackney. Pak's score remains the lowest 72-hole total in the history of the LPGA event. FULL STORY
Marathon Classic Look Back: 1988
Nancy Lopez led most of the four days of the 1988 Jamie Farr Classic, but a costly bogey on No. 11 along with a birdie by rookie Laura Davies took Lopez out of the top spot and the 24-year-old Davies held on for the victory, earning $41,250 for her efforts. FULL STORY
Katelyn Dambaugh works on the driving range at Highland Meadows Golf Club in Sylvania on July 8, 2018.
BLADE/JETTA FRASER
Friday, July 6
Lots of winners — again — in LPGA ahead of Marathon Classic
The LPGA Tour season is more than halfway done. The golf circuit, currently in Wisconsin for the Thornberry Creek LPGA Classic, is in the midst of its 19th tournament.
On Sunday evening and throughout Monday, the field for the Marathon Classic will arrive at Highland Meadows Golf Club. FULL STORY
Creamer's course record proves again pros are better than Joes
Sixty.
It's one of golf's hallowed numbers. Not quite 59, 60 remains a round number that elicits wide eyes when it's seen on a leaderboard.
In 2008, Paula Creamer arrived at the then-Jamie Farr Owens Corning Classic as one of the best women's golfers in the world — she had already won twice that season — and arguably the biggest name in American women's golf. FULL STORY