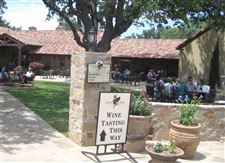 The Fredericksburg area is the second most-visited wine destination in the country.
Donna Kelly Enlarge
FREDERICKSBURG, Texas -- It may be deep in the heart of the Lone Star State, but this tiny town clings tightly to its German heritage, both out of pride and as part of a shrewd marketing campaign that helps attract more than 1 million visitors a year.
Located 75 miles west of Austin, the town was founded in the mid-1800s by German colonists and named after Prince Frederick of Prussia. To protect the community, a peace treaty was signed with the local Comanche tribe -- and it's still in effect today, one of the only Indian treaties that hasn't been broken.
For many years residents here spoke only German, and it wasn't until World War I that English began taking over. Even today, though, there are "Wilkommen" signs all over town, shopkeepers greet patrons with a hearty "Guten Tag," and the central town square is called the Markplatz. The square is dominated by the city's landmark, an eight-sided building called Vereins Kirche ("society church"), a replica of the original structure built by settlers to serve as a town hall, school, fort, and church. It's now a history museum.
But for all the emphasis on its German roots, modern-day Fredericksburg and the surrounding Hill Country have become much more than a nostalgic trip down Wiener Schnitzel Lane. Here are nine things to know about this delightful area in the heart of south-central Texas.
1. THE PACIFIC
This is the last place on Earth you'd expect to find the National Museum of the Pacific War, but here it is. The only museum in the world dedicated solely to the Pacific theater of World War II, it's a world-class attraction for both casual tourists and hard-core history buffs.
Originally focused on Fredericksburg native son Chester Nimitz, who commanded the Pacific Fleet during WWII, the museum was renamed, expanded, and refocused in recent years to include a wider perspective on the Pacific campaign, from Pearl Harbor to Iwo Jima to Tokyo Bay. Its 45,000 square feet of galleries feature dozens of interactive exhibits as well as an array of Allied and Japanese aircraft, tanks, guns, and other items used in the war.
The George H.W. Bush Gallery contains a Japanese midget sub captured at Pearl Harbor, and a life-size Pacific Combat Zone re-creates a battle scene where live re-enactments are staged monthly. In a secluded outdoor area lies the Japanese Garden of Peace, a gift from the military leaders of Japan presented after the war's conclusion out of respect for Admiral Nimitz.
2. LBJ
For history of a more recent vintage, the LBJ Ranch in nearby Stonewall is a worthwhile stop. The ranch is the site of LBJ's "Texas White House," where he held dozens of barbecues for visiting dignitaries during his presidency in the 1960s.
The place opened for ranger-guided tours a few years ago, following the death of Lady Bird Johnson. The sprawling ranch house totals about 8,000 square feet, but it's chopped up into 28 rooms. Almost every room has a bank of three TV sets to follow the news (there were only three networks back then, remember?), and little phones are attached to tables everywhere.
Lady Bird set up her own bedroom next to LBJ's after she'd had enough of his early morning meetings, which he'd preside over in his pajamas from his bed. And a little laundry room off the kitchen is equipped with washer, dryer, … and a Michelob beer tap.
"I guess you wouldn't mind folding towels if you could have a cold one while you're doing it," said Russ Whitlock, park superintendent.
3. WINERIES
Here's a startling fact: the Fredericksburg area is the second most-visited wine destination in the country -- right behind California's Napa Valley -- according to the online travel site Orbitz.com.
With more than 30 wineries -- places like Becker Vineyards, Perdenales Cellars, and Torre di Pietra Vineyards -- the Hill Country has become the Texas version of Tuscany. Brian Heath, owner of Grape Creek Vineyards, says that customers' tastes have come a long way in recent years.
"It used to be like, 'Shoot, boy, you got any wine that tastes like beer?'" he said. "Now people can tell a cabernet from a port."
4. LUCKENBACH
The most famous little town in Texas is about 10 miles and 100 years removed from Fredericksburg. Immortalized by Waylon Jennings and Willie Nelson in a famous country song, there's virtually nothing in Luckenbach except a cluster of tumbledown wooden shacks that house a dance hall, a blacksmith shop, and a general store/post office/bar.
Underneath a canopy of big oak trees out back, magic is made daily as an ever-changing lineup of guitar pickers and fiddle players croon about love, whiskey, and pickup trucks. Scheduled entertainment includes three-named singers like Robert Earl Keen and Larry Joe Taylor, but on any given night, music might be provided by whoever drops by and plops down to join the "Picker's Circle."
Inside, guitars hang over the bar for anybody's use, and Rick Boss, the weathered guy behind the bar, tells funny stories while serving up endless bottles of Shiner Bock beer. At one point he grabs a harmonica, excuses himself, and heads out back to join a raucous rendition of "Orange Blossom Special."
5. SHOPPING
The town's quirky old buildings house more than 100 storefronts selling jewelry, glassware, Indian artifacts, fashions, musical instruments, and an endless variety of what one place calls "needless necessities."
Probably the tastiest shop in town is Chocolat, where owner Lecia Duke has mastered a centuries-old European technique for creating handmade liquid-center chocolates filled with premium liquor, wine, coffees, and fruit nectar. The liquid is encased in an ultrathin sugar shell so it's not released until you bite down on it.
Among the customers' favorites: chocolates filled with single malt scotch, Kentucky bourbon, Texas wine, and Mexican tequila. Can folks get tipsy by consuming the high-spirited treats?
"Sure, if they eat about 3,000 of them," said Duke with a laugh.
6. EATING
Speaking of eating, more than 70 restaurants serve up something for everyone, from barbecue, Tex-Mex, and chicken-fried steak to high-end, white-tablecloth cuisine at the Cabernet Grill and August E's.
And what would a German town be without German food? There's plenty of schnitzels, dumplings, and sauerbraten -- and German beer -- to be found at Der Lindenbaum, Altdorf Biergarten, and Auslander's.
7. LODGING
There are more than 300 places to stay, from hotels to inns to gastehauses to B&Bs to even a "Bed & Beer" at the Fredericksburg Brewing Company, a brewpub with 14 guest rooms upstairs.
One of the more unusual hotels is the Hangar, an adults-only place with a private airstrip. The rooms have bomber jacket-leather chairs, Army blankets, and retro-looking dial phones, and the lounge is called the Officers Club. The restaurant is a 1940s-style diner.
In keeping with the nostalgic spirit, the hotel even hosts occasional USO dances in its cavernous Pacific Showroom.
8. GREAT GRANITE
Outside of town is the 425-foot-high Enchanted Rock, a pink granite dome that's the second-largest such outcropping in America. A favorite with hikers, rock climbers, campers, and picnickers, it rewards those who make it to the top with stunning vistas of the Texas Hill Country.
Tribal folklore ascribes magical powers to the rock, and if you listen closely as the sun sets, you might hear the spirits of Indian warriors who used to hide out there. Then again, it might be the hikers over the next ridge.
9. FLORA
Nearly half the peaches grown in Texas are from here, with the season running from May through August. A place called Das Peach Haus sells 175 types of jams, jellies, and sauces made with locally grown produce. Try their Roasted Raspberry Chipotle Sauce, the No. 1 specialty condiment sold in Texas.
Not far from there is Wildseed Farms, the biggest working wildflower farm in the nation, with 200 acres of beautiful blossoms. Visitors can pick their own bouquets, stock up on 88 varieties of seeds, plants, and trees, then walk through the butterfly gardens or stop for refreshment at the Brewbonnet Biergarten.
If you go:
For more information, call the Fredericksburg Convention and Visitor Bureau at 888-997-3600 or check online at www.visitfredericksburgtx.com.
Guidelines: Please keep your comments smart and civil. Don't attack other readers personally, and keep your language decent. Comments that violate these standards, or our privacy statement or visitor's agreement, are subject to being removed and commenters are subject to being banned. To post comments, you must be a registered user on toledoblade.com. To find out more, please visit the FAQ.