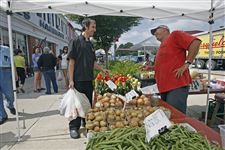 Toledo chef Tony House, left, talks with Andy Keil at his stall for Andy Keil Greenhouse as Mr. House shops at the Perrysburg Farmers Market in August, 2010.
THE BLADE/AMY E. VOIGT
Enlarge | Buy This Image
One month from today, the Perrysburg Farmers Market will reopen for another year of selling foods, plants, crafts, and other local, homegrown items.
As long as the rain held off Monday, Andy Keil planted red beets, carrots, and spinach to be sold at the Perrysburg market.
He owns Andy Keil Greenhouse, which has a booth at the market every week.
"It does very well for me," Mr. Keil said. "It is a big deal. I go to four farmers markets, and I know how much I've sold in the past. I have to do a lot of planning for Perrysburg."
His greenhouse takes hanging baskets, flowers, and plants to the market early in the season before switching to produce. Mr. Keil tries to make the switch from plants to veggies as soon as he can in June because Perrysburg buys more veggies.
"It makes sense. They [shoppers] have the Home Depot, Meijer, and places to get plants," he said. "Those places also sell veggies, but not the fresh veggies we have."
The Perrysburg Farmers Market is open 3 to 8 p.m. Thursdays, rain or shine, from May 9 to Oct. 10.
For vendors, the market costs $330 for the full season, plus $55 for electricity. The daily rate is $25, plus $10 for electricity.
Laurie Rice, executive assistant of the Perrysburg Chamber of Commerce, said that at the height of the season the market has slightly more than 50 vendors. Early in the year, she said, there are lots of hanging baskets and other things geared toward Mother's Day.
Vendors must make or grow at least 65 percent of items they sell at the market, and products from others must be clearly labeled. The chamber encourages daily vendors to reserve booths at least a week in advance, but space is sometimes available up until 11 a.m. of the market day.
Jeanies Weenies, based in Lake Township on the opposite side of Tracy Road from Perrysburg Township, will be a Perrysburg Farmers Market vendor for the second year this summer.
Sisters Kelly Toerne and Melissa Schubeck had to have a health inspection Friday in preparing to get ready for the market and the making of their hot dogs, veggie burgers, and sliders.
"Last year we had a busy table all summer, and we have a whole summer under our belt, so we know what we need to do," Ms. Toerne said. "[The market] is a great thing with a lot of good food."
Guidelines: Please keep your comments smart and civil. Don't attack other readers personally, and keep your language decent. Comments that violate these standards, or our privacy statement or visitor's agreement, are subject to being removed and commenters are subject to being banned. To post comments, you must be a registered user on toledoblade.com. To find out more, please visit the FAQ.