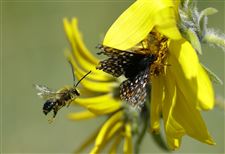 A Taylor's checkerspot butterfly rests on a Puget balsamroot flower while a bee flies nearby.
ASSOCIATED PRESS Enlarge
JOINT BASE LEWIS-MCCHORD, Wash. — An undeveloped stretch of native prairie in south Puget Sound offers one of the few habitats in the world where a two-inch colorful checkered butterfly thrives. It also happens to be the main artillery impact range for Joint Base Lewis-McChord.
The Army's Stryker combat brigade and other troops regularly practice military maneuvers and live-fire training on acres of scenic, open grassland where a small population of Taylor's checkerspot butterfly feed on nectar of native blooms, mate and lay eggs.
The butterfly's listing as a federal endangered species last fall "has the potential to cause major restrictions on training," said Jeffrey Foster, an ecologist at the military installation.
That has the Army working to boost the numbers of butterflies, once found at more than 70 sites in Puget Sound, Oregon and British Columbia but are now reduced to 14 sites. The effort mirrors others by the Army at installations around the country.
From Maryland to Louisiana to Colorado, the Army has been conserving buffer areas around bases to limit urban development, while also preserving and restoring habitat for rare species such as the red-cockaded woodpecker and the golden-cheeked warbler.
So far, the program has preserved over 200,000 acres of lands.
At JBLM, 44 miles south of Seattle, the program is helping not only the Taylor's checkerspot butterfly but also the streaked horned lark and Mazama pocket gopher.
Last October, the U.S. Fish & Wildlife Service concluded the Taylor's checkerspot was in danger of becoming extinct and designated nearly 2,000 acres in Clallam County, Puget Sound and Oregon's Willamette Valley as critical habitat for the creature.
The agency said it considered "military training under present conditions a threat to the short-term and long-term conservation of the Taylor's checkerspot." The eight-wheeled, armored Stryker vehicle and soldier foot traffic can crush larvae and damage plants the butterflies rely on.
The Army has been working with the state, the Center for Natural Lands Management and others to preserve and restore habitat, both on and off the military installation, so that the butterflies could be re-introduced.
The military and its partners have committed about $35 million and protected about several thousand acres of land in and around JBLM for multiple species. It will likely take years to increase the butterfly's numbers, but those working on the effort are already seeing some success.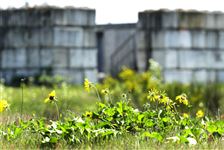 A Taylor's checkerspot butterfly, center, flies above a group of Puget balsamroot flowers growing near a bunker on a prairie area used for live-fire exercises at Joint Base Lewis-McChord, Wash.
ASSOCIATED PRESS Enlarge
Taylor's checkerspot butterflies are establishing at two of three sites at JBLM and on two other sites near Olympia where they have been re-introduced.
"We're in a much better position now than were five years ago," said Mary Linders, a conservation biologist with the Washington Department of Fish and Wildlife.
The Army is working with the Center for Natural Lands Management, a non-profit group that manages lands that are purchased, works with partners who raise the butterflies in captivity, propagates native prairie plants and prepares sites where the checkerspots can be re-introduced.
Hannah Anderson, rare species program manager at CNLM, said the military's program helped "protect lands off the base, restore them to high quality and bring the animals there so we could protect these animals but also the military's ability to train."
On a recent day, Linders and others walked a section of prairie at the artillery impact area to count adult butterflies and monitor the timing of the flight season.
It's prime season for the butterflies to mate, and their orange and white checkered wings flutter as they move from one plant to another. They fly in groups and dip into the center of Puget balsamroot, bright sunflower-like plants that are in full bloom.
Nearby, pock-marked bunkers bear evidence of artillery fire. White stakes mark areas where vehicles must stay on the road and where soldiers and others are prohibited from digging or camping. Linders points out a cluster of eggs at the base of a red harsh paintbrush.
"You can see lots and lots of them as we're walking through here," she said. "It's the largest population left in the checkerspot's range."
Guidelines: Please keep your comments smart and civil. Don't attack other readers personally, and keep your language decent. Comments that violate these standards, or our privacy statement or visitor's agreement, are subject to being removed and commenters are subject to being banned. To post comments, you must be a registered user on toledoblade.com. To find out more, please visit the FAQ.