THEATER
Toledo Opera's 'Barber' sets high bar for season
Valentine Theatre performance this weekend not to be missed
10/7/2016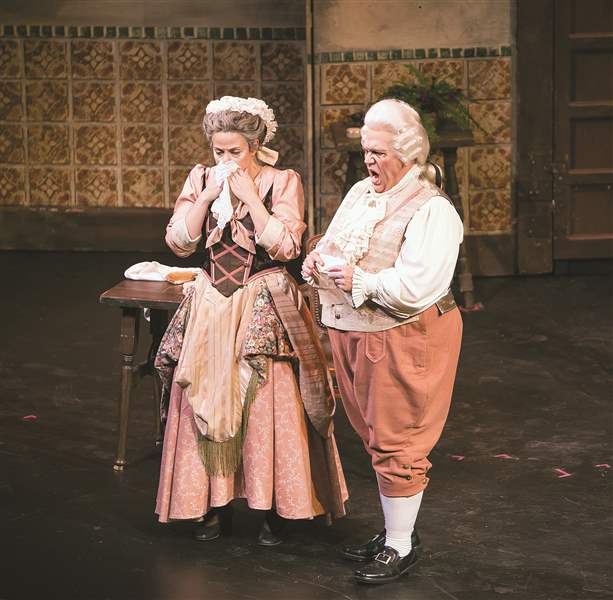 Kathryn Lewek and Steven Condy in 'The Barber of Seville.'
TONY CLEETON PHOTOGRAPHY
Whether opera is your thing or not, Toledo Opera's production of The Barber of Seville at the Valentine Theatre this weekend is not to be missed.
Seven hundred high school students discovered this truth firsthand Wednesday, sitting transfixed for 2½ hours during a preview performance of the popular Rossini work that kicks off the opera company's 2016-17 season.
The story centers on Spanish Count D'Almaviva, who arrives in Seville disguised as a soldier, hoping to woo fair Rosina, the ward of a local doctor. The count turns to the local barber Figaro for help, only to learn the doctor, Bartolo, has his own designs on romancing the young lady, and the plot turns on who she will eventually choose.
Soprano Kathryn Lewek leads a strong cast, delivering a tour de force performance as the smitten, irascible, vixen-temptress Rosina.
During a quick appearance in the opening balcony scene, she sings a vocal line that snaps the audience to attention. This is given full fruit in the next scene with an exquisite "Una voce poco fa," every soprano's dream aria and technical nightmare rolled into one. She makes it sound like child's play.
Her vocal ease is astounding; her coloratura flawless and fluid; and her ability to pour forth a seemingly endless stream of high F's breathtaking. It doesn't hurt that she's also an impeccable actress — a veritable comedic hoot.
Tenor Victor Ryan Robertson (Count d'Almaviva) is the lovesick suitor in pursuit of his heart's desire. His voice is nimble, agile, and light, with a top clear as a resounding bell. A perfect counterpart to Lewek, their romantic interplay is the stuff of which legends are made. The seduction/​music lesson scene is particularly entertaining.
Baritone Hyung Yun completes the comedic trio with a cocky, scheming, richly resonant Figaro. His opening "Largo ad factotum," the opera's most famous aria, is lusty and vigorous, and reveals from the opening notes his bravado and savoir faire.
The brunt of the farce is the dastardly scheming aristocratic duo Steven Condy (Dr. Bartolo) and Kevin Langan (Don Basilio). Langan is a rich full-bodied bass who creates the smarmy, sycophantic sidekick with alarming gusto.
Condy portrays so perfectly an aging lecher that it's impossible not to love him in spite of his nefarious conniving. His comedic acting is consummate; his ability to spin Italian patter song astounding.
Director Bernard Uzan's smart stage direction carefully balances the ridiculous and the sublime. His characters are at once caricatures and yet recognizably human. His slow-motion fight scene at the end of act one is a stroke of genius, his sense of comedic timing unparalleled, and his use of incidental characters to propel the plot forward is creative and whimsical.
Maestro James Meena, as conductor, deserves highest praise for leading an orchestra that disappears into the fabric of the drama. Every tempo nuance of the singers is matched perfectly, and the pacing creates a fluid, unbroken storyline.
In every respect this production is one of the finest Barbers to grace the stage in many years.
Performances begin at 7:30 p.m. today and 2 p.m. Sunday at the Valentine Theatre, 410 Adams St. Tickets are $40-$90 and available from the Toledo Opera Box Office at 419-255-7464 or toledoopera.org
Contact Wayne F. Anthony at: classics@theblade.com.