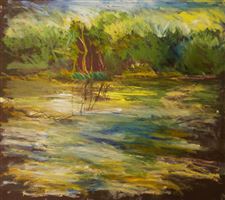 Island Backwoods watercolor on matboard, acrylic finish by Neil Frankenhauser.
Neil Frankenhauser will show his paintings at Inside Angles Custom Framing Gallery, 6831 Angola Rd. in Holland, beginning with a 6 to 8 p.m. Nov. 18 reception and continuing through Dec. 1 with some work displayed until the end of the year. In recent years, Frankenhauser has used watercolors for his nature themes. He teaches at Monroe County Community College. Information: 419-867-3533 and insideangles@aol.com.
●
An installation of traditional Mexican altars infused with conceptual perspective is at La Galeria de las Americas through Nov. 30. Artist is Ricardo Quinonez Aleman. The gallery is at 1222-1224 Broadway.
●
The annual Faculty Art Exhibition at Owens Community College continues through Dec. 3 in the Walter E. Terhune Art Gallery in the lobby of the Center for Fine and Performing Arts. A reception will be 4 to 6 p.m. Nov. 19 in the gallery. The college is on Oregon Road in Perrysburg Township.
●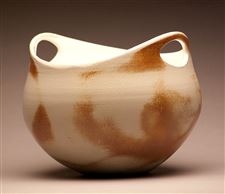 One of the clay pieces in the American Gallery show, "Wood & Clay." The artist is Jason Stockman.
Opening Nov. 18 will be Small Worlds, five artists' exploration of space and perspective, in the Canaday Gallery at the Toledo Museum of Art. A preview party, 6:30 to 9:30 p.m. Nov. 17, has a $20 admission fee for nonmembers (tickets: 419-255-8000 ext. 7448). One of the artists, Gregory Euclide, will discuss his installation at 7:30 p.m. Nov. 18. The display will continue through March 25.
●
A 3 to 5 p.m. reception Saturday will open an exhibit of work in clay and wood by David Swain, Rick Rickmann, and Jason Stockman in American Gallery, 6600 Sylvania Ave., Sylvania. Information: 419-882-8949.
●
A pine-needle-weaving workshop will be 12:30 to 4:30 p.m. Nov. 19 in the visitor center at Fort Meigs. Native peoples made items out of pine needles for centuries. Participants will have a choice of making a short-sided basket or a trivet. Space is limited and advance registration required. Fee: $30. Information: 419-874-4121.
●
Painter Sachiko Kawamura will display her work at the University of Findlay's Lea Gallery Nov. 21 through Dec. 30. A reception with the artist will be 7 to 8:30 p.m. Dec. 1. "Children helped me see things I was not seeing before," she says. "The most fascinating thing about children's lives is the way they live each moment … when they laugh, the whole world is laughing, and when they cry, the earth is shaking. My hope is to capture the children's world through paintings." Information: findlay.edu and 800-472-9502.
●
The Findlay Art League's 2011 Juried Show continues through Dec. 2. Information: findlayartleague.com.
Items for News of Art should be sent two weeks before the event to tlane@theblade.com.
Guidelines: Please keep your comments smart and civil. Don't attack other readers personally, and keep your language decent. Comments that violate these standards, or our privacy statement or visitor's agreement, are subject to being removed and commenters are subject to being banned. To post comments, you must be a registered user on toledoblade.com. To find out more, please visit the FAQ.