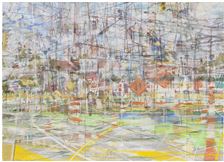 Ben Pond The Labuda and Pond Exhibition will be on display through November 16 in the Parkwood Gallery.
The 34th annual FOCUS show of 260 pieces by high school students, will have a 5 to 8 p.m. reception Friday. It's in the University of Toledo's Center for the Visual Arts Gallery, adjacent to the Toledo Museum of Art. More than 1,200 works were submitted by teachers at 24 Ohio and Michigan schools. It will be displayed through Nov. 11.
●
Kathy Danko-McGhee will speak about the Impact of Early Art Experiences at 7 p.m. Nov. 8 in the Studio Theatre of the Center for Fine and Performing Arts at Owens Community College. Danko-McGhee is director of education at the Toledo museum. In addition, art by little tykes enrolled in the college's Child Care Center will be displayed beginning with a 4 to 6 p.m. Friday reception for the artists in the Terhune Gallery in the lobby of the center. OCC is on Oregon Road in Perrysburg Township.
●
From mid-October through mid-December, 20 digital billboards throughout Toledo will display images created by UT art students enrolled in the Time, Motion, Space class, and other art majors. Their assignment was to come up with fictional film stills with the theme "Stories from Toledo." Information and billboard locations: utoledo.edu/cvpa/art/index.html. In the same vein, the Arts Commission is also featuring images by 10 artists on two billboards.
●
The Labuda and Pond exhibition continues through Nov. 16 in the Parkwood Gallery, 1838 Parkwood Ave. at Monroe Street. An artists' reception will be 6 to 8 p.m. Nov. 2 in the gallery. Ben Pond conveys meaning and emotion in his paintings via color, value, and expressive strokes in pastels. And in his photographs, Mitch Labuda uses angles and planned movements to capture images in a painterly way. Information: 419-254-2787 and theartscommission.org.
●
An arts and crafts show will be 10 a.m. to 5 p.m. Nov. 3 in the Monclova Community Center, 8115 Monclova Rd. Information: 419-861-1336.
●
Art for All Souls opens with a 6 to 9 p.m. reception Nov. 2 in 20 North Gallery. This holiday sale spotlights art suitable for gifts at several price ranges and made by local people. It will continue through Jan. 12. The gallery is at 18 N. St. Clair St. Information: 419-241-2400.
●
Matthew Chambers: The Marriage of Heaven & Hell, features his minimalistic drawings inspired by jazz, writers, dadaism, minimalism, and surrealism, in the Library House Gallery, 24164 Front St., Grand Rapids, Ohio. Opening reception will be 5 to 9 p.m. Nov. 3 and the show will continue through Jan. 27. Information: 419-830-3080 and libraryhousegallery.com.
●
The First Friday Gallery Hop will be 5 to 8 p.m. Nov. 2 in Bowling Green. Artists will demonstrate skills and live music will be performed at several venues in and near downtown. Information: 419-806-9116.
Send items two weeks before the event to tlane@theblade.com.
Guidelines: Please keep your comments smart and civil. Don't attack other readers personally, and keep your language decent. Comments that violate these standards, or our privacy statement or visitor's agreement, are subject to being removed and commenters are subject to being banned. To post comments, you must be a registered user on toledoblade.com. To find out more, please visit the FAQ.