Registered nurses Kate Samberg, left, and Sarah Meiner stand with Dr. Chris Goliver near artwork done by local students in the new Mercy Emergency Services-Perrysburg. Artwork is to be rotated yearly.
THE BLADE/KATIE RAUSCH
Enlarge | Buy This Image
Perrysburg schoolchildren don't just take their artwork home to be hung on the refrigerator — some is displayed at Mercy Emergency Services-Perrysburg.
Fifteen elementary students and 12 Perrysburg High School students were selected to have their artwork exhibited around Mercy's new emergency clinic at 12621 Eckel Junction Rd., near State Rt. 25 and I-475/​U.S. 23.
PHOTO GALLERY: Student Art at the ER
Dr. Chris Goliver, the facility's medical director, said Mercy is trying to connect with the community and make it a welcoming environment.
Maia Colon, a Toth Elementary School fifth grader who turns 11 this week, is among those whose art has been chosen, although her painting is on hold until it can be mounted in a larger frame.
"I made a blue flower-pot painting because I wanted to make people happy," Maia said. "I always want to make people feel better, and at the ER they can be depressed. I think a child's artwork could make them feel happier."
She sacrificed a recess to do the painting, but Maia is thrilled to have her painting on display for the community to see.
"I think it was a great idea to get community involvement, the kids are proud, and the school gets recognition," said Julie Spiers, Maia's mother.
"To have my nearly 11-year old daughter tell me she created an art piece special for the ER to make people feel better makes me extra proud."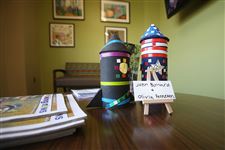 Artwork by local students at Mercy Emergency Services-Perrysburg is wide-ranging but all aimed at lightening up the medical atmosphere.
THE BLADE/KATIE RAUSCH
Enlarge | Buy This Image
The artwork will be rotated every year with new pieces from the district. Mercy spokesman Sarah Bednarski said the company will donate $5,000 to the art program.
"Some are very professional looking," Dr. Goliver said. "They all have nice attributes that helps brighten this place up and takes people's minds off of pain and suffering, and it puts a smile on their face."
Along with Maia, other students whose artwork will be displayed are Gabrielle Click, Madalyn Conley, Sarah Conner, Jessie Counterman, Becca Huebner, Margaret Mackin, Lucas Manning, Erik Proctor, Tyler Saner, Rochelle Smith, Shelby Vine, Lucy Walton, Penelope McClough, Carter Riggs, Lacey Roe, Celia Fowler, Marissa Thomas, Kieffer Doore, Linden Kunick, Katelyn Ozimek, Hailey Lambdin, Kacey Laumann, Ben Miller, Rami Ridi, Raina Springer, and Parker Young.
Mercy Emergency Services-Perrysburg, which opened Nov. 4, is the Toledo area's first free-standing, hospital-quality emergency room, offering comprehensive emergency care and diagnostic services around the clock. Patients needing hospital admission are transferred to a full-service hospital.
Guidelines: Please keep your comments smart and civil. Don't attack other readers personally, and keep your language decent. Comments that violate these standards, or our privacy statement or visitor's agreement, are subject to being removed and commenters are subject to being banned. To post comments, you must be a registered user on toledoblade.com. To find out more, please visit the FAQ.