PEACH WEEKENDER | ART
Paul Brand exhibit opens at American Frame
12/6/2017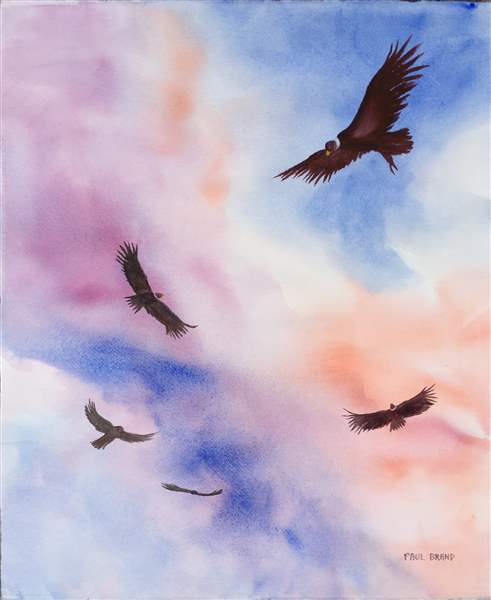 Local longtime artist Paul Brand is the focus of a solo exhibition this month at American Frame showroom in Maumee.
Brand will be present at an opening reception in the Solo Gallery, 400 Tomahawk Dr., that starts at 3:30 p.m. Friday. He will give an artist talk at 4 p.m. The show stays open through Dec. 29.
Brand is a painter who focuses on landscaping in subjects, but also paints and draws still life, people, and animals. He is prolific in watercolor and acrylic painting, and works in pastels. Brand is an active member of the Toledo Artists Club and its plein air painting group, and teaches painting at various locations, including the Art Supply Depo in downtown Toledo.
His work is in the permanent collection at the University of Tiffin, and he has shown at local art festivals, as well as in local and national competitions with the Ohio Watercolor Society and the Touchstone Gallery in Washington.
Also at American Frame this month is an art show that features work by staffers of the framing shop and gallery. That show, in the Main Gallery, will also run through Dec. 29. An artist reception is from 5:30 to 7 p.m. Thursday.
For more information on both shows, go to americanframe.com or call 419-887-8030. For more information on Brand and his work, go to dadandrenee.com.
■ Young artists from Whitehouse Primary School have designed holiday banners for the village's light poles on Providence Street and the Finzel Road/State Rt. 64 roundabout.
The school chose winning designs from the creations that were made into banners that have been hung on 21 poles at the locations. Winners were Taylor Wilson, second grade; Nora O'Shea, third grade; and Oliva Pagan, fourth grade.
The holiday-themed banners were created by second, third, and fourth-graders in the classroom of art teacher Heidi Nagy.
■ The HeART Gallery at St. Paul's Lutheran Church, 428 N. Erie St., in downtown Toledo, is displaying a show of nativity scenes from around the world.
The pieces, more than 100 creches, are on loan from the University of Dayton and from individual collectors. Gallery staff have put the scenes on view by candlelight and live music to recreate the atmosphere of the first staging of a nativity scene, credited to St. Francis of Assisi in 1223 after he visited the Holy Land. The show includes scenes of the nativity from Ecuador made of tagua and palm tree, one from Peru that contains llamas, and sets from Uganda, East Germany, and Haiti made from carved and painted wood.
The show also has a life-sized manger set where children can dress up as an angel or a shepherd.
The public can see the exhibit for three days from 4 to 9 p.m. Dec. 21 and 22, and from 10 a.m. to 2 p.m. Dec 23. For more information, call the church at 419-243-4214.
■ Ohio museums are offering plenty of exhibitions to keep visitors busy over the holidays.
At the Toledo Museum of Art, see more than 30 pieces at the show Glorious Splendor: Treasures of Early Christian Art, a show of Late Roman jewelry and other art during the transition from a pagan to a Christian society.
The show is free and runs through Feb. 18 in Gallery 18.
At the Columbus Museum of Art, an exhibition of Ohio master painter and longtime Ohio State University art department chairman James Hopkins work is on exhibit Dec. 15 through April 22.
James R. Hopkins: Faces of the Heartland is a show of his paintings depicting the Cumberland mountaineers of Appalachian Kentucky.
The Columbus Museum of Art also has a Beyond Impressionism exhibition through Jan. 21.
The Cleveland Museum of Art is offering the show The Jazz Age: American Style in the 1920s, through Jan. 14.
The show focuses on American taste in art and design during the 1920s and 1930s.
The show costs $15 for adults and $13 for seniors and students, and the museum's website encourages advance ticket purchases because of its popularity thus far.
For more information, go to clevelandart.org or call 216-421-7350.
For more information on the show and the Columbus museum, go to columbusmuseum.org/#/gallery/popular or call 614-221-6801.
Send news of art items at least two weeks in advance to rgedert@theblade.com or call 419-724-6075.