The sixth annual Jim White Memorial Paint Out is Thursday, Friday, and Saturday in downtown Waterville.
The event is hosted by the Anthony Wayne Area Arts Commission, and invites artists to come out during the day and paint on location, and invites the community to come watch and engage with the artists.
This year's event offers a youth category for children from kindergarten through sixth grade. The weekend will include prizes, such as $50 to the youth award winner and a People's Choice Award. Paintings will be on display at the Waterville Branch Library from Saturday through June 23.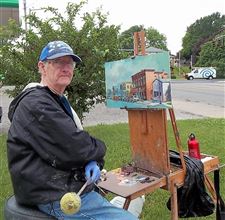 The Jim White Memorial Paint Out in Waterville honors local artist Jim White, shown in 2015. He died in 2017.
The event is named after longtime participant and local artist Jim White, who died in 2017.
For more information, contact Lisa Exner at exner@bex.net or 567-686-6921.
■ A new date has been set for a canceled reception and lecture for a local artist whose art exhibition is one of three shows this summer at the UT Center for the Visual Arts.
Leslie Adams will talk about her work behind Handwritten Dreams Project from 5 to 6 p.m. July 6 at the Toledo Museum of Art Little Theater. A reception for her show, and that of artists Amy Pollman and Ella Musher-Eizenman, will follow from 6 to 8 p.m., in the adjacent CVA Main Gallery.
The reception and talk were postponed from June 1 after the CVA experienced issues with its air conditioning system, causing the building to overheat.
Adams' show transverses the importance of learning cursive handwriting through the writing of one's own dreams; it also is an invitation for viewers to share and post their own handwritten dreams, as visitors have done at previous installations.
A second installation created by artist and educator Pollman and art students from Bedford High School is on display in the hallways and courtyard of the CVA. Dear, :Love, an exhibition by Musher-Eizenman, is on display in the CVA Clement Gallery.
For more information, call the CVA at 419-530-8300.
'Untitled' by Colton Clifford is part of 'Pretty Queer,' a compilation of 13 pieces by nine artists in varying media, at River House Arts.
■ To commemorate LGBT Pride Month, an exhibition opens Friday at River House Arts in downtown Toledo.
Pretty Queer, a compilation of 13 pieces by nine artists in varying media, will be installed through Aug. 5. The show, presented by the downtown gallery and Contemporary Art Toledo, and curated by Brian Carpenter, gallery director for the University of Toledo's Center for the Visual Arts, features work by such artists as Rowan Renee and the late David Wojnarowicz, whose work before his death in 1992 focused on AIDS.
The LGBTQ artists in the show "actively explore issues of identity, politics, history, and kitsch. Through thoughtful marks, materials, color, and form, these artists celebrate, interrogate, and challenge heteronormative perspectives of contemporary life," the news release describing the show states.
LGBT Pride Month commemorates the Stonewall riots, which occurred at the end of June 1969.
For more information, call 419-441-4025 or go to riverhousearts.com or the gallery's Facebook page.
■ The Arts Commission of Greater Toledo is hosting an event at 6:30 p.m. Monday for the public to hear from and meet the three finalists to create a public art installation for Close Park in West Toledo.
The artists will give presentations in the Kelly Room at the Donnelly Neighborhood Center, Blessed Sacrament Parish, 455 Bellevue Ct. They are Madeline Weiner of Denver; Michael McLaughlin of Torrington, Conn., and Randy Walker of Minneapolis.
The finalists were chosen from more than 60 submissions for the commissioned project, which is to create a public artwork that engages play as the theme.
The project will be paid for through the City of Toledo 1 Percent for Art budget. Up to $70,000 has been allocated.
For more information, call Nathan Mattimoe, art in public places coordinator, at 419-254-2787, ext.1011, or email, nmattimoe@theartscommission.org.
■ Toledo School for the Arts is the venue for Undisclosed, an event that allows each guest to go home with a piece of original artwork.
At the event, from 7 to 9 p.m. June 21, each ticketholder will be able to select a piece through a raffle ticket process. The artists of each piece are not revealed until after the event.
The event is $100, which includes entry for a couple, one raffle ticket for the artwork takeaway, entertainment, and appetizers.
For more information, or to secure a ticket, go to the Undisclosed Facebook page or contact Bethany Urbanski at 419-246-8732, ext. 256 or burbanksi@ts4arts.org.
Tickets and a sneak peek of the art are also available from 5:30 to 7:30 p.m. Thursday, at a public preview event.
Send news of art items at least two weeks in advance to rgedert@theblade.com or call 419-724-6075.
Guidelines: Please keep your comments smart and civil. Don't attack other readers personally, and keep your language decent. Comments that violate these standards, or our privacy statement or visitor's agreement, are subject to being removed and commenters are subject to being banned. To post comments, you must be a registered user on toledoblade.com. To find out more, please visit the FAQ.