Bowling Green sets annual celebration of the arts
9/2/2018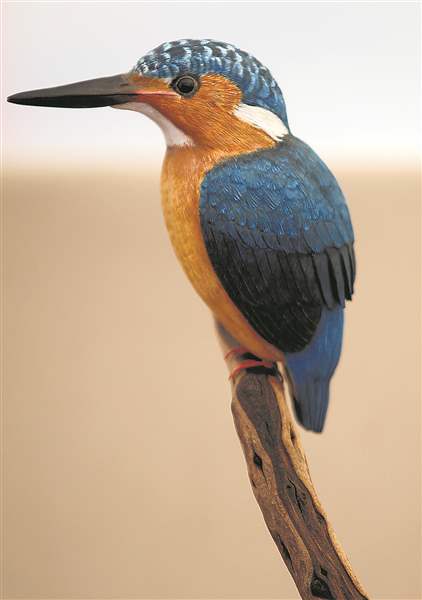 Amy Schultz, a Whitehouse artist, displayed her kingfisher figurine at last year's Black Swamp Arts Festival in Bowling Green.
THE BLADE
Buy This Image
It will be no surprise to people walking along Main Street in downtown Bowling Green next weekend to see the road closed.
It's a sure sign that the 26th annual Black Swamp Arts Festival, an art and music event that has received state recognition, is under way for another year starting Friday.
"We're just going to sit back and party and do what we do well, which is present a first-class art show plus an opportunity, for local artists and university artists, to present an eclectic range of musical acts," said David Dupont, marketing chair of the Black Swamp Arts Festival.
The three-day festival starts at 5 p.m. Friday and wraps up at 5 p.m. Sept. 9 along Main Street in downtown Bowling Green. The annual event has attracted about 60,000 people every year since it started in 1993.
IF YOU GOWhat:
26th annual Black Swamp Arts Festival
When:
Sept. 7-9 Where: Main Street, Bowling Green
Admission:
Free
Information:
blackswampfest.org
This year's festival will host more than 100 artists showcasing their wares. More than 800 volunteers and various food trucks will grace the festival, while three stages will feature local and mainstream live music
The Juried Art Show, with more than 100 artists, and Wood County Invitational, which has drawn 50 artists from a 30-mile radius of Bowling Green, take place from 10 a.m. to 6 p.m. Saturday and 11 a.m. to 5 p.m. Sept. 9.
The music stages include the main stage, which will be set up in the parking lot between Main and South Prospect streets, the family stage, and community stage. Upward of 15 music acts will perform throughout the weekend, including larger acts such as Cordovas, Samantha Fish, and Birds of Chicago.
Bowling Green's psychedelic soul band Tree No Leaves played at the 2016 festival on a small stage. This year, the band will play at noon on the main stage, followed by a second performance at 2:45 p.m. on the family stage.
Frontman Dustin Galish said the festival showcases both local and national artists and bands who tour throughout the world.
"It's really bringing a world music festival to Bowling Green," Galish said. "As a local band, for us it's great to play because we're a part of that world event weekend. It makes you feel like you're contributing to the culture of music outside of just Bowling Green. We're sharing the same poster with artists who have toured all over the world. It's an honor for us to be on the same stage as acts who are at the top of their game."
More activities will be hosted in the Kiwanis Youth Arts Village.
There will be easel painting, T-shirt poetry, and the opportunity for children to create projects from assorted cardboard and duct tape. Children will be able to make tie-dye T-shirts, build their own wooden toys with Bowling Green State University students from the architecture and construction management program, and decorate paper sun hats.
A Rotary Club Chalk Walk competition will include high school art students. Saturday will feature 24 teams creating murals with a theme of solar system and space. Winners will receive cash prizes for their school's art department.
The festival will include two beer-serving areas near the main stage, as well as a craft beer serving area from noon to 6 p.m. Saturday with a selection from Sierra Nevada and Rhinegeist to New Belgium and Deschutes. All beer proceeds will benefit the Black Swamp Arts Festival.
Dupont said one of the main reasons the Black Swamp Arts Festival has survived for 26 years is because of the community coming together to volunteer and host the event that promotes artists and music.
"It's a great time to be involved," Dupont said. "There is a real sense of ownership by the community."
Contact Geoff Burns at gburns@theblade.com or 419-724-6054.