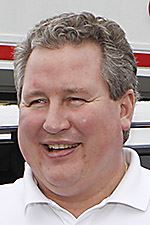 Mahalak
THE BLADE
Enlarge | Buy This Image
The Ohio Attorney General's Office has again taken issue with the advertising practices of a Monroe car dealership, alleging newspaper ads placed by the dealership were deceptive.
Ohio Attorney General Mike DeWine filed a lawsuit Friday in Lucas County Common Pleas Court that alleges the Monroe Dodge Chrysler Jeep Superstore violated Ohio's consumer protection laws. Specifically, the suit alleges the dealership failed to clearly disclose required terms and exclusions.
Ralph Mahalak, Jr., the dealership's owner, said Friday he had reviewed the lawsuit and his advertisements and does not believe there are any issues.
"I'm shocked by the lawsuit because we've gone out of our way to make things as clear and concise as possible," he told The Blade.
This is the third time since 2005 the attorney general's office has sued the dealership alleging deceptive advertising. In 2005, the two sides settled a suit out of court, agreeing the dealership would pay a $25,000 civil penalty. In 2010, the attorney general filed another suit that was eventually settled with a $40,000 civil penalty.
"There have been past out-of-court agreements regarding advertising, but the office discovered the same types of issues were occurring," said Kate Hanson, a spokesman for the attorney general's office.
The lawsuit filed Friday argues the dealership failed to disclose that advertised prices were lease prices and not sale prices, didn't include the amounts due at inception, and failed to clearly and adequately disclose residency and other exclusions. The lawsuit mentions ads in The Blade, on toledoblade.com, and on the dealership's Web site.
The suit also alleges that when advertising employee pricing, the dealership didn't properly disclose general pricing.
Ms. Hanson said dealers are allowed under Ohio law to advertise special pricing for employees or other groups, but must also include pricing that all consumers would pay.
Mr. Mahalak said the allegations were off-base. He said Ohio's advertising rules are stricter than Michigan's, but the dealership follows Ohio laws for all advertising.
"The truth of the matter is I'm very anxious and excited to meet with the Ohio attorney general about this claim, because we don't ever get customer complaints about our ads," he said. "We're firmly convinced not only are our ads legal, but they're quite easy to understand."
He encouraged people to look at this weekend's ad in The Blade and share their opinions about the ad either on the dealership's Facebook page or with him personally.
Ms. Hanson said the office has received complaints in the past, "but I believe there's nothing in the last few years."
A spokesman for the Michigan Department of Attorney General said the office received one complaint related to deceptive advertising at the dealership in 2012, but has not been involved in any legal action against the company.
Mr. DeWine's lawsuit seeks an injunction to stop further violations, reimbursement to any affected consumers, and civil penalties.
Contact Tyrel Linkhorn at tlinkhorn@theblade.com or 419-724-6134 or on Twitter @BladeAutoWriter.
Guidelines: Please keep your comments smart and civil. Don't attack other readers personally, and keep your language decent. Comments that violate these standards, or our privacy statement or visitor's agreement, are subject to being removed and commenters are subject to being banned. To post comments, you must be a registered user on toledoblade.com. To find out more, please visit the FAQ.