UPDATE: Ford officially announces $500 million investment in Lima Engine Plant
The Blade
Enlarge | Buy This Image
LIMA, Ohio — Building a new engine for the top-selling F-150 pickup will bring 300 additional jobs to Ford's Lima Engine Plant, the company said.
Ford will invest a total of $500 million in Lima to add a new flexible engine assembly system, and renovate 700,000 square feet of the 57-year-old plant.
The company has scheduled a news conference for today to discuss the investment and the new jobs.
The Blade reported last month that Ford had selected the Lima Engine Plant to build the new, 2.7-liter EcoBoost engine, though the company hasn't acknowledged that until now.
The 300 new jobs will bring total employment to more than 1,200 at the plant, which is already one of Allen County's largest employers. Workers there currently build Ford's 3.7-liter Duratech and 3.5-liter EcoBoost V-6 engines, which are used in a variety of Ford and Lincoln vehicles.
"Lima Engine has kept Ford and Lincoln vehicles running for nearly 60 years," Bruce Hettle, Ford's vice president for North America manufacturing, said in a statement released ahead of the news conference. "Bringing production of the new 2.7-liter EcoBoost to Lima Engine Plant helps build a solid future both for Ford and the dedicated workers in Ohio."
Ford's official announcement has been eagerly awaited by local officials. Promises of a big investment for Lima came as early as 2011, when Ford agreed in a contract with the United Auto Workers to invest at least $400 million in the plant to add a "new industry-leading small V-6" engine line.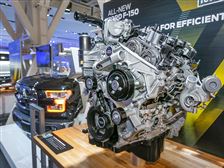 Designed and engineered for the F-150, the 2.7-li­ter EcoBoost V-6 will be the first truck engine to offer start-stop technology to improve fuel efficiency.
THE BLADE
Enlarge | Buy This Image
Though pickups are often thought of as gas-guzzlers, technology has allowed automakers to offer smaller, more efficient engines without sacrificing the power that truck buyers want. And buyers have increasingly embraced that. Ford says 57 percent of F-150s sold this year have come equipped with V-6 engines.
"Our truck customers have spoken, and we continue to meet their evolving needs by providing another V-6 option in the all-new 2015 F-150," Joe Hinrichs, Ford president of the Americas, said. "The hardworking team at Lima Engine is thrilled to begin building one of the most technologically advanced engines ever designed for America's No. 1 truck."
Designed and engineered specifically for the F-150, the turbocharged V-6 will be the first truck engine to offer start-stop technology to boost fuel efficiency. Auto start-stop systems shut down the engine when a vehicle is stopped and immediately bring it back to life once the driver lifts his foot from the brake pedal. Ford debuted the engine in January at the North American International Auto Show in Detroit.
Today's announcement marks the second time this month that Ford has announced investments in Ohio. Earlier in March, Ford said it would invest $168 million into one of its Cleveland-area assembly plants in order to bring production of F-650 and F-750 medium-duty trucks back to Ohio from a plant in Mexico. Production is to start early next year.
The redesigned 2015 Ford F-150 goes on sale later this year.
The Ford F-series has been the best-selling truck line in the United States for 37 years running, and the top-selling vehicle overall for 32 years straight.
Lima is about 75 miles south of Toledo.
Contact Tyrel Linkhorn at tlinkhorn@theblade.com or 419-724-6134 or on Twitter @BladeAutoWriter.
Guidelines: Please keep your comments smart and civil. Don't attack other readers personally, and keep your language decent. Comments that violate these standards, or our privacy statement or visitor's agreement, are subject to being removed and commenters are subject to being banned. To post comments, you must be a registered user on toledoblade.com. To find out more, please visit the FAQ.