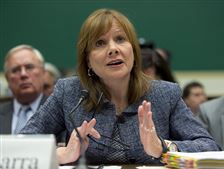 General Motors CEO Mary Barra testifies before the House Energy and Commerce subcommittee on Oversight and Investigation in Washington.
ASSOCIATED PRESS Enlarge
WASHINGTON — The fix for a faulty ignition switch linked to 13 traffic deaths would have cost just 57 cents, members of Congress said Tuesday as they demanded answers from General Motors' new CEO on why the automaker took 10 years to recall cars with the defect.
At a hearing on Capitol Hill before a House subcommittee, GM's Mary Barra acknowledged under often testy questioning that the company took too long to act. She promised changes at GM that would prevent such a lapse from happening again.
"If there's a safety issue, we're going to make the right change and accept that," said Ms. Barra, who became CEO in January and almost immediately found herself thrust into one of the biggest product-safety crises Detroit has ever seen.
But Ms. Barra offered scant new information in her opening remarks about how and why GM repeatedly failed to fix faulty ignition switches on Chevrolet Cobalts and other compact cars, despite conducting multiple internal studies of the problem since 2001.
"I cannot tell you why it took years for a safety defect to be announced in that program, but I can tell you that we will find out," she said, adding, "I am deeply sorry."
In her testimony, Ms. Barra was expected to make news by announcing that GM had hired a global safety director.
She did that, but she also said GM had hired Kenneth R. Feinberg, a lawyer who specializes in apportioning restitution payments in major disasters — including the terrorist attacks of Sept. 11, 2001, the BP oil spill in the Gulf of Mexico, and the Boston Marathon bombing.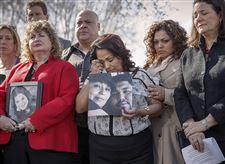 Rosie Cortinas, center, holds a photo of her son, Amador Cortinas of Homedale, Idaho, who was killed driving a Chevy Cobalt. She joined other grieving families on Capitol Hill with U.S. Rep. Diana DeGette (D., Colo.), right.
ASSOCIATED PRESS Enlarge
Her appearance before a subcommittee of the House Energy and Commerce Committee represented a significant new phase in the company's crisis since it issued recalls that began in February for 2.6 million Cobalts and other vehicles.
Rep. Diana DeGette (D., Colo.) held up a switch for one of the cars and said a small spring inside it failed to provide enough force, causing engines to turn off when they went over a bump.
Ms. DeGette showed how easy it was for a light set of car keys to move the ignition out of the "run" position.
GM has said that in 2005, company engineers proposed solutions to the switch problem, but the automaker concluded that none represented "an acceptable business case."
"Documents provided by GM show that this unacceptable cost increase was only 57 cents," Ms. DeGette said.
The 57 cents is just the cost of the replacement switch. The figure does not include the labor costs involved with installing the new part.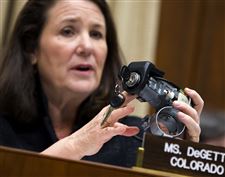 Rep. Diana DeGette (D., Colo.), ranking member of the House Oversight and Investigations subcommittee, holds up a GM ignition switch while she questions General Motors CEO Mary Barra on Capitol Hill on Tuesday.
ASSOCIATED PRESS Enlarge
Ms. Barra testified that the fix to the switch, if undertaken in 2007, would have cost GM about $100 million, compared with "substantially" more now.
Rep. Tim Murphy (R., Pa.), chairman of the Oversight and Investigations Subcommittee, said: "What we have here is a failure to communicate, and the results were deadly."
Members of Congress and the families of people killed in GM cars are urging Ms. Barra to declare the cars unsafe to drive until new ignition switches are installed. So far, GM has said the vehicles are safe to operate as long as there are no objects attached to the ignition key.
And GM is coming under increasing pressure from lawmakers to establish a fund to compensate victims of accidents in recalled models. The automaker currently has legal immunity from safety lawsuits related to accidents that occurred before it emerged from bankruptcy in July, 2009.
The chairman of the House committee, Rep. Fred Upton (R., Mich.), said the hearing was the first step in discovering why GM did not recall flawed vehicles sooner and why the National Highway Traffic Safety Administration did not formally investigate the possibility of defects after reports of fatal accidents.
"Documents produced to the committee show that both NHTSA and GM received complaints and data about problems with ignition switches and air bags," Mr. Upton said. "These complaints go back at least 10 years."
Besides the congressional inquiry, the company's actions are under investigation by NHTSA, which itself is being scrutinized, and the Justice Department. In addition, several lawsuits have been filed on behalf of the families of accident victims.
Ms. Barra met privately on Monday with 22 family members of accident victims at GM's offices in Washington.
The two-hour meeting came at the request of Robert Hilliard, a Texas lawyer who is representing families and has filed a class-action lawsuit against GM.
"These folks told her about their losses, and everyone in the room got a chance to speak," Mr. Hilliard said. "It was pretty raw and emotional."
Mr. Hilliard described Ms. Barra as "very thoughtful and very attentive" as family members described the pain of losing loved ones in accidents involving Cobalts and other cars that have been recalled for faulty switches.
A GM spokesman, Greg Martin, confirmed the meeting took place, but declined to comment further. "Out of respect for the families, we are not providing details," he said.
The families held a news conference Tuesday at the Capitol, part of what was expected to be a pivotal day in the congressional investigation of GM's actions and the failure by federal regulators to open defect investigations into the ignition switches.
GM conducted several internal investigations of the switch problems, dating back as far as 2001. Company engineers learned that the key in the ignition could be inadvertently bumped into the off or accessory position, causing the engine to lose power and disabling air bags.
Documents show that GM approved the switch for installation in its compact cars in 2002, despite data from its supplier, Delphi, that the key turned too easily in the ignition.
Delphi officials told House investigators that sample testing of the switch showed that the force required to turn it was below the specifications set by GM.
The automaker then rejected changes to the switch in 2004 and 2005 despite becoming aware of consumer complaints about the weak switch, filings to safety regulators and lawmakers show.
In July, 2005, the company and NHTSA learned of a fatal accident in Maryland that killed a young woman. It was the first of what would become a series of incidents in which vehicles suddenly lost power and air bags failed to deploy in a crash.
GM and Delphi changed the switch in 2006, and stronger switches were installed in Cobalts and other small cars beginning in the 2007 model year.
But records show that those switches still did not meet the automaker's own recommended torque requirements, and the company did not change the part's identification number or alert consumers of the change.
Owners of the recalled cars can ask dealers for a loaner vehicle while waiting for the replacement part. Ms. Barra said GM has provided more than 13,000 loaners.
Guidelines: Please keep your comments smart and civil. Don't attack other readers personally, and keep your language decent. Comments that violate these standards, or our privacy statement or visitor's agreement, are subject to being removed and commenters are subject to being banned. To post comments, you must be a registered user on toledoblade.com. To find out more, please visit the FAQ.