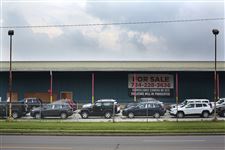 New Jeep vehicles wait to be shipped at the former 84 Lumber site on Alexis Road in North Toledo. Delays have been a problem since the first of the year.
THE BLADE/KATIE RAUSCH
Enlarge | Buy This Image
As the economy improves and the weather warms, automakers are finding they're having an easier time getting customers to their dealerships than they are cars and trucks.
Rail-car shortages and lingering effects of a brutal winter that tied up traffic on many railroads continue to plague car companies, delay shipments, and lead to big backlogs outside many North American assembly plants.
That includes Toledo, where Chrysler Group LLC has scores of Jeep Cherokees and Jeep Wranglers parked in lots waiting to be shipped.
"We are experiencing rail-car shortages," Chrysler spokesman Katie Hepler said. "That's what's leading to vehicles being parked around many of our manufacturing operations."
It's not just Chrysler that is affected — not even just the auto industry.
"Shippers having difficulties with rail-service issues has without question been one of the biggest themes in transportation in 2014," said Michael Baudendistel, a transportation analyst with Stifel, Nicolaus & Company Inc.
Grain and other agricultural products have been especially affected, he said.
Winter comes as no surprise to rail lines, but it's rarely so cold, so snowy, and so bad in so many places. That led to backlogs that lines are still struggling to overcome.
"A lot of things got backed up from that, plus the fact that when automakers slowed down a bit, rail companies got behind on replacing and beefing up the auto hauler cars," said Charles Clowdis, managing director of global trade and transportation at IHS Inc.
Transportation analysts say production of car carriers was at a virtual standstill in 2009 and 2010, while many older car carriers were scrapped.
New orders for rail cars take time to be produced, especially in the case of more complicated cars, such as those that haul automobiles, Mr. Clowdis said.
Though some have reported railroads prioritizing shipments of oil products as a reason for the auto delays, Mr. Clowdis does not believe that is happening.
Messages left with representatives at both CSX and Norfolk-Southern were not returned. Both lines ship vehicles out of Toledo.
The delays have been a problem for automakers since at least the first of the year, leading some car companies to truck more cars than usual to their final destination. However, union and company officials said the railroad issues have not, to this point, affected Chrysler's production schedule. Chrysler's Toledo Assembly complex continues working six days a week, and sometimes seven.
Prior to the Cherokee going on sale, thousands of the vehicles were held in containment in and around Toledo so the company could test and make necessary tweaks to transmission programming, but officials say that has nothing to do with why vehicles remain parked on many lots.
"It's nothing on our part or anything wrong with the cars. The cars are all good, they're ready to go. We're just waiting on them to be picked up and shipped to the dealers," said Mark Epley, the Jeep Unit Chairman for United Auto Workers Local 12.
The rail delays haven't affected local Jeep dealers, though some farther-flung dealerships have reported some difficulties. It also can be more costly for companies to ship by truck than by rail.
Still, the true effect on the industry is difficult to determine. Auto sales remain exceptionally strong; May was the industry's best month in nine years.
"It's hard to say there's any serious problem for the industry when we're hitting a 16 million sales rate ... so it can't be too bad. But it does make one wonder what there could have been if there wouldn't have been this problem," said Karl Brauer, an analyst with Kelley Blue Book.
Still, Mr. Brauer said there are cars and trucks parked outside plants across the United States, and some dealers may wait weeks or even months for a specific model.
There's not a solid agreement on when the issues will be resolved.
"The rails are quick to say, 'We're two to three weeks from being caught up,' and they've been saying this for the last six to eight weeks," Mr. Clowdis said.
Mr. Baudendistel said part of the problem is how seasonal and cyclical both the rail industry and the auto industry are. He expects significant improvement by late summer.
Contact Tyrel Linkhorn at tlinkhorn@theblade.com or 419-724-6134 or on Twitter @BladeAutoWriter.
Guidelines: Please keep your comments smart and civil. Don't attack other readers personally, and keep your language decent. Comments that violate these standards, or our privacy statement or visitor's agreement, are subject to being removed and commenters are subject to being banned. To post comments, you must be a registered user on toledoblade.com. To find out more, please visit the FAQ.