Drivers face 'perfect storm'
Road projects puzzle, plague in Perrysburg
7/18/2014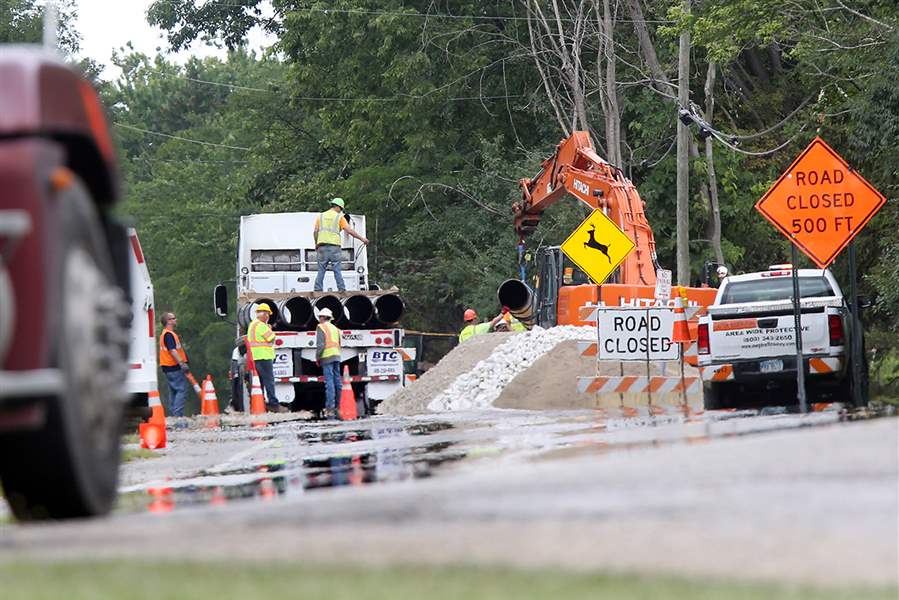 Construction is ongoing along West River Road in Perrysburg.
THE BLADE/KATIE RAUSCH
Buy This Image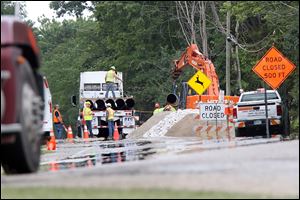 Construction is ongoing along West River Road in Perrysburg.
It's a mess.
Road construction around Perrysburg has left some residents stymied in how to get around the city, and those who figure it out must have patience and allow for extra travel time.
Two detours from Ohio Department of Transportation road closings have channeled traffic into another road-widening project in one of the city's busiest intersections, State Rt. 25 and Eckel Junction Road. That road crossing's closed lanes are funneling thousands of motorists a day into restricted space.
In addition, West River Road has lane restrictions from West Boundary Street to the Waterville Bridge and is closed from Hull Prairie Road to Fort Meigs Road. Fort Meigs Road over I-475/​U.S. 23 had been closed for road work but reopened Thursday with lane restrictions.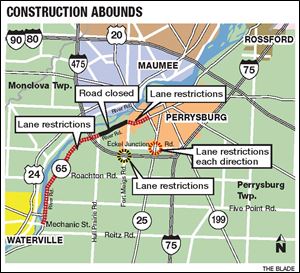 For commuters west of State Rt. 25 and north of I-475, to get west you have to drive east. It's a pain, many residents have complained.
"It's a perfect storm," said Bridgette Kabat, city administrator.
Ms. Kabat said that the various road projects are under way at the same time because ODOT money for the work became available at the same time. The Fort Meigs Road bridge work is part of a bigger project costing $6.5 million. The improvements on West River Road, also called State Rt. 65, cost $2.3 million. The widening at Route 25 and Eckel Junction cost $2.25 million.
"It's frustrating," said J.D. Justus, who lives off Five Point Road and used to take Fort Meigs Road to West River Road to go to work at the Spafford House Museum. Now, he has to use Route 25 and go through the construction zone at Eckel Junction. Plus, the River Road work has hindered customers trying to get to the museum where he works.
"It seems to be all being done at the same time," he said. "But I look at it this way, I would rather have it all done now than at multiple times, and I have to figure out a route every day. Now, I know my route."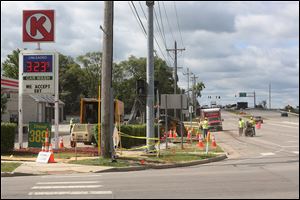 Construction also is ongoing at Eckel Junction Road and State Rt. 25, one of the Perrysburg's busiest intersection.
Darlene Carmona, store manager at Walt Churchill's Market just north of the Route 25 and Eckel Junction project, said so far the construction hasn't hurt the store's sales. She said it likely will, though, when the construction ramps up and further constricts traffic trying to go to and from the grocery.
"The problem is for people west of [State Rt.] 25," she said. "They have to go all the way around Levis Commons or to Roachton. We have one worker that has to maneuver around it, and it takes her 10 more minutes to get here."
Luckily for commuters, the Fort Meigs Road bridge work is ahead of schedule and now is letting traffic through, allowing some city residents a chance to avoid going through the Route 25-Eckel Junction construction.
The problem with West River Road, though, will continue until the project's scheduled completion in November. The work on Route 25 and Eckel Junction runs until mid-December, weather permitting.
"The good thing is State Route 25 is not as tore up right now as it will be, and hopefully Fort Meigs will be open by then," Councilman Rick Rettig said. "[Some councilmen] live on the west side too, and are facing the same thing. You just have to plan 10 more minutes into the commute."
While traffic can get through the Route 25-Eckel Junction intersection, Doug Dariano, city engineer, said motorists should try to avoid it.
There are a few ways to avoid it now. While West River Road work continues, commuters can take Fort Meigs Road heading north and south. And Eckel Road, off of Eckel Junction, heads farther south to State Rt. 25, thus avoiding the intersection under construction. With Fort Meigs Road now open, it can used to go south to Roachton Road.
"Before school starts, this all needs done," Councilman Tom Mackin said. "It is an inconvenience, but everyone just needs a little patience and to plan accordingly."
Contact Matt Thompson at: mthompson@theblade.com, 419-356-8786, or on Twitter at @mthompson25.