Whenever a new car makes its debut, hyperbole is a given. Auto executives gush hype as reliably as fall turns to winter.
But in the case of the next-generation Jeep Wrangler, which will make its debut this week at the Los Angeles Auto Show, it would be nearly impossible to overstate how important the vehicle truly is, both for Fiat Chrysler Automobiles and for the city of Toledo.
The interior of the new 2018 Jeep Wrangler is shown in a promo photograph released Wednesday by Fiat Chrysler Automobiles.
FCA US LLC Enlarge
For starters, the Toledo-built Wrangler makes Fiat Chrysler a lot of money.
The company doesn't provide profitability figures for individual models, but industry and financial analysts say the Detroit-built Jeep Grand Cherokee is likely Fiat Chrysler's most profitable model outside of the company's Ram trucks. The Wrangler, built at the automaker's Toledo Assembly Complex, is not far behind.
"The base vehicle's obviously profitable and probably got a pretty decent margin in it. But when you start adding up all the options, all the bells and whistles, and you get into an Unlimited, or a Rubicon, or some of the other more capable versions, profitability gets to be pretty hefty," said Joe Phillippi, senior analyst at AutoTrends Consulting in New Jersey.
According to data from TrueCar, an automotive analytics firm, the average transaction price for Wrangler this year is more than $37,000. That's on a vehicle with a base price of less than $24,000.
Beyond that, the Wrangler is the Jeep franchise. It's the model which all other Jeeps — and indeed, many other SUVs — are measured against. And as Jeep strives to grow global sales from 1.4 million units in 2016 to 2 million units by 2018, the new Wrangler has an unquestionably crucial role to play.
"Wrangler's always been a huge contributor to Jeep and to the company as a whole. Wrangler is in strong demand, it rarely has incentives of any size and it generally has the lowest inventories," said Michelle Krebs, an analyst with AutoTrader.com. "The other thing is that Jeep is a global brand and Wrangler is a global player. It has breadth of capability in terms of what it can do for sales, revenues, and profits."
The redesigned vehicle is expected to be in auto dealers showrooms early next year.
But as big a role as Wrangler plays in Fiat Chrysler's portfolio, it might play an even bigger one in northwest Ohio's economy.
"It's really a big deal economically for the city of Toledo," said Bill Burkett, the city's economic development commissioner and one of the key people involved in the 2014 discussions with the automaker about keeping Wrangler production in Toledo.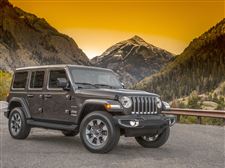 All-new 2018 Jeep Wrangler Sahara
FCA US LLC Enlarge
At that time, the company was kicking around the idea of moving the Wrangler elsewhere. In the end, Fiat Chrysler elected to keep the Wrangler here but move production of the Jeep Cherokee to a plant in Illinois.
Earlier this year, Fiat Chrysler completed its $700 million investment in its Toledo Assembly Complex to prepare the plant for the new Wrangler. The company has said the new model will lead to the creation of about 700 new jobs.
As of July, the facility had more than 4,700 employees, making it one of the city's largest single employers and keeping auto manufacturing one of the linchpins of the regional economy.
"It's something that we still do, and we do well here, and there's a big payoff for it," Mr. Burkett said.
Economic development officials say various studies have shown every automotive manufacturing job creates five to six additional jobs in the community. And two of the city's more recent development projects were directly tied to the Wrangler's future here.
Dana Inc. and Detroit Manufacturing Systems each announced plans in 2016 to open new manufacturing plants within the Overland Industrial Park after receiving contracts to supply the new Wrangler. Together, the two plants will have at least 500 employees within the next three years.
"We talk a lot about Dana and DMS," Mr. Burkett said. "The truth of the matter is if the Wrangler would have gone somewhere else we wouldn't have Dana and DMS going into the Overland site."
It's been nearly 12 years since Jeep launched an all-new Wrangler. That's eons in normal automotive terms, but more or less on track with the historical cadence for that vehicle.
Dealers say the company has done a good job keeping the excitement up for the Wrangler over the last decade with a mixture of small updates and limited edition trim levels, but there's no doubt it's time for an upgrade.
"They did some really cool things with that vehicle to keep it fresh, even though that technology was getting long in the tooth," said Ralph Mahalak Jr., a Jeep dealer in Monroe.
The current Wrangler doesn't offer a number of safety and convenience features that have become commonplace in recent years, including a backup camera, blind spot monitoring, or adaptive cruise control. It's also a gas hog, returning at best 21 miles per gallon on the highway.
Those faults haven't seemed to hurt sales, though.
Through October, the Jeep had sold 163,533 Wranglers, putting the vehicle on the same pace as last year, which was its second-best year ever. Jeep sold a record 202,702 Wranglers in 2015.
Still, Fiat Chrysler has suggested at least some of those gripes — a lack of available technology and poor fuel economy — will be addressed with the new model.
The company hasn't released much information about the upcoming Wrangler, but a report from the U.S. Environmental Protection Agency shows the new Wrangler Unlimited will get a 15 percent increase in highway fuel economy and an optional eight-speed automatic transmission. Photographs released by Jeep also show the Wrangler getting a heated steering wheel for the first time.
Those updates, dealers and analysts say, should broaden the Wrangler's appeal, possibly luring in buyers who passed on the Wrangler before because it lacked a feature or two that were on their must-have lists.
Cosmetic changes appear more minor. The new Wrangler will still have its removable top, round headlamps, protruding square taillights, and flared fenders, preserving the basic and iconic shape. And Fiat Chrysler officials have promised the Wrangler won't lose any of its off-road capability. The company has said, though, that it is using aluminum in the new vehicle, a departure from the all-steel body in the current one.
Even as anticipation ramps up for the new model, dealers say they're having no trouble selling the current Wrangler. John Yark, the owner of Yark Automotive Group in Sylvania Township, said his Jeep franchise is having its best year ever with Wrangler, with sales up 22 percent over last year.
But Mr. Yark is also getting a lot of people asking about the new one.
"It's conversation at this point, but I anticipate once we are in a position that we can order them that we're going to get a lot of people who are going to want to have the first one in the neighborhood," he said.
The vehicle will be officially debuted on Wednesday. The company has said it will go on sale sometime in next year's first quarter.
Contact Tyrel Linkhorn at tlinkhorn@theblade.com, 419-724-6134, or on Twitter @TyrelLinkhorn.
Guidelines: Please keep your comments smart and civil. Don't attack other readers personally, and keep your language decent. Comments that violate these standards, or our privacy statement or visitor's agreement, are subject to being removed and commenters are subject to being banned. To post comments, you must be a registered user on toledoblade.com. To find out more, please visit the FAQ.