DETROIT — Hundreds of Toledo Jeep workers rallied outside the North American International Auto Show here Sunday as they sought to raise the profile of what they see as an unfair, one-sided decision from Fiat Chrysler Automobiles to move truck-driving work from the Toledo Assembly Complex to an outside trucking firm.
"They're taking away our rights as union members. They are going against our contract," said Mike Damico, one of the 88 United Auto Workers Local 12 truck drivers whose positions are to be eliminated under FCA's plan to outsource the work.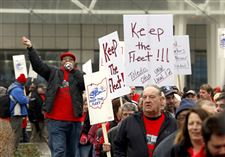 Brian Sims, UAW Local 12 Committeeman, leads a demonstration outside of Cobo Center with about 200 members of UAW Local 12 to draw attention to Fiat Chrysler's decision to outsource some trucking work.
The Blade/Amy E. Voigt
Enlarge | Buy This Image
According to a filing with the state of Ohio, Fiat Chrysler wants to wind down that work by the end of February. Union officials have said 16 drivers were laid off last week.
The drivers — unionized employees of FCA — pick up parts such as engines and interior components from the automaker's other plants and from suppliers and deliver them to the Toledo Assembly Complex, which builds the Jeep Wrangler.
The biggest point of contention from Local 12 is how the decision was made.
"This was done with no negotiations," Mr. Baumhower said. "This was a unilateral decision. I think that's the exclamation point I'm trying to put on this."
But Fiat Chrysler has repeatedly denied that, saying it had been engaged in discussions with UAW leadership about the situation for more than two years. In a statement issued Sunday, the automaker repeated that and again said no employees would lose their jobs.
VIDEO: UAW Local 12 protests at Cobo Center
"FCA US respects the rights of Local 12 to rally in support of their members, but maintains our position that we have been discussing the Toledo Terminal wind down with UAW leadership for over two years," the company said in a written statement. "As has been previously communicated, it is the intention of FCA US to find employment opportunities for all impacted Toledo FCA Transport employees.
"There will be no loss of jobs with this action," the company said. "The Toledo Assembly Complex continues to add hundreds of new jobs to support Wrangler production and future production of the all-new Jeep [pickup] truck."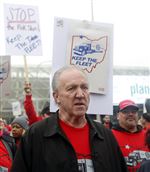 Bruce Baum-hower, UAW Local 12 president, joins the rally to protest FCA's plan to move the work. 'This was done with no negotiations,' he said.
The Blade/Amy E. Voigt
Enlarge | Buy This Image
Mr. Baumhower has said Local 12 asked FCA for proof of those prior negotiations but were not provided with any. He also said the company refused to talk any more about the decision.
"They just basically took a hard-line position that it's too late, it's a done deal, the contracts have been sent out, and it's over," he said. "There's just no way that they can take that position or should be taking that position. But they did."
The UAW contract with FCA requires that outsourcing decisions be negotiated.
"Companies have the right to close, but we have the right to negotiate the closure. There was no negotiation. And it's not a closure," said Roger Weckerlin, a union steward for Toledo Terminal. "They're not not running our freight down the road, we're just not going to be doing it."
Local union leaders also feel FCA has been disingenuous with its promise for 700 new jobs connected to the redesigned Wrangler, arguing if 88 of those end up being people transferring in from the transportation terminal, the company hasn't met its promise.
The demonstration outside the North American International Auto Show was viewed by the union as a way to get its complaints noticed, not as an effort to dissuade anyone from attending the show. In fact, many of the demonstrators were heading into the show themselves after the rally.
But the high-profile location was selected to get as much visibility as possible — and to hopefully catch the eye of Sergio Marchionne, Fiat Chrysler's chief executive officer.
"Sergio made comments at the auto show this week, this was the best work force he had ever seen, and he didn't know how to thank them," Mr. Baumhower said. "He can thank us right now by telling his people that work for him to get off of this ridiculous idea. I'm not sure that it's reached his level. But we're hoping that he gets the message that we want him to get involved in this."
At least 300 Local 12 members — who were bused in — participated in the rally, which took place along West Jefferson Avenue in front of the Cobo Center. Local 12 officials were expecting another 100 or so members to drive themselves.
Mr. Baumhower said union also picked up support from a number of other FCA units around the region, including Local 1435 in Perrysburg Township and Local 372 in Trenton, Mich. A handful of UAW-represented Ford employees also joined the rally to protest FCA's decision.
The demonstration lasted about an hour.
"This is great when you see this many people show up, when you see other units coming here to support what you're doing," said Mark Epley, the Jeep Unit chairman for Local 12. "It could happen to them units too. When we show solidarity, to get all these different units coming here together, that shows the company that we're one union here. We're one union."
Local 12 leaders say they have received strong support from UAW International, though no top officials were on hand Sunday.
Contact Tyrel Linkhorn at tlinkhorn@theblade.com, 419-724-6134, or on Twitter @TyrelLinkhorn.
Guidelines: Please keep your comments smart and civil. Don't attack other readers personally, and keep your language decent. Comments that violate these standards, or our privacy statement or visitor's agreement, are subject to being removed and commenters are subject to being banned. To post comments, you must be a registered user on toledoblade.com. To find out more, please visit the FAQ.