Upcoming models star at Toledo Auto Show
2/7/2018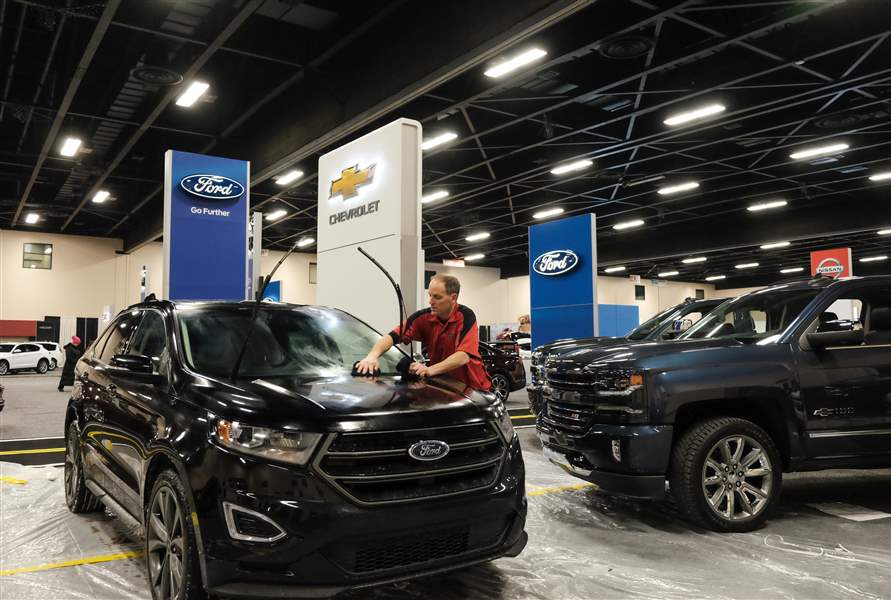 Rob Shobe cleans a Ford Edge that had been driven to from Detroit in the snow for the Greater Toledo Auto Show. The 2018 Greater Toledo Auto Show starts Thursday at the SeaGate Convention Centre and runs through Sunday, February 11. The Blade/Jetta Fraser
The Blade/Jetta Fraser
Buy This Image
IF YOU GO
Location: SeaGate Convention Centre, 401 Jefferson Ave, Toledo, OH 43604
Hours: 3 p.m. to 9 p.m. Thursday; noon to 9 p.m. Friday; 10 a.m. to 9 p.m. Saturday; 10 a.m. to 5 p.m. Sunday.
Cost: Adult tickets are $6 online, $8 at the gate. Children age 9 and under are free. Seniors age 65 and up are $6.
Information: toledoautoshow.org/
The Toledo Auto Show generally concedes upcoming models and early prototypes to the country's larger regional auto shows, offering instead a roundup of vehicles that consumers can find in today's showrooms.
Rob Shobe cleans a Ford Edge that had been driven to from Detroit in the snow for the Greater Toledo Auto Show. The 2018 Greater Toledo Auto Show starts Thursday at the SeaGate Convention Centre and runs through Sunday, February 11. The Blade/Jetta Fraser
But this year's show is a little different, with the event that opens to the public Thursday and runs through Sunday featuring a number of cars and trucks fresh off their worldwide debuts.
Headlining that list is the limited-edition 2019 Ford Mustang Bullitt, which is one of the industry's biggest hits of the year.
In addition to the Bullitt, which plays on the 50th anniversary of the Steve McQueen cop drama being released in theaters, Ford brought the upcoming 2019 Ranger midsize pickup and the 2019 Edge ST, a newly announced performance version of the company's midsize crossover. Fiat Chrysler also provided a pair of upcoming models — the significantly redesigned 2019 Jeep Cherokee, and a top-trim level 2019 Ram.
All five of those vehicles were shown for the first time in early January at the North American International Auto Show in Detroit, and won't go on sale until later this year.
"It's great support by the manufacturers to be able to provide vehicles like that to us. More recently they've reserved those for the Detroits, New Yorks, Chicagos, and L.A.s. To get that product here is a big coup for us," said Robb Brown, president of Brown Automotive Group and the chairman of the show's charity preview gala.
In all, show organizers say they'll have in excess of 150 vehicles from 24 manufacturers, ranging from the $17,000 Ohio-built Chevrolet Cruze to the $92,000 Lexus LC 500 coupe that promises to zip from 0 to 60 mph in a mere 4.4 seconds.
"For the most part, all of the cars people can get in," Ms. Danison said. "The auto show is a great place to come and touch and feel and sit in all these different brands in one location, without the snow so you're not having to drive from dealership to dealership. You get one place to do that, and you can make a connection with a local dealer that will be working the show."
By law, dealers can't make sales at auto shows, so the show presents a low-pressure environment for tire-kicking.
Someone will be going home with a new car, though. The Northwest Ohio Toyota Dealers are sponsoring a giveaway of a two-year lease on a 2018 Toyota Corolla.
In addition to the cars on display, the show has lined up a number of activities for children, including an inflatable slide and visits from the Mud Hens Muddy and Muddonna.
The event kicked off Wednesday night with the 15th annual Cars are the Stars preview charity gala. Mr. Brown said the event, which focuses on organizations that help children, has raised $1.85 million over the last 14 years. They're hopeful they can break the $2 million mark this year. About 900 people were expected to attend.
Contact Tyrel Linkhorn at tlinkhorn@theblade.com, 419-724-6134, or on Twitter @TyrelLinkhorn.