Orbis Corp. will close the former Hinkle Manufacturing Inc. plant in Perrysburg before the end of the year — an announcement that comes just a month after Orbis purchased the local automotive packaging company.
About 70 people are expected to lose their jobs.
"We understand that this is disruptive to a lot of families and we recognize the news we shared this past week is difficult to share," said Dennis Rooney, vice president of human resources at Orbis. "Our thinking was once we knew where we could go with this, we had an obligation to share that in advance, and that's part of our discussion."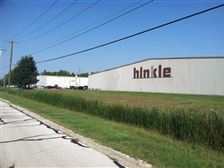 Exterior of former Hinkle Manufacturing Inc. site at 5th and D Streets, Ampoint Industrial Park Perrysburg. Orbis Corp. has announced it will close the facility, resulting in about 70 lost jobs.
THE BLADE
Enlarge | Buy This Image
Orbis, which is based in Wisconsin, does plan to maintain an engineering, design, and customer service office in Perrysburg. That office is expected to have about 15 employees.
"We find a lot of value in what those folks, the veteran designers especially, bring with the Hinkle acquisition," Mr. Rooney said.
Founded in 1962, Hinkle had long specialized in producing reusable plastic packaging for the automotive industry. The firm also produced and sold plastic shipping containers for foods and pharmaceuticals, cardboard boxes, and packaging foam. Outside of the supply chain industry, Hinkle might be best known locally for donating the corrugated blue plastic boxes that the USA Luge program uses for travel and storage of its sleds.
Orbis announced the deal to purchase Hinkle on May 1, with officials saying the Perrysburg company's business and customer base were a strong complement to what Orbis was already doing and would allow the company to provide a wider range of products. In addition to its facilities in Perrysburg, Hinkle also had a factory in Dearborn, Mich.
Mr. Rooney said Orbis hadn't initially intended to close the former Hinkle plants, but after a review of its business and manufacturing footprint, officials decided to wind them down and move production to other existing Orbis facilities.
The Perrysburg plant is expected to close by Nov. 15, while a plant in Dearborn plant will shut down by December 15. Mr. Rooney said officials are negotiating severance packages with the United Auto Workers Local 12, which represents the employees who will be losing their jobs.
"We'd certainly rather be working on a continuation plan but there appears to be no interest in that, which is especially hard to take considering that workforce," said Bruce Baumhower, the Local 12 president. "People hired in at Hinkle stay there their whole life. It's been a family business and the employees have felt like part of a family their entire careers. It's really disheartening to see Orbis kick them to the curb like that."
Tab Hinkle, the president of Hinkle Manufacturing prior to its purchase by Orbis and the son of the company's founder, said he was given no indication that the plants might be closed and expressed frustration about the outcome following the sale.
"I'm not involved anymore, unfortunately, or this wouldn't have happened," he said in a brief phone interview. "Obviously, it's extremely disappointing."
Orbis has 10 other plants in the United States and Canada, including two in Ohio. The company also has manufacturing operations in Belgium. Officials said a final decision on where the Perrysburg work will go hasn't been made, though Orbis' Mentor facility in suburban Cleveland is a leading candidate.
Contact Tyrel Linkhorn at tlinkhorn@theblade.com, 419-724-6134, or on Twitter @TyrelLinkhorn.
Guidelines: Please keep your comments smart and civil. Don't attack other readers personally, and keep your language decent. Comments that violate these standards, or our privacy statement or visitor's agreement, are subject to being removed and commenters are subject to being banned. To post comments, you must be a registered user on toledoblade.com. To find out more, please visit the FAQ.