Rogers comes up short in state semi
Rams unable to overcome foul trouble
3/14/2014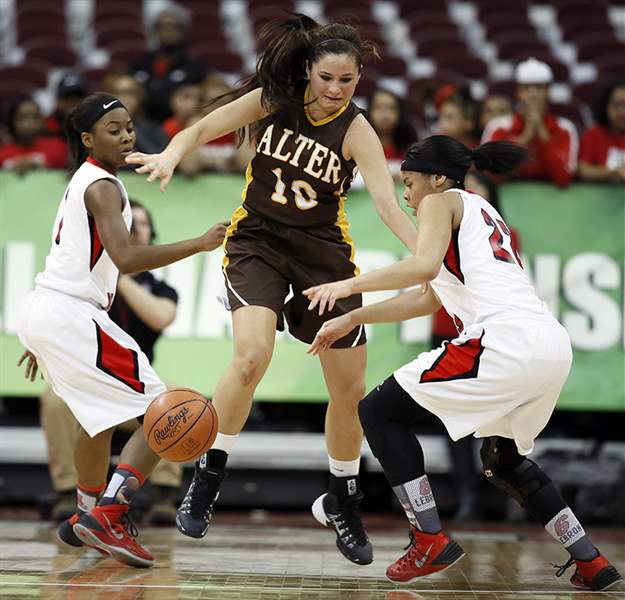 Rogers' Jasmyne Smith, right, knocks the ball away from Kettering Alter's Emma Bockrath during the Division II girls basketball state semifinal in Columbus.
THE BLADE/JEREMY WADSWORTH
Buy This Image
COLUMBUS — Hindered by foul trouble, especially at key stages of the game, Rogers saw its eight-point halftime lead dwindle down and eventually disappear Thursday in a 50-47 loss to second-ranked Kettering Alter in a Division II girls state basketball semifinal at the Schottenstein Center.
"It was a great girls basketball game in the final four, and we just came up a little bit short," Rogers coach Lamar Smith said. "I'm proud of my team. They gave their all.
"The calls weren't going our way today, if you look at how many times they were at the line. But we're not going to put that on the officials, because we felt we still should've won the game."
PHOTO GALLERY: Click here to view photos of the game.
Rogers was called for 20 fouls and Alter for just seven. The Knights were 14 of 22 from the line, Rogers 4 of 5.
The 12th-ranked, City League champion Rams (24-5), making their first appearance in a state final four, seemed in control early on. They bolted to a 9-0 lead and took a 30-22 edge to the break against the Knights (29-0), who had never trailed at halftime all season.
But Rogers' fourth-year starter and team leader, Sasha Dailey, picked up her third foul on a charging call 2:10 into the third quarter, when the Rams held a 30-24 lead.
Instead of a basket and potential free throw for a nine-point lead, the field goal was waved off and Dailey, a second-team All-Ohio guard, went to the bench.
"That was huge," coach Smith said. "I'll have to watch the film but I didn't think it was a charge. I'm not a referee. That's they're job. But I just felt that was a good play.
"I thought it was going to be an and-one [three-point play], and they said she charged. It changed the momentum of the game. We had a couple breakdowns on some plays, and the girls started worrying about the referees. It kind of took our aggressiveness away."
Alter chipped away at Rogers' lead, pulling within 34-33 with 1:19 left in the third quarter, and Smith put Dailey back into the game. She made an immediate impact, scoring on a 15-footer from the right baseline to push Rogers' lead to three points.
But Dailey then drew her fourth foul with 8.6 seconds left in the third, and the Knights' Braxtin Miller hit a 3-pointer to tie the game at 36 entering the fourth quarter.
"It bothered me a little bit, but we've got a good team and I knew that they would be fine without me," said Dailey of her foul trouble.
Alter took a 38-36 lead 38 seconds into the final period, and never trailed again. Dailey returned, fouling out with 32.8 seconds remaining, and Libby Bazelak's two resulting free throws gave Alter a 48-43 lead.
"They were the most athletic team we faced all year, and we knew that coming in," Alter coach Christina Hart said. "It took us a little bit of time for us to get adjusted to the physicality and the surroundings.
"But once we settled down, our kids played hard and started knocking some shots down. Our defense is what kept us in the game."
Rogers staged a near miracle rally in the closing seconds, getting a put-back bucket from Tori Easley with 24 seconds left, and another basket nine seconds later on Akienreh Johnson's steal and layup, which pulled the Rams within a point.
But Alter broke Rogers' press, and Hayley Combs scored on an uncontested layup with seven seconds to go. A desperation 3-point try by Rogers freshman Brelynn Hampton-Bey just before the final buzzer fell short.
"They struggled once [Dailey] was out of the game, especially the second time when she went out with four fouls," Hart said. "I thought that was huge. That's when we were really able to gain some momentum."
Dailey topped Rogers with 10 points, Johnson had eight points and seven rebounds, and Easley and Jasmyne Smith added seven points each.
Alter's Emma Bockrath led all scorers with 14 points, Maddie Bazelak had nine points, and Miller added eight for the Knights.
"We had a lot of mental breakdowns on defense and offense," Jasmyne Smith said. "They did a lot of back-door cuts and we weren't switching. When we tried to recover, it was always a foul.
"It's hard to play defense when, every time you slide and put your hands up, the whistle blows."
But Alter regrouped from its 9-0 deficit behind Bockrath, whose three-point play and two subsequent buckets helped the Knights get within 15-9 entering the second quarter.
That momentum continued early in the second quarter, when McKayla Patton's 3-pointer capped an 8-0 run with 4:25 left in the half.
But that lead lasted only 12 seconds, as Rogers' Tatyana Reynolds answered with a 3-pointer. Rogers closed the half with a 13-4 surge.
"It hurts because I've been with the same coach almost all of my life," Dailey said of her high school finale. "Now it's just over, and you've got to grow up, I guess."
"It was a good way to go out, getting to the states with my dad," Jasmyne Smith said, "but it would've been even better if we would've made it to the championship and won it."
Contact Steve Junga at: sjunga@theblade.com, or 419-724-6461 or on Twitter@JungaBlade.