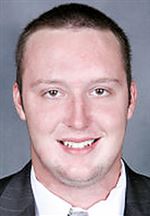 Dietz
BOWLING GREEN — The Bowling Green State University football team has not faced the University of Pittsburgh since the start of the 2008 season.
But several Falcons are very familiar with their opponent in the Little Caesars Pizza Bowl on Thursday.
The BG player who knows the Panthers best could be freshman tackle Logan Dietz, a Pittsburgh Central Catholic grad.
"My high school is basically on Pitt's campus, so I know the area well," he said. "I have a lot of friends — both on the team and who don't play football — who go to school there.
"It's really exciting to play a team I grew up watching."
Junior defensive end Bryan Thomas also knows the Panthers well: He grew up 20 minutes from Pittsburgh in Washington, Pa. He said Pitt recruited him while Dave Wannstedt was the head coach, but after Wannstedt was fired the school's interest waned.
"I went to a couple of their camps, but when coach Wannstedt left [the interest] died down," Thomas said. "But I wanted to go away from home, switch things up and try something new.
"I'm going to have some extra 'juice' for the game because that's my hometown team."
The Pennsylvania natives aren't the only Falcons excited about the chance to play Pitt. The entire team is looking for its first win over a BCS automatic qualifier team since that win over the Panthers at Heinz Field.
"I wanted to play a BCS team [in a bowl]," junior linebacker D.J. Lynch said. "That will allow us to make a big-time statement going into the offseason."
Lynch got his wish, but it certainly won't be easy to knock off the Panthers.
"They are physical on both sides of the ball," interim coach Adam Scheier said. "They are going to try and run the ball, but they are balanced. They have two running backs that average five yards per [run], they have a strong-armed quarterback and two good wideouts."
Pitt quarterback Tom Savage has thrown for 2,834 yards and 21 touchdowns; his top two targets, Tyler Boyd and Devin Street, each have seven TD receptions. Boyd has caught 77 passes for 1,001 yards, while Street has 51 catches for 854 yards.
But the Falcons defense expects the Panthers to run more than pass. Isaac Bennett leads the ground game with 795 yards rushing and seven TDs on 166 carries, while James Conner has run the ball 120 times for 596 yards and seven scores.
"There's not a whole lot of deception going on: There's just a lot of good, hard-nosed football," senior defensive end Ronnie Goble said. "They're going to try and run the ball, and they are going to try and block us hard.
"We need to match up with them physically."
The Pitt defense has been inconsistent against a difficult ACC schedule, but has held the opposition to 21 points or less in three of the team's last five games.
Still, BG quarterback Matt Johnson, a Harrisburg, Pa., native, knows he and his teammates on offense face a challenge at Ford Field.
"This is a great opportunity for us," Johnson said. "This group [of players] hasn't beaten a [BCS AQ] school, and there's extra motivation for the Pennsylvania guys on the team.
"We don't want to give the impression that we don't want to be at Bowling Green, because we're happy that we're here. But we'll be playing against guys we played in high school, and there will be friends and family [watching]. So there's plenty of motivation."
TODAY'S SCHEDULE: The Falcons will practice at Perry Fieldhouse in BG today before traveling to Detroit for bowl festivities.
The players will spend time at Thunderbowl Lanes in Allen Park, Mich., and take part in a VIP reception and dinner.
Scheier leaving BG; 2 coaches join team
BOWLING GREEN — BG interim coach Adam Scheier will join the staff at Wake Forest following the bowl game, according to a person familiar with the situation.
Scheier is the fourth Falcons assistant who will join former BG coach Dave Clawson at Wake Forest. He will join defensive coordinator Mike Elko, offensive coordinator Warren Ruggiero and running backs coach Stan Hunter along with strength and conditioning coach Brandon Hourigan.
Meanwhile the Charleston, Ill, Times-Courier is reporting that Kim McCloud, the defensive coordinator at Eastern Illinois and running backs coach Mike Lynch will join the staff of new BG coach Dino Babers.
McCloud was a college teammate of Babers at the University of Hawaii who also was an assistant with Babers at Baylor before spending the past two years as the Panthers' defensive coordinator.
Lynch spent nine seasons at EIU, coaching running backs the past two seasons under Babers and coaching receivers the prior seven.
Contact John Wagner at: jwagner@theblade.com, 419-724-6481 or on Twitter @jwagnerblade.com.
Guidelines: Please keep your comments smart and civil. Don't attack other readers personally, and keep your language decent. Comments that violate these standards, or our privacy statement or visitor's agreement, are subject to being removed and commenters are subject to being banned. To post comments, you must be a registered user on toledoblade.com. To find out more, please visit the FAQ.