The 130th Run For the Roses was fun for everyone, whether at the Derby in Louisville or here at home in Toledo. Hats, mint juleps, bourbon balls, Derby pie, and more all helped highlight an exciting race graced with gentility.
Ladies and gents looked smashing in chapeaus that topped spring dresses, suits, sports jackets, shirts, and ties. And Hats by Jill Henning of Toledo made quite a stir nationally as well as in Toledo.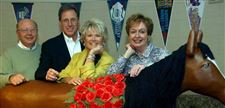 A SURE BET: From left, John Graham, Jerry and Sue Zemia, and Linda Graham know the odds of having fun at Sylvania Country Club's Kentucky Derby event.
Henning hats were highlighted on NBC, ABC, and ESPN as well as in private showings and at the Kentucky Museum of Arts and Design. Among those who purchased Henning hats for the Derby were the two daughers of the owner of Smarty Jones, the winning horse, the wife of the president of Churchill Downs, and Julie Champa of Toledo. Mrs. Hennings' hats were copied for hat cakes at the Derby, designed after a white braid, mad hatter-style chapeau with white magnolias and pheasant feathers.
ON THE HOME FRONT, guests at Sylvania Country Club's Derby party sipped mint juleps in official Derby glasses as they nibbled hors d'oeuvres while watching the race on a giant TV screen. The fun was fed with a buffet of beef, ham, catfish, ribs, and southern fried chicken, all kinds of salads, and topped off with pecan, shoo fly, sweet potato, and Derby pies. Folks burned calories dancing to Steve King and the Dittlies.
Diane and Paul Churdar, who have been chairmen for more than 20 years, were aided by Barbara and Bill Biggs, Linda and John Graham, Pat and Bruce Maison, Kitsie and Jim Valiton, Barb and Jim Cummins, Pat and Craig Hopple, Sally and Norm Muhme, Sue and Jerry Zemla, Donna and John Kean, Pat and Jim Geissler, and Ellen and Bob Navarre.
SPRINGTIME DERBIES: Dorothy Sheehan, left, and Lori Ruzicka show off their hats at Stone Oak Country Club.
STONE OAK COUNTRY Club's Derby Party tempted guests with all kinds of southern favorites including fried chicken, cheese grits, corn pudding, rice pudding with cream, pecan pie, Churchill Downs asparagus, and Mint Julep punch. The concoction, created by beverage man Norm, included lemon lime soda, pineapple juice, bourbon, and creme de menthe served over ice with powdered sugar and fresh mint leaves.
A TELEVISED SHOWING of the Derby was the backdrop for "Derby Days: An all equine art exhibit" at 20 North Gallery. The colorful works by world-famous sports artist LeRoy Neiman was the hit of the show, along with equine works by other painters and sculptors.
ONE COULD TRUCK out to Raceway Park and feel as if one were at the Derby. Live races were held all day, along with a simulcast view of the Derby race, where guests could bid on the action at Churchill Downs.
SIP OF THE SOUTH: Paul Churdar ladles a bit of mint julep into an official Derby glass so his wife, Diane, can have a taste too at the Sylvania Country Club.
IT WAS THE first time to partake in Derby festivities for former Toledoans Melissa Richards and Tom Person of Louisville. And what a way to celebrate: They had first-level seats for the Oaks races. On Derby Day, they hosted a party in their home, but they are hoping to be in the suites next year, especially since all the construction is expected to be finished next year.
Mrs. Richards said Millionaire's Row was moved to the infield because of the construction, and there was less room for everything, including the corporate tent village. But they saw it all on TV.
FOR SUZIE ZIES, the Derby was an extra special occasion. She is a Kentucky Colonel, an elite distinction given by the Kentucky governor for community contributions. As a result, she and her husband, Gary, and their friends Michael and Suzy Short, were guests at the prestigious Governors Brunch at the Brown and Williamson Club as guests of Kentucky's State Rep. Paul Marcotte prior to the races. They were also guests of state Sen. Jack Westwood for the races in the first-floor clubhouse. Mrs. Short, who quipped, "We picked the winner," said they star-gazed on Friday night at the Galt House. After the race they attended the Blue Grass Bourbon Barbecue at the Kentucky Center downtown Louisville for the Winners Circle for Children.
GIVING IT A WHIRL: Alain Doucet and Anik Jolicoeur, four-time world ballroom dance champions, strut their stuff at Alfredo's School of Dance.
Wadsworth / Blade Enlarge
World and Canadian Ballroom champions Alain Doucet and Anik Jolicoeur wowed the audience with their dazzling performance at Alfredo's Studio of Dance during the "Broadway to Hollywood" showcase Saturday evening. The dance couple, who are married and reside in Quebec, are four-time world champions in the Ten Dance category, meaning they were judged on the 10 major dances, including waltz, Viennese waltz, tango, foxtrot, quick step, cha-cha, rhumba, samba, pasa doble, and jive.
The evening also included dinner, open dancing, and exhibitions by local and regional dancers on Alfredo's 3,200-square foot dance floor.
Ballroom dance is still kicking up its heels in Toledo. In addition to dance studios, there are ballroom dance groups that meet on a regular basis to strut their stuff.
THE COTILLION CLUB's Spring Formal Dinner Dance was April 17 at Toledo Country Club, and guests twirled and swirled to Michael's Music. The 64-year-old ballroom dance group meets three times a year: fall, winter, and spring, said club chairman Gay Blossom. Chairmen of the spring dance were Janis and Charles Hunt and Jane and Howard Bruss.
THE LAMPLIGHTER'S DANCE Club's "Daffy-Dill Swing" was April 24 at the Toledo Club. Chuck Neal and the Night Hawks played for the ballroom buffs. Chairmen Gloria and Bill Carpenter were assisted by Marv and Mary Dobbs, Charles Ford and Marge Genzman, and Ben and Mary Philips. It was general chairman Lois Bender's last dig as chief; Ed and Nancy Kelley will preside as chairmen of the 2004-2005 season. The club began in 1953.
St. John's Jesuit High School's "Razzle Dazzle Downtown" benefit in Owens-Illinois Headquarters was a classy affair. Dashing students in tails greeted guests arriving through chrome arches into a night-club atmosphere with cityscapes, candlelight, and shimmery bistro tables centered with giant martini glasses.
CLASS ACTS: Rev. Don Vettese, left, Mary Jo Anderson, and Dean Ludwig share a laugh at the St. John's Jesuit High School fund-raiser at One SeaGate.
Morrison / Blade photo Enlarge
Guests posed for prom pictures and bid on big-ticket silent-auction items as they schmoozed. An open bar featured wines from Lighthouse Vineyards founded by Jon Parker, a SJJ alum.
A jazzy song-and-dance show by SSJ and St. Ursula students followed in the theater. All revved up, guests bid fast and furious at the live auction. Joe Lemieux, O-I board chairman and former CEO, was humbled by a scholarship fund that was established in his name. Bids honored his business leadership and for initiating Toledo 2020 for young minority men. Titan the dog drew interest too.
A gourmet dinner followed in a "city lights" dining area with towering vases that held ostrich feathers. The gourmet dinner by Gladieux with impeccable white glove service, was exquisite.
DRESSED FOR CLASS: David and Linda Ball, left, and Annette and Mike Moriarty look elegant.
Morrison / Blade photo Enlarge
Dinner done and the night still young, guests danced to Hepcat Revival and tried to open a vault of treasures worth more than $8,000. Keys cost $50 each, but only one fit the lock. Dick and Kathy Faist bought several, and handed me the keys before they left. I tried the first key. Nope. But the second one opened the door. It was mine! That is, for a few moments. Alas, the Faists were the true winners. Student Tico Thepsourinthone sold them the winning key.
Chairmen, Linda Ball and Annette Moriarty report a net of more than $400,000, which made Rev. Don Vettese, SJ president, smile. Seen were Brad and Carmen Morse, Jim and Kay Murray, Brent and Shelly Rice, Jerry and Angie Sawicki, John and Yolanda Szuch, Tim and Jenny Yoder, Pati Boyle, Pat and Sarah McIntyre, Jim and Julia Bates, Damian and DiAnne Cairns, and Dwayne and Thelma Clark.
Towne Club cards/lunch. 10 a.m. May 6, Toledo Counry Club.
Maumee Indoor Theater grand re-opening, 7 p.m. May 7, gala fund-raiser 7 p.m. May 8, public open house noon-5 p.m. May 9.
Make-A Wish Tennis Pro-Am. 7:30 p.m. May 7, Shadow Valley Tennis and Fitness Club.
Toledo Mud Hens Grand Slam Gala. 9:30 p.m. May 7, Fifth Third Field.
First Lady Tea/Fashion Show for Ladies and Gentlemen. 2 p.m. May 8, Dana Conference Center.
Black and White Ball. 7:30 p.m. May 8, One SeaGate.
Potentate Ball. May 8, Zenobia Shrine.
Toledo Public Schools Foundation Awards. 6-7:30 p.m. May 11, Inverness Club.
Friends of Toledo Day Nursery lunch. 11:30 a.m. May 11, Sylvania Country Club.
St. Luke's Hospital Auxiliary Style Show. 11 a.m May 11, hospital auditorium.
Junior League Sustainers Dinner. 6:30 p.m. May 12, Toledo Country Club.
Ability Center auxiliary lunch. 11:30 a.m. May 12, Sylvania Country Club.
St. Vincent Mercy Medical Center Auxiliary lunch. 11:30 a.m. May 12, Toledo Zoo African lodge.
Little Sisters of the Poor Celeb Wait Night. 6 p.m. May 13, Toledo Country Club.
Maumee Valley Country Day School benefit. 6:30 p.m. May 14, on campus.
Claire's Night, celebration of Life. 7-10 p.m. May 14, Toledo-Lucas County Public Library.
Bad Plaid Open, Executive Women's Golf Association. May 14, Valleywood Golf Club.

Guidelines: Please keep your comments smart and civil. Don't attack other readers personally, and keep your language decent. Comments that violate these standards, or our privacy statement or visitor's agreement, are subject to being removed and commenters are subject to being banned. To post comments, you must be a registered user on toledoblade.com. To find out more, please visit the FAQ.