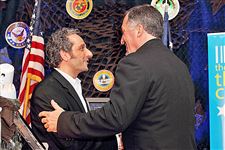 Jerry Brown, left, of BusinessVoice, accepts the Silver Medal award for his work at the ADDY Awards.
ATTENTION! Advertising leaders took a leave from active duty to attend the ADDY Awards Feb. 23 at The Pinnacle. Their orders were to grab their gear and rendezvous at 1800 hours, get in the chow line, and laugh and clap according to protocol. The military-type theme created by the University of Toledo marketing department was presented by the Advertising Club of Toledo.
The award show was dedicated in memory of Jim Gilbert of Gilbert Mail Service. He was a long-time member and past president who was serving in the Navy at Pearl Harbor in 1941 when the Japanese attacked.
Michael Seay of Buckeye Telesystem, a past club president and event chairman along with Suzette Kanarowski, served as an entertaining host with Chrys Peterson of WTOL-TV, Channel 11. The national anthem was sung by club member Ellen Pizza of Commerce Paper.
The silver medal award for lifetime achievement was presented to Jerry Brown, president of BusinessVoice. Best of show went to Madhouse in the non-traditional advertising category for the Bowling Green State University Stroh Center promotional campaign.
ADDY award co-chairman Suzette Kanarowski, left, with Jason Griffin, Nathan Steinmetz, Kim McBroom and Chrissy Redrup.
The Blade/Andy Morrison
Enlarge | Buy This Image
Other winners included Sheroian Associates, Inc. in the sales promotion category for Wood Haven Log and Lumber, and Hart Associates in the public service category for Toledo Area Regional Transit Authority and in the television category for ProMedica Physicans.
Bronze, Silver, and Gold Addys were presented to Bowling Green State University, CMD Communications, Madhouse, Impact Products, Sheroian Associates, Hart, Business Voice, Ulrich Pinciotti Design Group, The Buzz Book, Owens Community College, University of Toledo, Lamar Advertising, Interrupt Marketing, Fruchtman Marketing, Monroe County Community College, Lesniewicz Associates, Lourdes University, Thread Marketing Group, Illuminate Design, Concentrek Group, FLS Marketing, Adams Street Publishing, John D. Williamson Photography, Point Seven Studios, and Level 2 Studios.
Silver Student Addy Awards were presented to Nathan Dualbaugh for Owens Community Collage and Sweat 2012 for Bowling Green State University.
The event raised $6,000 for the club's programs and $600 for the University of Toledo's ROTC program.
Among the more than 350 faces in the crowd were Mark Luetke (Funk Luetke Skunda Marketing), Bill Sattler (Madhouse), Eric Eggly (Point Seven Studios), Nick Amrhein (3byOne Media), Suzette Kanarowski (Muir Graphics), Sue Stevenson (Lamar), long-time member Mae Jo Ritchie, Casey Pogan and Sara Wilson (Levis Commons), Todd Beringer and John Luscombe (Metzger's), Larry Burns (UT), and Kathy Jex, Advertising Club president.
Theatreworks USA actress Stephanie O'Connell visited tables as she portrayed Fancy Nancy.
Glitter and feathers floated in the air Feb. 18 for the Fancy Nancy Tea Party in the Valentine Theatre grand lobby, a pre-party to the Theatreworks USA production of Fancy Nancy and Other Story Books.
Nearly 200 well-behaved young ladies and their mothers, grandmothers, and aunts sipped tea and pink lemonade and nibbled petite fours by Pam's Corner Catering. Greeting everyone was Nancy's "Fancy Aunty," Condessa Croninger, who gave a mini-etiquette lesson. Then party guests demonstrated their best manners when meeting ruffle-clad and tiara-wearing Fancy Nancy, portrayed by Stephanie O'Connell, who visited each table.
Wearing feather boas, ruffled dresses, fancy hats, and sparkly tiaras were many little girls with their mothers and grandmothers, including Gayle Campbell with granddaughter Eliette Sachs; Sue Mortemore with granddaughter Makenna; Tracey Catlin with daughter Riley, and Sandra Seiple with daughters Kathryn and Elizabeth.
Other notables were Karen Fraker of Fifth Third Bank with granddaughters Carly and Piper; Julie Payeff of The Andersons with daughter Sydney; and Christy Stone of Health Care REIT with daughter Sarah, and friend Audrey Lenavitt, who was celebrating her 5th birthday with her younger sister Lola and mother Tatum.
Julie Payeff with daughter Sydney wear their tea party best for the Fancy Nancy Tea Party at the Valentine Theatre.
A few blocks away, A Fancy Nancy Soiree was held at the Main Library, where young girls wore their fanciest outfits accessorized with boas, bracelets, and bows as they dined on fancy treats and did crafts. Fancy Nancy made a special appearance there, too, compliments of The Valentine, prior to its own party.
Tummies full, everyone from both parties plus many others who made up the sell-out crowd, gathered in the Valentine for the enchanting production.
Contact Barbara Hendel at: bhendel@theblade.com or 419-724-6124
Guidelines: Please keep your comments smart and civil. Don't attack other readers personally, and keep your language decent. Comments that violate these standards, or our privacy statement or visitor's agreement, are subject to being removed and commenters are subject to being banned. To post comments, you must be a registered user on toledoblade.com. To find out more, please visit the FAQ.