Executive director of Partners in Education Becky Spencer with Bill Niehous, who was honored at the Beethoven and Bar-B-Que.
Summer is finally here! Looking back on warm spring days is a reminder that there were many celebrations during the past month or so.
Partners in Education sixth annual Beethoven and Bar-B-Que June 12 at The Andersons Activity Building in Maumee netted $20,000 and a heap of fun.
In addition to the food and a wonderful performance by members of the Toledo Symphony, the night honored Bill Niehous for his dedication to children. He was part of the group that started Partners in Education in 1994, he brought the Dragon Boat Races agency fund-raiser to the Maumee River, and he was instrumental in developing the Toledo Technology Academy and the Lego League, according to presenters Chuck Stocking and Gary Thompson.
His wife, Donna, was at his side as he was honored by 220 attendees and hosts Dick and Fran Anderson.
Sal Pinardo, right, with his family, parents Rick Pinardo and Jenny Pinardo, and sister Giana.
In honor of Mr. Niehous, Partners in Education gave the McKinley Mentoring Program $250 for supplies for next year for volunteers to help students develop their reading skills.
Mom's House of Toledo, a nonprofit organization to help young, low-income single mothers reach their educational and parenting goals, celebrated its 19th anniversary during its Mom's Nite Out Annual Gala and Auction presented by The Andersons last month at the Pinnacle.
The Mom of the Year award went to Ohio Supreme Court Justice Yvette McGee Brown, who was born to a single mother who was just 16. The event raised more than $40,000. For more information, visit www.momshousetoledo.org or call 419-241-5554.
The 11th Annual Claire's Day last month at the Maumee Library was attended by some 3,500 children, parents, and grandparents in celebration of reading. The event was started by Brad and Julie Rubini in honor of their late daughter, Claire, and to turn their loss into a positive memory. Beaming were the 370 Toledo area children who received a Claire's Award for Reading Excellence for being the most improved reader in their class. Ten authors and illustrators visited 19 area schools, addressing a total of 8,500 students the week prior to the event. Nearly 100 supporters, including many of the more than 30 sponsors, attended Claire's Night at the Toledo-Lucas County Public Library in downtown Toledo to raise nearly $1,800 to help finance Claire's Day. Also helping with expenses was the $5,000 grant from United Parcel Service.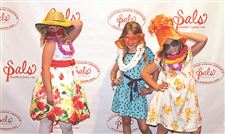 Giana Pinardo, left, Haden Reinhart, Annie Bazzoli, right, donated auction items to raise funds for Sal's Pals.
NOT BLADE PHOTO Enlarge
Sal's Pals, started in 2003 by family and friends of Rick and Jenny Pinardo, whose son, Sal, was born in 2001 with cystic fibrosis, continues to make a difference. The 10th annual dinner auction last month at St. Francis de Sales High School was full of fun and promise. The $66,000 netted, along with another $54,000 raised from other events this year, will benefit Sal's Pals for the CF foundation at the "Great Strides" walkathon held nationally each year.
Volunteers of Court Appointed Special Advocates and the Citizen Review Board were honored last month during a dinner at the Toledo-Lucas County Public Library.
Guest speaker Marjory Curry, a former foster youth who spent 11 years in the local welfare system living in at least seven different homes, inspired the audience with her presentation, "My Life: The Truth about Foster Care." She went on to earn bachelor's and master's degrees at the University of Toledo and is the special projects assistant with the Lucas County Juvenile Court where she assists with the development of policies and programs that ensure equal and fair treatment for every youth in the juvenile justice system.
Guest speaker at the CASA awards dinner Marjory Curry, left, with Yolanda Gwinn, chairman of the CASA/CRB advisory board.
Andy Devine, former Juvenile Court judge, was recognized for founding the Lucas County CASA program in 1980.
More than 250 volunteers donated nearly 19,000 hours last year to abused and neglected children served by the Lucas County Juvenile Court. In 2011, CASA volunteers advocated for 601 child victims and CRB reviewed 2,808 child abuse and neglect cases.
Service pins were awarded to all of the volunteers. Those who received pins for 20 or more years of service were Carol Kraus and Shellie Falkenberg, both of Maumee, Toni Moore of Toledo, and Carol Hitt of Monclova.
For information go to www.casakids.net or call 419-213-6753.
Guidelines: Please keep your comments smart and civil. Don't attack other readers personally, and keep your language decent. Comments that violate these standards, or our privacy statement or visitor's agreement, are subject to being removed and commenters are subject to being banned. To post comments, you must be a registered user on toledoblade.com. To find out more, please visit the FAQ.