THE Zepf Center's Don't Skirt the Issue – Help fund-raiser reaped more than $44,000 for housing for drug-addicted mothers to recover without being separated from their children, the No. 1 reason why women leave treatment, said event chairman Pat Nowak.
The event, held at the Zepf Community Center in the former St. Mark's Church on Collingwood, was transformed by Joanna Koenigseker with children's skirts, fall arrangements, and lighting, which added to the already wonderful building.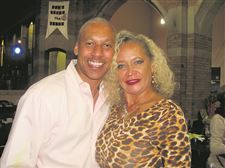 Tamara Bumpus, right, and her childhood friend Melvin Cooks at the Zepf Center's Don't Skirt the Issue – Help fund-raiser at the Zepf Community Center in the former St. Mark's Church on Collingwood Blvd.
THE BLADE/BARBARA HENDEL
Enlarge | Buy This Image
Emcee Fred LeFebvre of 1370 WSPD, himself sporting a kilt, led the evening. The interim director of the Zepf Center is Deb Flores. Ohio is No. 1 in the country for overdose deaths with 4,050 in 2016. Toledo is also high on the drug list. Trina Meadows, a mother of four with two children who have drug issues, bravely told her story.
T City Groove and Dusk played tunes as celebrity bartenders Lori Olender, Stuart Goldberg, Sandy Spang, Kurt Young, Dave Gierke, Tom Mackin, Anthony Spinazze, and Doug Adams-Arman poured spirits. Area restaurants provided tasty tidbits: Ciao Ristorante, Zia's Italian, Real Seafood Co., Saba's Bistro 1705, La Scola Italian Grill, Pumpernickel's Deli and Cafe, Shorty's True American Roadhouse, Libardo's Catering Co., the Pinnacle, Manhattan's Pub 'N Cheer, and Marsha's Buckeyes. Desserts were by women in recovery.
Live and silent auctions included trips to Turks and Caicos Islands and France, sailing cruises, dinners, wine tastings, Disney tickets, and airline tickets.
Major sponsors were Stapleton Insurance, Walker Funeral Home, GKN Driveline-Bowling Green, Central Travel, Jim Findlay, Huntington Bank, CISP, Fifth Third Bank, City Paper/Mature Living, WTVG-TV, Channel 13, and iHeartMedia-Toledo.
Assisting with the evening were Laura Glover, Katy Walker, Candy Baker, Karen Freiberger, Christina Baskey, Sandy Roberts, Cy Dunlap, Jane Wurth, Cheryl Johnson, Cassie Roman, Terri Barricklow, Cherie Schneider, Dana Devers, Amy Parker, and Sally Goligoski, who recently broke her hip and shoulder but came to show her dedication for the cause.
Seen were Stu and Jo-Jo Goldberg, Polly Tait, Bill and Cathy Carroll, and Steve Roberts.
THE University of Findlay's donor's gala was for more than 350 guests to see the new Center for Student Life and College of Business. The school raised $10 million for the 78,000-square-foot structure. The Oiler Marching Brass and cheerleaders greeted guests who arrived from all across the country.
Building campaign chairman Pam Beall of Findlay, trustee chairman A.R. Charnes of McCormick, S.C., and university president Katherine Fell recognized donors. The Alumni Veterans Wall, funded by the classes of 1966 and 1967, was announced. Former Ohio House Speaker and trustee emerita Jo Ann Davidson was recognized with a student leadership development suite named in her honor by graduates of the Jo Ann Davidson Leadership Institute. Anita Kromer of Sandusky accepted a plaque in honor of her father, Shiv Gupta, a longtime professor who had made a sizable contribution to the school.
Building tours and demonstrations were followed by the grand finale, a fireworks display.
Seen were president emeritus DeBow Freed of Ada, Sherri and Jerry Brumbaugh, Kolleen Kirk and her parents Joe and Diana Kirk, George and Shirlee Whitson, Chris and Mary Beth Hammond, and Gary and Rhonda Harpst, all of Findlay, and U.S. Rep. Bob Latta and his wife Marcia Latta, the university's advancement vice president.
CHILDREN of the Padua Center George and Jamel Allison, Asantie Taylor, and Frankie Burnside were the emcees for the Pieces of Art fund-raiser presented by the Padua ministry. About 150 supporters gathered in the Sullivan Center at Gesu Roman Catholic Parish for a live auction of student art work, a silent auction, and dinner by Carolyn's Personal Catering with cupcakes donated by Wixey Bakery as Straight Up with the Rev. Art Niewiadomski, Will Kinsey, Norm Damschroder, and Kevin Korecki played tunes.
Barbara Hendel
The featured speaker was the Rev. Anthony Gallagher. Recognized for service to the community were Suzette Cowell of the Toledo Urban Federal Credit Union and the Knights of Columbus Council #386's Eric Lyons and Martin Porter.
SYLVANIA Sister City Commission celebrated the 25th anniversary of its sister city relationship with Woodstock, Ontario, Canada, during a dinner at Highland Meadows Golf Club.
Town Crier Mike Lieber beckoned everyone. Sylvania Mayor Craig Stough presented Woodstock Mayor Trevor Birtch with a commissioned painting of Sylvania's Sister City garden by Ian Mahoney, a Sylvania Southview senior.
The relationship began in 1992 through the outreach of Sylvania's then-mayor the late James Seney and the mayor of Woodstock at the time Margaret Munnoch to promote peace and economic development throughout the world.
The local Sister City organization recently became an official city commission that includes Sylvania Township and the Sylvania Schools, and plans are already in the works for student exchanges and civic and business partnerships.
Event chairmen Jan and Dave Shearer were assisted by John Bolster, Sylvania Sister City Commission chairman, Jennifer Archer, Andi Erbskorn, Mayor Stough, Mark Luetke, and Laura Bigelow.
Woodstock guests included Councilior Jerry Acchione and Sister City Commission members Ron Fraser, Mike Billham, and Jim Dalueg, and Woodstock Police. On the local front were Mary Westphal, council president, council members Mr. Luetke and wife Sandy, Mark Frye and wife Cynthia, and Jason Mishka, and Sylvania Township Trustee John Crandall and wife Sue.
Contact Barbara Hendel at bhendel@theblade.com or 419-724-6124.
Guidelines: Please keep your comments smart and civil. Don't attack other readers personally, and keep your language decent. Comments that violate these standards, or our privacy statement or visitor's agreement, are subject to being removed and commenters are subject to being banned. To post comments, you must be a registered user on toledoblade.com. To find out more, please visit the FAQ.