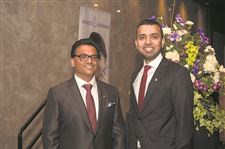 Dr. Ramu Perni, left, and Dr. Ateeq Haseeb at the March of Dimes' Signature Chefs Auction presented by Mercy Children's Hospital.
Thanks for Giving in the 419 was the name of the 23rd annual Christ Child Society Celebrity Wait Night. The society is noted as the first organization to host such a fund-raiser here in the Toledo area. The event was at Real Seafood Company and Zia's at the Docks.
Special guest Bishop Daniel E. Thomas circulated from table to table, greeting supporters among the sellout crowd of 570 guests.
Celebrity waiters included Raynard Cooper of the Toledo Police Department, Dr. William Dillon of Dillon Dermatology, Mary Galvin of St. Ursula Academy, Jane Kervin of NAMSA, Adam Levine of the Toledo Museum of Art, Msgr. Dennis Metzger of St. Joseph Parish in Sylvania, Bill Thees, and Mary Murnen.
There were also more than 40 members who were celebrity waiters.
Event chairmen Meg Sears and Jenny Trojan and president Jane Larsen are expecting to surpass $50,000 in donations.
■
Lourdes University, with the support of board member Mike Gibbons and Mainstreet Ventures, celebrated a sell-out crowd at their annual Celebrity Wait Night at Real Seafood Company. Event chairmen and celeb waiters Dan and Beth Carr greeted the more than 330 diners as Lourdes' students shared their experiences at Lourdes and thanked everyone for their support.
Celebrity waiters included Sandra Hylant, Kaiko Zureich, Carmen Barbosa, Sister Ann Carmen Barone, Dwayne Beggs, Kate Beutel, Mike Hart, Bob and Mary Arquette, John DiMartini, Kathy Doty, Jeremy Fitzgerald, Geoff Grubb, Terry Keller, Maureen Kenney, Mike and Jennifer Koralewski, Pat and Brittanie Kuhr, Gayle Lampkowski, Sophia Lloyd, Tony Lyons, Dr. James McGhee, Kurt Miller, Scott and Cindy Molitor, the Rev. Ronald Olszewski, Gloria Stiles, and Craig and Lindsey Stough.
The about $30,000 raised benefited Lourdes' Student Scholarship Fund.
■
Central City Ministry Celebrity Wait Night at Real Seafood Company raised $15,000. However, they were having so much fun, they didn't get around to shooting photos, so you will just have to imagine everything from the great food to the crowd of community supporters being waited on by celebrity waiters. Well, sort of. Luckily, like at most celebrity wait nights, the real wait staff took charge.
Bishop Daniel E. Thomas and other men and women of the cloth were among the celebrity waiters, as well as Bernie and Anne Heinl, Hal and Kelly Reed, Pat Windham, Dan and Lynn Anderson, Tom and Jennifer Antonini, and Dr. Richard Paat.
■
The Toledo Opera Guild's Celebrity Wait Night: Ghouls, Glamour & Glitz! at La Scola Italian Grill raised a lot of fun in addition to raising $10,000.The Bob Rex Trio added background tunes as guests dined on a delightful dinner: salad and manicotti, Lake Superior whitefish, chicken marsala, or New York strip steak, all ending with caramel pecan tiramisu.
It was a night to see and be seen with friends old and new. Celebrity waiters included event chairman Barbara Brown, Gabe Barrow, Cathy and Kevin Fifer, Tim Hanson, Ed Hoffman, Shelli and Mark Jacobs and Bonnie Wrobel, Elaina Kfouf and Kelly Kotchetov, Toleod Opera executive director Suzanne Rorick and Maureen Brown, Diane Rusk and John Donofrio, Traci Schwann, Megan Kabour and Lexi Schwann, and Jay Berschback of WTVG-TV, Channel 13.
■
The 15th annual Guest Wait Night presented by Family and Child Abuse Prevention Center at Carranor Hunt and Polo Club raised $20,500.
Emcee Sarah Oehler of WTOL-TV, Channel 11, welcomed everyone.
In addition to the tasty food and camaraderie, a silent auction of art created by the students at Whiteford Elementary School grades K-5 generated nearly $900, which was added to the total. Among the live auction items was a French dinner prepared in the home of Wayne and Mary Goodwin for eight guests.
Kudos to the celebrity waiters including Carrie Ansberg, Mike Casey, Barbara Dianda-Martin, Ani Geha, Scott Hammer, Dr. Ateeq Haseeb, Jamie Heldt, Dr. Christie Jenkins, Toledo Police Chief George Kral, Jane Larsen, Marsha Molnar, Michelle Roush, and Lucas County Sheriff John Tharp.
■
The March of Dimes' Signature Chefs Auction presented by Mercy Children's Hospital at The Premier raised about $115,000 for research and programs to help moms have healthy pregnancies and babies.
Ambassador family Beth and Tony Meadows told the heartbreaking story of their stillborn baby, to which emcee Shaun Hegarty of WTVG-TV, Channel 13, and his wife Sara could relate, since they also had a stillborn baby. Honored was Ateeq Haseeb, doctor of pediatric neurology at Mercy Health.
The 350 attendees dined on chefs' samples, tasted wines, shopped the silent auction, and bought raffle tickets for the wheelbarrow of spirits and more. A live auction was by Beth Rose Auction Company.
Chef competition winners were Social Gastropub for taste and presentation and 7 Little Cupcakes for Table Design and Top Chef. Among the 12 other participating restaurants were ICE Restaurant, Rosie's Italian Grille, Holey Toledough Handcrafted Doughnuts, Spicy Tuna Sushi Bar, PM Frosted Fantasies, and the Food Dude Toledo.
Bravo to event chairman Dr. Ramu Perni, head of OB/GYN and maternal-fetal medicine at Mercy. Among the 25-some sponsors were Arconic, St. Luke's Hospital, Delta Dental, Hylant, First Solar, and OPTUM.
Barbara Hendel is The Blade's Society Editor. Contact her at bhendel@theblade.com or call 419-724-6124.
Guidelines: Please keep your comments smart and civil. Don't attack other readers personally, and keep your language decent. Comments that violate these standards, or our privacy statement or visitor's agreement, are subject to being removed and commenters are subject to being banned. To post comments, you must be a registered user on toledoblade.com. To find out more, please visit the FAQ.