ON THE TOWN
Summer seating sizzles in Toledo area
8/26/2018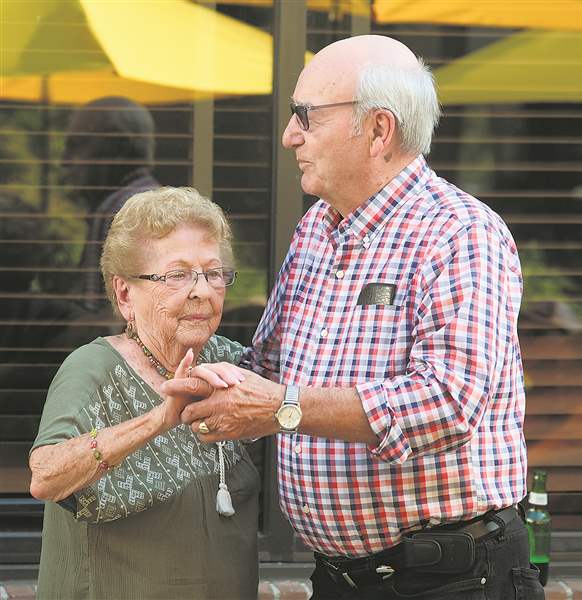 Betty Pokorney and Jerry Hinz dance as the Duane Malinowski band performs on June 28 at the Brandywine Country Club in Toledo.
THE BLADE/JEREMY WADSWORTH
Buy This Image
DINING al fresco is a delight this time of year, and it continues into the fall. Sure, it's nice to sit at home on your own patio, but why not leave the cooking and cleanup to someone else? There are so many opportunities from which to choose, from cozy patios to midsized terraces to colossal settings, each with its own touch.
On the upscale side, Evans Street Station in Tecumseh, Mich., a popular restaurant with Toledo-area folks, has a nice setting for sipping wines while nibbling gourmet treats. Ditto for Element 112 in Sylvania.
A short drive to Vermilion, Ohio, and one can dine on the water at Chez Francois Restaurant and Touche Bistro, celebrating its 30th year of serving French cuisine in an elegant, romantic dining room and on a relaxed riverside patio. But beware: It is the only restaurant in northern Ohio that has a dress code for elegance's sake.
In the dining room, the men must wear a sports coat or sweater vest and dress slacks. Ties are optional. Absolutely no shorts, no jeans, and no tennis shoes.
A dress or pantsuit, blouse and slacks, are required for women. Again, no tennis shoes. While the Riverfront Café is more casual, it is still sophisticated, so dress shorts, polo shirts, and tennis shoes and sandals are OK, but no tank tops or T-shirts. The Touché is casual.
Mon Amie's in Port Clinton is a fun spot for casual outdoor dining, or motor to Grand Rapids, Ohio, and one can enjoy LaRoe's Restaurant sitting along the river.
In Haskins, the Mail Pouch Saloon has swings at the outdoor bar of the little establishment.
Cousino's Steakhouse in Oregon has a large covered patio. El Camino Real's Toledo locations have big patios with umbrella tables. Many of the other area Mexican restaurants also have outdoor dining areas, including Loma Linda, Ventura's, Casa Barron, and El Vaquero.
The Docks restaurants on the east side of downtown Toledo on the Maumee River, offer a great view of the downtown sights and docks for those who cruise in.
Speaking of water, what's summer without a trip to the outside area of Webber's Waterfront Restaurant in Point Place, where boaters frequent?
Sylvania, Waterville, Maumee, and Perrysburg all have uptown restaurants with outdoor patios. Or after shopping at Levis Commons in Perrysburg take a break Bar Louis, Tea Tree Asia Bistro, and other places including Social, which is across the street.
Centennial Terrace, although not a restaurant, offers a food station and bar for refreshments for those who come to watch musical entertainment and dance under the stars. Brandywine Country Club, which is open to the public, has a lovely outdoor patio. Behind Walbridge Park, Maumee River Yacht Club, overlooking the Maumee River, is also open to the public on select days and times.
The patio at LaScola Italian Grill on Airport Highway is hidden, but it's there. Rosie's Italian Grille on north McCord Road, has two nice patios, one with a fountain. Bar 145 on Monroe Street has a big covered patio as do Shorty's Bar B Que and Ciao Restaurant on Monroe Street, while Mancy's Italian and Mancy's Blue Water offer medium-sized patios.
In the downtown Toledo area, there's M'Osteria Bar and Grill, Manos Greek Restaurant, Ye Olde Durty Bird, and Table Forty4 along with Hensville. Imagination Station has a new outdoor patio overlooking the Maumee River. San Marcos Supermarket and restaurant has an enclosed patio, and Manhattan's Restaurant's outdoor area on Adams Street is popular.
So be sure to take time to sip and sup at any of these places and other favorite spots before the snow flies.
Barbara Hendel is The Blade's Society Editor. Contact her at bhendel@theblade.com or call 419-724-6124.