Toledo Opera samples its 60th season
9/6/2018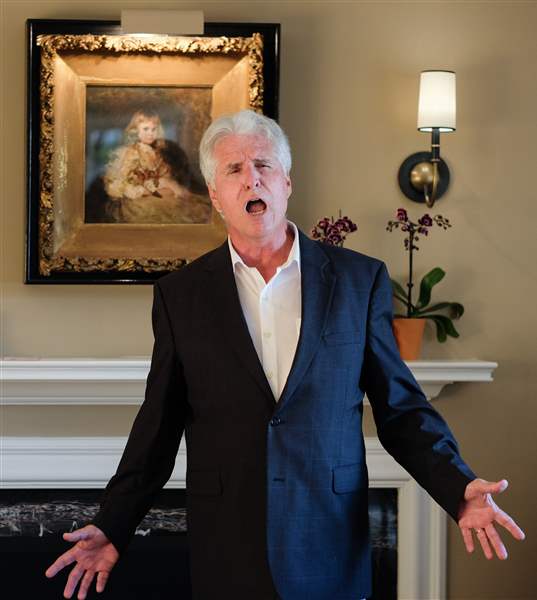 Opera singer Christopher Scholl performs during the Season Sampler of the 60th anniversary of the Toledo Opera.
THE BLADE/JEREMY WADSWORTH
Buy This Image
The summer is winding down, but many events are gearing up for fall.
A SEASON Sampler of the 60th anniversary of the Toledo Opera was held at the lovely riverfront home of J.B. and Suzanne Rorick, opera director. They moved into their new Perrysburg digs only days before the event.
Guests meandered indoors and out in the sweltering night, sipping and mingling.
Jim Meena, Toledo Opera's principal artistic director, said hello to his many friends of more than 30 years through the Toledo Opera. Though he commutes from Charlotte, he considers Toledo his hometown.
"It's the people behind the scenes that make it all happen," he said. Maureen Brown, board president, invited guests to buy season tickets if they have not already do so.
Mayor Wade Kapszukiewicz praised the Toledo Opera and all of Toledo's arts that add to our fine community. Ms. Rorick chimed in: "There are only 120 opera companies in the country, and it takes a strong community to support an opera of this professional caliber."
Then Alta Dantzler, Christopher Scholl, and Raymond Diaz with Kevin Bylsma on the piano, wooed the audience. Many "bravos" were heard. An unsolicited delight was the Roricks' dog, Henry, who chimed in as a tenor at the end of Mr. Scholl's solo, bringing more bravos and laughter.
Seen were Jay and Trina Secor, Carol Bentley and daughter Kate MacPherson, Clare and Joel Gorski, Joe and Judith Conda, Dr. Bennett and Hedva Romanoff, Dr. Alan and Hinda Markowitz, Bill and Pam Davis, Nancy and Marv Robon, Greg Fess, guild President Kelly Kotchetov and husband Andrei Kotchetov, Barb Oostra, Doug and Kim Kearns, Dr. Hollis Merrick and wife Dr. Mary Smith, Karen Merrels, John Donofrio and Diane Rusk, Sandra Seiple, and Susan and Allan Block, chairman of Block Communications Inc., parent company of The Blade.
Brigette Burnett and Marcus Harrison, Jon and Helen Patton, Saga Shoffner and Ed Conn, Dr. Celso Antiporda and wife Lea, Pat and MaryLouise Bowe, Richard and Pam Arnos, Jr., were also among the attendees.
The first opera of the season is The Magic Flute on Oct. 5 and 7 at the Valentine Theatre.
THE Erie Shores Council of the Boy Scouts of America's Hooked on Scouting signup for Cub Scouting is Thursday at schools across Lucas, Wood, Ottawa, Sandusky and Fulton counties.
Boys and girls, kindergarten through fifth grades, will be placed in separate dens or packs. Outdoor activities, sports, academics, and more are combined to teach ideals, such as honesty, good citizenship, and respect. Last year, more than 6,000 youths participated.
"Scouting is on the cutting edge of child development by incorporating more science, technology, engineering, and math through the STEM program," said Ed Caldwell, scout executive for the Erie Shores Council.
Check with your school for details.
For information call 419-241-7293, or go to erieshorescouncil.org.
DO you remember Camp Libbey? I do. It's still popular today. The 350 acres in rural Defiance is owned by the Girl Scouts of Western Ohio, and feature river activities, a climbing wall, a high ropes challenge course, archery areas, hiking trails, and nine lodging areas for overnight camps, day camps, outdoor events, and troop activities.
Celebrating more than 80 years of helping about 4,000 girls per year build courage, confidence, and character, Camp Libbey recently received a $15,000 grant from The Andersons Fund of the Toledo Community Foundation for dining hall renovations for improved safety, modern kitchen equipment, and accessible bathrooms.
ENJOY the rest of the summer!
Barbara Hendel is The Blade's Society Editor. Contact her at bhendel@theblade.com or call 419-724-6124.