ON THE TOWN
Looking back at summer vacations
9/8/2018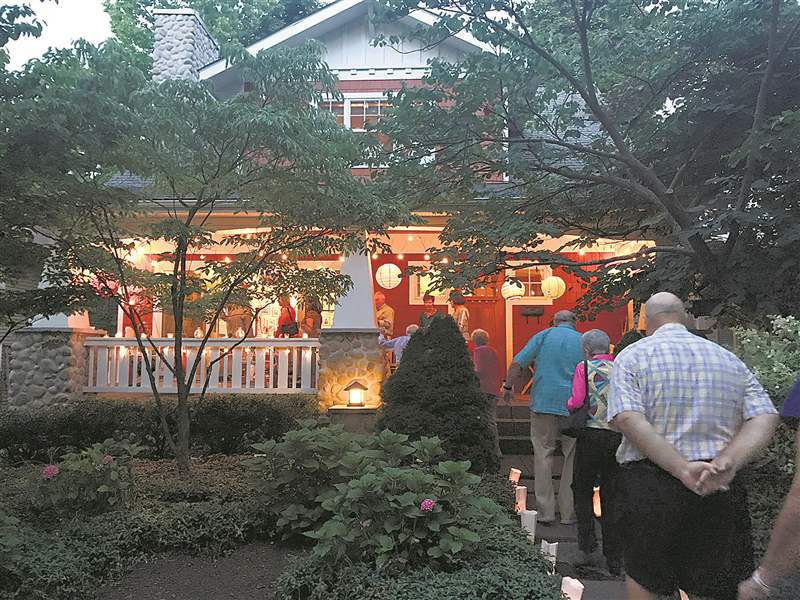 Guests arrive at the 'Bowl of Cherries' home of Sandra and Eric Gross-Whitaker during Lakeside Chataqua's second annual home showcase to benefit the Lakeside Orchestra.
THE BLADE/BARBARA HENDEL
Buy This Image
So what did you do on your summer vacation? Many Toledo area folks head to their cottages in Michigan, all taking at least a four-hour drive to places like Petoskey, Harbor Springs, Walloon Lake, Bay Harbor, Traverse City, Sutton's Bay, Charlevoix, and Grayling — or maybe farther north into the Upper Peninsula. The views of the clear waters and the stars blanketing the night skies are breathtaking . Many others have respites closer to home, maybe, on average, an hour away.
Guests arrive at the 'Bowl of Cherries' home of Sandra and Eric Gross-Whitaker during Lakeside Chataqua's second annual home showcase to benefit the Lakeside Orchestra.
There's Rose Lake, Mich., near Pokagon State Park in Indiana, 5 miles north of Angola, and Devils Lake, about 13 miles from Adrian, and in Ohio, there's Marblehead, Port Clinton, and Catawba Island, to name a few.
Still others get out of Dodge altogether and fly to faraway places with beautiful beaches.
THE second annual Lakeside Symphony Candlelight Showcase presented by the Lakeside Chautauqua Foundation raised $5,000 for the Lakeside Symphony Orchestra.
Candlelit paths led guests to each home during an evening tour through the streets of Lakeside, where a small symphonic ensemble played flutes to violins and more.
Before the tour, Toledoans Rhoda and Roger Berkowitz, now of North Carolina, treated me to a lovely dinner at their home. She, a former law professor at the University of Toledo School of Law and he, the former executive director of the Toledo Museum of Art, still maintain many Toledo friendships, especially for art travel.
The four cottages on tour were:
The Laurie and Jim Switzer year-round home. They discovered Lakeside in 2013 via friends at the University of Mount Union.
The Sarah and Ryan Hamilton "Up South" cottage has a history of fun at Lakeside that goes back five generations.
The Hottenroth family has been coming to Lakeside since at least the 1930s, but in 1995 Dick and Carol Hottenroth purchased property. Then their son David, an architect, and daughter-in-law Pamela Rausch, built a home directly in front of them. The home was designed to fit right in with Lakeside's old charm.
The Bowl of Cherries cottage was named for all of the fun Sandra and Eric Gross-Whitaker's family has enjoyed over the years, topped off with the fact that it's located on Cherry Avenue. Her family has been coming to Lakeside since the 1930s as well.
A reception followed at the Wellness Center at the Grindley Aquatic & Wellness Campus. Next year's home tour is slated Aug. 14.
CATAWBA Island Club, on Catawba Island in Port Clinton, is a haven away from home, and only an hour or less away for many Toledo area folks. The family resort style club has all the amenities including a harbor for yachts, a lakefront pool, tiki bars, a golf course, and more.
The club is open year round, but during the Labor Day weekend the club presents an unofficial farewell to summer fun with dock parties and fireworks. Keith and Katy Walker had a big party at their new digs overlooking the harbor.
Among the many Toledoans seen over the holiday were Phyllis and Jerry Deaton and family, John and Ann Mangas, Lois and Walt Churchill, Willis and Mandy Day, Steve and Kathy Hanson, and former Toledo folks Tom and Connie Schmidt.
PORT CLINTON booms with tourists all summer long, and Labor Day weekend was no exception. Crowds swarmed the Jet Express ready to cruise to Put-in-Bay while others took the Miller Ferry from Catawba island, a short distance away. But the best part was that the drawbridge was finally in working condition!
DEVILS Lake Yacht Club was founded in 1941 on Devils Lake in Manitou Beach, Mich. In the Pleasant Grove Hotel, the club maintains the traditions of the historic landmark built in the 1870s. A groundbreaking for a new facility is Sunday at 2:45 p. m. Fine dining with a view of the lake, sailing races, boating, swimming, exercise classes, euchre, a kids club, and more, are among the offerings. Many Toledo area folks have places on this popular lake only an hour or so away.
ONE of the many outings for the Toledo Sail and Power Squadron was a trailer boat rendezvous to Traverse City, Mich. Twenty-nine members of the Toledo, Lima, and Columbus squadrons gathered to enjoy beautiful weather, gorgeous scenery, and the crystal clear, turquoise waters of Elk and Torch Lakes. In addition to daily boating, folks explored wineries, breweries, distilleries, shopping, and more. Great restaurants and bars rounded out the trip.
ALSO on the boating scene this summer was the Inter-Lake Yachting Association, which is celebrating its 125th anniversary. Two of its main events for which they are noted are the Junior Bay Week and the Power Boat Week, both at Put-in-Bay, Ohio.
Speaking of Put-in-Bay, it is a must for many boaters and party-goers. Toledo-area folks were amid the crush of the crowd for the second annual Bash at the Bay with Rascal Flatts.
AMSTERDAM was the location for Mark and Marcia Rubini to celebrate their 25th wedding anniversary this summer. And we all know wherever one goes, there is a possibility of running into someone from home. Sure enough, Jane and Steve Wurth were also in Amsterdam at the same time, so they met up for dinner.
The summer is not over yet, so enjoy the final days!
Barbara Hendel is The Blade's Society Editor. Contact her at bhendel@theblade.com or call 419-724-6124.