Members of the Nancy Drew Sleuths place the winning bid for the scrapbook they created and sent to Millie Benson about one year before her death. Seated from left are three of the sleuths: Amanda Arkebauer of Seattle, Lea S. Fox, of Alameda, Calif., and Jennifer Fisher, of Queen Creek, Ariz.
The Blade/Jetta Fraser
Enlarge | Buy This Image
Sunday was a perfect day for Jennifer Fisher.
The Queen Creek, Ariz., resident is president of the Nancy Drew Sleuths, an international group of 750 members dedicated to the reading and study of Nancy Drew, the fictional teen detective whose adventures have enthralled generations of adolescent and adult readers.
PHOTO GALLERY: Mildred 'Millie' Benson estate auction
On Sunday, Ms. Fisher's trip to Toledo was rewarded when she was the top bidder for a scrapbook of Nancy Drew-related artifacts the Sleuths presented, in 2001, to Mildred "Millie" Benson, who wrote the first books in the mystery series under the pseudonym Carolyn Keene. It is filled with tributes, letters, and expressions of gratitude to Mrs. Benson.
"We got back the scrapbook we made for Millie," Ms. Fisher exulted, after her successful bid of $275. "It was a lot less than we thought. We collected money and were prepared to spend $500 or more."
She said the scrapbook will be part of her group's Nancy Drew archive, which contains more than 4,000 items and is kept in her home. "My intention is to preserve it for history and someday have it properly archived," she said. "I flew in by myself for the auction and almost cried when I got it back."
Mrs. Benson, who died in 2002 at age 96, was a longtime reporter at the Toledo Times and, when it ceased operations, its sister paper, The Blade. Indeed, her Blade expense statements sold for $55.
She left her estate to her daughter, Margaret "Peggy" Wirt, who died in January and bequeathed a collection of her mother's works to the University of Iowa, where Mrs. Benson received a master's degree in journalism in 1927. Items from the remainder of the estate were auctioned Sunday.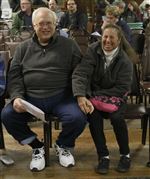 Jim Klein of Adrian is kept from raising his hand to bid on more items by his wife, Zelda Klein. The items sold in the auction on Sunday were from the estate of Mildred 'Millie' Benson's daughter, Margaret 'Peggy' Wirt, who died in January.
The Blade/Jetta Fraser
Enlarge | Buy This Image
Auctioneer Jade Montrie said there were a few hundred items to be auctioned, including the desk she sat at when she wrote such Nancy Drew adventures as The Secret of the Old Clock and The Hidden Staircase, which she regarded as her favorite mystery in the series.
The desk, an item of particular interest, fetched $525. The piece came from the author's Old Orchard home and was verified by other family members as Mrs. Benson's personal typewriter desk, Mr. Montrie said.
A book attracting hot interest was Rediscovering Nancy Drew, which went for $2,150. Mrs. Benson signed and addressed it to her daughter. The tome is a compilation of interviews, essays, and other writings on Nancy Drew and the series' popularity, published by the University of Iowa Press, that came out of a 1993 Nancy Drew Conference at the university.
Bids were taken from the floor of the auction house on Lagrange Street and over the Internet.
Two other happy bidders were Michael Lora, special collections coordinator at the Toledo-Lucas County Public Library, and Jan Pietrykowski, a Nancy Drew fan from South Toledo.
Mr. Lora paid $425 for the 2000 Agatha [Christie] Lifetime Achievement Award tea cozy. He said it would be added to the Mildred Benson Collection at the Main Library. Mrs. Pietrykowski paid $300 for a signed poster from the 1993 Nancy Drew Conference that she plans to frame and hang in her home office.
Chris Holliday, a teacher at St. Ursula Academy, described herself as a die-hard Nancy Drew fan since her youth who was just happy to be there. She regarded the character of Nancy, who first appeared in 1930, as something of a prefeminist who helped prepare the way for women's independence and served as a good role model.
"She was put together. She had a car. She was always better dressed than we were, and wore a skirt, never pants. She was smart. She had a boyfriend, but he didn't tell her what to do. Those books were the perfect read at a slumber party," Ms. Holliday said.
Contact Carl Ryan at: carlryan@theblade.com or 419-724-6095.
Guidelines: Please keep your comments smart and civil. Don't attack other readers personally, and keep your language decent. Comments that violate these standards, or our privacy statement or visitor's agreement, are subject to being removed and commenters are subject to being banned. To post comments, you must be a registered user on toledoblade.com. To find out more, please visit the FAQ.