There's no definitive paradigm to what motivates an existential crisis.
It is utterly unique to an individual and the fluidity of her life, circumstances, and experiences.
With her 52nd birthday approaching, Sherry Stanfa-Stanley embarked on a year filled with 52 challenges and chronicled all of it in her new book.
This self-awareness can be sudden or drawn out, troublesome perhaps even vexing, and persistent if not downright stubborn. It can also lead to a miraculous mid-life rebirth, as it did with Sherry Stanfa-Stanley.
Single and a recent empty-nester of two, Stanfa-Stanley's routine had narrowed to two distinct realms, at work and at home, with little else outside of those parameters.
"My life was certainly stagnant, a little vanilla," she said.
And vanilla wasn't good enough. Certainly not with her 52nd birthday looming, knowing that her father died at the age of 53.
So Stanfa-Stanley did something about it, and in doing so turned her mini existential crisis of age into a funny, dramatic, defiant journey of 52 challenges, what she called the 52 for 52 project, that brought about personal growth and change and entertained others, while perhaps inspiring them to follow her lead.
In the course of a year, the director of communication for the University of Toledo Foundation would belly dance; crash a wedding; visit a sex shop; zip line; spend a day and night in a convent; camp in a tent; run/jog/fast walk a 5K event; undergo a colonoscopy; audition for TV's Survivor; dress and perform as UT's mascot "Rocksy"; and walk into the Detroit Metropolitan Airport to buy an airline ticket for whatever was the next flight out, among 41 other adventures. And she chronicled all of it — first on Facebook and her blog, and now in a just-published book, Finding My Badass Self: A Year of Truths and Dares ($16.95, She Writes Press).
Sherry Stanfa-Stanley reaches out to a white rhinoceros after brushing and exfoliating him at the Toledo Zoo during her 52/52 project.
The Blade
Enlarge | Buy This Image
She will sign copies of her book from 1 to 4 p.m. Saturday at Barnes & Noble at the Shops at Fallen Timbers, 3100 Main St. in Maumee, with other book signings scheduled into October including Oct. 7 at the University of Toledo Barnes & Noble Bookstore, times to be determined.
For a full list of those appearances, visit her Facebook page at facebook.com/The52at52Project/.
Stanfa-Stanley, now 55, isn't certain of that exact "Eureka!" moment that was the genesis of the project. A part-time writer who had just finished an unpublished novel, she was between projects and contemplating what to do with that extra time.
The idea for 52-52 most likely came to her while driving, as most of her creative ideas do, she said, as a play on her coming age and the number of weeks in a year.
Plus, there was that crisis thing.
"I just felt that something needed to change," she said. "And it did!"
The exclamation point at the end of her declarative statement isn't punctuation hyperbole; it is an accurate representation of her enthusiasm for what happened to her then and as it relates to now.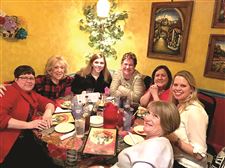 One of the challenges: a "stranger party," where Stanfa-Stanley invited people she didn't know and who had never met each other.
Some of her experiences were enjoyable in the moment, like popping into a random church or taking a homeless woman to lunch.
Others, she said, can only now be enjoyed in reflection about two years later, as with her trip to a nude beach or an unsuccessful attempt at online dating.
Her readership, which ballooned from a few hundred on her blog following along at the start of her project to now more than 5,000 followers on Facebook, was also quite happy to offer adventures of their own for Stanfa-Stanley's "unbucket list."
A friend, for example, suggested a "stranger party," in which Stanfa-Stanley invited people she didn't know and who had never met each other to a dinner party.
She had never heard of such a get-together, but reached out to eight friends of friends and family members of family members.
The party-goers were between the ages of 23 and 75 and had little in common other than being women and complete strangers.
"None of us had experienced a night like this," Stanfa-Stanley said. "We shared personal things and just opened up. I don't know if it's because we were total strangers who thought we'd never see each other again and so we could open up and be frank. We ended up having a lasting friendship between us and still get together."
Only two suggestions were nonstarters: sky diving — "I don't really have a fear of heights, but the sensation of falling ... I can't do that," she said — and getting her first tattoo.
The entirety of the experience made her stronger, which Stanfa-Stanley credits with helping her get through a recent cancer diagnosis, which was caught early enough to be treated but was upsetting nonetheless.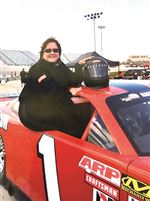 Another challenge: Riding in a race car. Sherry Stanfa-Stanley will sign copies of her book from 1-4 p.m. Saturday at Barnes & Noble in Maumee.
Separately, every accomplishment offered its own reward, Stanfa-Stanley said, whether it was "enlightenment or a sense of courage, or learning about myself and about others."
Of herself she discovered that she does not give up easily, whereas before the project she was inclined "to take the easy way out, so giving up wasn't as noteworthy," she said.
And of others she discovered that "people are really sadistic. My blogger readers just seemed to really enjoy the worst circumstances" of her project.
There are even a few chapters of too much information in her book that her coworkers and certainly her family will want to skip.
"That's the thing about writing a memoir," Stanfa-Stanley said, "you bare your soul and you bare some other things."
But that's the point of the 52-52 project: to challenge herself by doing some things that made her feel uncomfortable. And that's what she wants readers to get out of the book, along with some chuckles while reading.
"Other than making people laugh," Stanfa-Stanley said, "I hope my book will encourage people to venture out beyond their comfort zones."
Contact Kirk Baird at kbaird@theblade.com or 419-724-6734.
Guidelines: Please keep your comments smart and civil. Don't attack other readers personally, and keep your language decent. Comments that violate these standards, or our privacy statement or visitor's agreement, are subject to being removed and commenters are subject to being banned. To post comments, you must be a registered user on toledoblade.com. To find out more, please visit the FAQ.