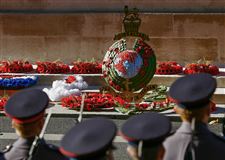 Wreaths lie on the Cenotaph during the service in London. The service is on the 11th hour on the nearest Sunday to Nov. 11, when World War I ended in 1918.
ASSOCIATED PRESS Enlarge
LONDON — Thousands in central London paused for a moment's reflection Sunday to remember those who have fallen in combat, as Queen Elizabeth II led Britain's annual Remembrance Day service.
To the chimes of Big Ben at 11 a.m., veterans, servicemen, and thousands of others in Whitehall bowed their heads for a two-minute silence.
The moment was broken by the sounding of "The Last Post," the traditional trumpet call commemorating the war dead, and the queen placed the first wreath at the foot of central London's Cenotaph war memorial.
The ceremony occurs every year on the 11th hour on the nearest Sunday to the anniversary of the end of World War I on Nov. 11, 1918. The day also pays tribute to the dead in all conflicts, including World War II, Iraq, and Afghanistan.
Smaller services also took place across Britain, in Commonwealth countries, and in southern Afghanistan, where British troops have been fighting the Taliban for more than a decade.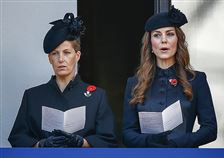 Britain's Catherine, the Duchess of Cambridge, right, and Sophie, the Countess of Wessex, sing from a balcony during the service of remembrance.
ASSOCIATED PRESS Enlarge
In Afghanistan, Prince Andrew and Defense Secretary Philip Hammond each placed a wreath at a memorial in Camp Bastion in front of soldiers gathered for the tribute.
"We are not just remembering the millions of people who gave their lives in the two world wars but all those who have since died in the service of our country," Mr. Hammond said.
In London, the queen was joined by her husband, Prince Philip, and her grandsons, Princes William and Harry, who also laid wreaths of red poppies at the Cenotaph.
Prince William's wife, Catherine, the Duchess of Cambridge, watched from a nearby balcony.
The War Widows Association, wearing black coats and red scarves, headed a march down Whitehall. They were followed by a parade of around 10,000 veterans — some in wheelchairs — as onlookers cheered.
Politicians including Prime Minister David Cameron and his predecessors John Major, Tony Blair, and Gordon Brown also attended the ceremony.
Guidelines: Please keep your comments smart and civil. Don't attack other readers personally, and keep your language decent. Comments that violate these standards, or our privacy statement or visitor's agreement, are subject to being removed and commenters are subject to being banned. To post comments, you must be a registered user on toledoblade.com. To find out more, please visit the FAQ.