University of Toledo: Blended learning offers innovative approach to education
4/29/2014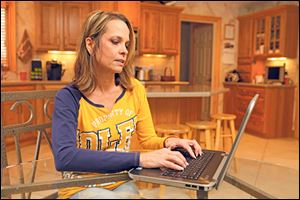 "I love the flexibility. I can go to class anytime, day or night, and still feel like I'm a full-fledged part of a class."
Ten years ago, the last place Lisa Decker expected to find herself was back in college.
At the time, she was in her mid-30s and an assistant vice president and bank manager. Years earlier, she'd abandoned college for the work force. Advancing "the old-fashioned way," she'd always thought it ironic that she, the university dropout, would occasionally interview a fresh-faced college graduate whose pre-requisite for hire was a bachelor's degree.
"I really thought I'd retire from the bank," she said, "then boom! The recession hit at the end of '07 and I was one of 4,000 employees without a job."
Part of Decker's rebuilding strategy was pursuing the bachelor's degree that had fallen off her radar. Her daughter was young, so she structured coursework around her family's schedules, taking a few classes on UT's Main Campus to jump-start the process.
"The thought of going back to college made me uncomfortable," she recalled. "I felt like the old lady in the classroom, and I'm not old! But the students were welcoming and made me feel like I was part of the group."
Decker soon began mixing traditional coursework with online classes that better fit her schedule and allowed her to work at her own pace.
"The last two years of my program have been completely online," Decker, who expects to complete coursework for a degree in interdisciplinary studies this December, said. "I love the flexibility. I can go to class anytime, day or night, and still feel like I'm a full-fledged part of a class."
Decker is among a wave of adult and traditional students taking advantage of a blended approach at The University of Toledo. With a mix of traditional classroom and online elements, blended learning is quickly becoming an innovative method of higher education.
"Blended learning offers the best combination of technology and expertise from our faculty members here at UT," said Cam Cruickshank, PhD, vice president for enrollment management and online education. "This blended approach melds online coursework with face-to-face instruction. When our students are not in the classroom, various multimedia tools create dynamic means of interaction in an online setting."
Cruickshank said by fall semester, more than 450 online courses across a spectrum of degree programs, including associate, bachelor, master and doctorate, will be offered through The University of Toledo. Courses apply to a diverse cross section of majors in various fields of study. All are backed by a support system that includes faculty, tech experts, advisors, success coaches and tutors.
As demand for the online component of blended learning grows, Cruickshank said universities have had to meet a different set of student needs. "Flexibility is important; the ability to work independently is important; university recognition is important. And online learners want to feel as if they are part of a campus community."
He said interaction is built into coursework through structured online conversations and group activities. "Through our online coursework, students also have the opportunity to share experiences with students from northwest Ohio, from Iowa and Hawaii, and from China, the Middle East and every other country in the world. The University of Toledo encourages a more global approach to learning."
Decker, who has a 4.0 grade-point average heading into the twilight of her academic career, said those who challenge the value of online education are off the mark.
"Online courses are not easier; that's a myth," she said emphatically. "They've actually been more challenging, to me. I think people should try one online class. Once you get comfortable, it's an amazing process for learning."