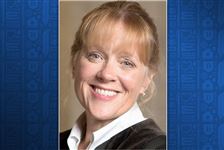 Judge Colleen Mary O'Toole
COLUMBUS — A federal appeals court on Thursday upheld the constitutionality of a rule applied to Ohio judicial candidates that restricts when they may begin raising money.
The challenge was brought by 11th District Court of Appeals Judge Colleen Mary O'Toole, who unsuccessfully sought the Republican nomination for Ohio Supreme Court justice in 2016.
The judge argued the Ohio Code of Judicial Conduct unconstitutionally infringed on her political free speech by prohibiting the campaign from raising money until 120 days before the primary election. She also argued the rule gives an unfair advantage to incumbents who've banked large war chests from prior campaigns.
A three-judge panel of the Cincinnati-based U.S. 6th District Court of Appeals disagreed, upholding the rule.
It noted that Judge O'Toole was not a first-time candidate and also had a prior campaign balance, albeit below $100. By comparison, two other 2016 high court candidates had balances of $52,482 and $245,494.
"The rule did not prevent those candidates from amassing resources, and O'Toole has not suggested that the amount either committee retained was insufficient to effectively campaign," Judge Joan Larsen wrote. "The substantial disparities in funds retained by those candidates' committees, the first a justice of the Ohio Supreme Court and the second at the time a judge on the Ohio Court of Appeals, like O'Toole, demonstrates that the rule could not have caused the disparity, since all were subject to it."
Judge O'Toole lost the GOP nomination to then Cincinnati appellate Judge Patrick Fischer, who went on to win in the November general election.
Guidelines: Please keep your comments smart and civil. Don't attack other readers personally, and keep your language decent. Comments that violate these standards, or our privacy statement or visitor's agreement, are subject to being removed and commenters are subject to being banned. To post comments, you must be a registered user on toledoblade.com. To find out more, please visit the FAQ.