ATHENS, Ohio — The University of Toledo football team successfully navigated through the first five games of the Mid-American Conference season, but the Rockets stumbled into a road block Wednesday at Ohio University at Peden Stadium.
Ohio (8-2, 5-1 MAC East) dominated the rushing battle, lining up and running it right at Toledo (8-2, 5-1 MAC West) for much of the night as the Bobcats took control of the game in the second half and earned a 38-10 win.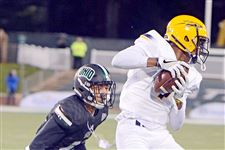 Toledo receiver Jon'Vea Johnson makes a catch against Ohio's Marlin Brooks during Wednesday's game at Peden Stadium.
Athens Messenger/Louise Fish Enlarge
Ohio running back Dorian Brown and quarterback Nathan Rourke rushed for 142 and 115 yards, respectively. Brown had two rushing touchdowns and Rourke had one rushing score. A.J. Ouelette added 70 rushing yards and a touchdown.
As a team, Ohio rushed 56 times for 393 yards as opposed to 53 rushing yards for Toledo.
"It's deflating any time anybody can run on you like that and you give up two 100 yard rushers like we did," UT coach Jason Candle said. "It's uncharacteristic because the last few weeks we have been really good against the run. Give them credit. They played really hard and they did a good job. We got some things we have to get corrected. No one is going to feel sorry for us. We have to go out and play again next week."
UT quarterback Logan Woodside was pressured in the pocket for much of the night, but still finished 24-for-35 for 263 yards and a touchdown. Diontae Johnson caught nine passes for 144 yards and a touchdown.
Ohio sacked Woodside four times, including three by linebacker Quentin Poling.
"I give a lot of credit to OU," Woodside said. "They are a good defense. We shot ourselves in the foot, but hats off to that defense. They have a good defensive front and I have to get the ball out quicker and make it easier on the offensive line. We'll get it corrected. We're disappointed, but if we don't bring it each week, that is what will happen. We didn't come out ready to play tonight."
UT running back Terry Swanson was injured in the second quarter and Toledo never got into a rhythm in the rushing game. Redshirt freshman Shakif Seymour was the leading rusher for the Rockets with 77 yards.
Ohio kept Toledo's offense in check and took advantage of some costly Rockets turnovers early in the game.
In the first half, Toledo forced three Ohio turnovers (two fumbles and an interception), but the Rockets fumbled twice themselves.
Toledo was driving down the field on its opening possession, but after an 11-yard catch, sophomore running back Art Thompkins fumbled and Ohio recovered at its own 8-yard line.
Ohio quarterback Nathan Rourke then hit Papi White on a 58-yard completion. But after a holding penalty, Rourke then fumbled on a hit by UT linebacker Tyler Taafe and Olasunkanmi Adeniyi recovered.
The Bobcats got on the scoreboard first as A.J. Ouellette scored on a 6-yard run to cap a 6-play, 49-yard drive and give Ohio a 7-0 lead with 2:15 left in the first quarter.
On the next Ohio possession, with the Bobcats facing a long third-down, UT true freshman safety Tycen Anderson intercepted a pass along the sideline.
Toledo came up with another red-zone turnover when Jack Linch stripped Ouellette at the end of the run and Ja'Wuan Woodley recovered the fumble.
Then Toledo got a long run from redshirt freshman Shakif Seymour. That set up a 34-yard touchdown connection from senior quarterback Logan Woodside to sophomore receiver Diontae Johnson. That tied the game at 7 with 3:19 left in the first half.
With Toledo driving late in the first half, Johnson caught a 9-yard pass and fumbled, allowing Ohio to return it to the Rockets' 30. The Bobcats then settled for a Loiue Zervos field goal from 44 yards out with 11 seconds left in the half and took a 10-7 lead heading into the locker room.
Ohio took the opening kickoff of the second half down the field for a touchdown. Rourke finished off the drive with a 8-yard touchdown run to give the Bobcats a 17-7 lead with 10:29 left in the third quarter. After a three-and-out by Toledo, Ohio's Dorian Brown rushed 62 yards for a touchdown and stretched the Bobcats lead to 24-7 with 8:03 left in the third.
"It's very frustrating," Adeniyi said. "We knew coming into it they were going to run the ball and that they had a great running quarterback. They have a good running back as well. We just have to get better. We came out here and we didn't play our hardest and we got beat by the tougher team."
Toledo responded on the next possession with a 38-yard field goal from Jameson Vest that cut the Ohio lead to 24-10 with 5:35 left in the third.
On the next Ohio possession, Rourke found Brendan Cope on a 12-yard touchdown strike to increase the Ohio lead to 31-10 with 13:49 left in the game.
Brown scored on a 1-yard touchdown run to give the Bobcats a 38-10 lead with 8:49 left.
"The message to the guys is that you have to play better and when you come on the road you have to play harder," Candle said. "We have to play with better effort than we did tonight. That's not on anybody's shoulders but my own. That's not on the players. That's on me. That's my job to get the team ready to go and that's what we'll do."
Contact Brian Buckey at: bbuckey@theblade.com, 419-724-6110, or on Twitter @BrianBuckey.
Guidelines: Please keep your comments smart and civil. Don't attack other readers personally, and keep your language decent. Comments that violate these standards, or our privacy statement or visitor's agreement, are subject to being removed and commenters are subject to being banned. To post comments, you must be a registered user on toledoblade.com. To find out more, please visit the FAQ.