COLORADO SPRINGS — For most college athletes, each day is consumed by juggling sports and school.
Sports accounts for plenty of time between practice, games, travel, and meetings. Every college student knows the demands of attending classes, completing homework, and studying for exams.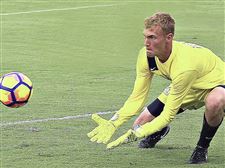 John Wendt, a Sylvania Northview graduate, is the starting goalkeeper for the Air Force Academy soccer team, leading them to a 14-1-3 record and Western Athletic Conference title.
Northview High School graduate John Wendt, a senior goalkeeper on the men's soccer team at the Air Force Academy, said those are not the only demands athletes at a service academy face.
"There's a joke here at the Academy: 'It is a terrible place to be at, but a great place to be from,' " Wendt said in a recent phone interview. "And it's true.
"We can complain about stuff, like having to stay up until 2 a.m. It can stink — but would I go anywhere else? Absolutely not."
RELATED: Wendt plays big part in Air Force Academy's success
The pressures on student-athletes at any service academy are further weighted by demands of the military aspect of life. For example, Wendt said every day begins at 6:20 a.m. to make sure his room is tidy in case there is a surprise inspection, as well as an "accountability" formation before breakfast at 7 a.m.
Many college students try to avoid morning classes, but that's not a choice at the Air Force Academy. Four blocks of classes start at 7:30 a.m. and end shortly before noon. There's no shuffling off to lunch after classes — Wendt said cadets line up in formation of individual squadrons that literally march to lunch.
Wendt said his days also include practicing and lifting from 2 to 6 p.m., followed by dinner, then studying until taps at 11 p.m.
"You can make the decision to stay up after 11 — but it's a poor decision," said Wendt, emphasizing time and sleep are precious commodities.
Freshmen have it tougher, he admitted. He explained first-year students have to run to everything, staying on special tile paths called strips to avoid collisions. They always carry their backpacks in their left hand, and they have to greet every upperclassman.
"The point of freshman year is to beat them down, which I think is a positive thing," Wendt said. "They develop the ability to follow, and it keeps all of us humble.
"Every one of us was amazing in high school, and this is a good introduction to the real world where everyone is amazing. It also gives everyone a chance to rise to the occasion."
Wendt has risen to the occasion. On the pitch, he has backstopped the Falcons to a 14-1-3 record, a first-place finish in the Western Athletic Conference regular-season standings with an 8-0-2 mark, and the No. 12 ranking in the country thanks largely to Wendt's 0.65 goals-against average.
In the classroom, the senior has a 3.1 grade-point average with a dual major in military and American history.
"He would do well at any Ivy League school, at any high academic school, or at any business," Air Force coach Doug Hill said of Wendt. "He's a well-rounded kid.
"The best thing about kids like him is that he'll do great things for our country after he's done playing soccer."
Wendt's course load as a history major at the Academy is different from history majors at most colleges. His core classes include physics, chemistry, calculus, aeronautical engineering, and astronautical engineering.
"They told me I could [major in] anything and become a pilot," said Wendt, who added becoming a pilot was his goal upon entering the academy. "We just had our 'rated drops' a few weeks ago, and I was fortunate enough to be picked for pilot training.
"I'll be going to pilot training after I graduate."
That was no surprise to Hill, who was quick to point out Wendt is one of the team's captains.
"When you come to the Academy, you have to be a follower your first year," Hill explained. "You are told what to do all the time. From there, each person builds their own leadership style. ...
"They don't need to be Patton or MacArthur. John Wendt needs to be John Wendt. And John Wendt does great for our team."
What's more, Wendt said he understands being an athlete in an academy setting is more than just sports and classes.
"There's a bigger purpose to what we are doing," Wendt said. "Winning a game is great, but we've got other stuff to do.
"Academy sports provide opportunities to lead your peers — and represent something greater than ourselves."
Contact John Wagner at: jwagner@theblade.com, 419-724-6481, or on Twitter @jwagnerblade.
Guidelines: Please keep your comments smart and civil. Don't attack other readers personally, and keep your language decent. Comments that violate these standards, or our privacy statement or visitor's agreement, are subject to being removed and commenters are subject to being banned. To post comments, you must be a registered user on toledoblade.com. To find out more, please visit the FAQ.