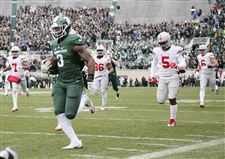 Michigan State's LJ Scott ran for 160 yards against Ohio State last season, but the Buckeyes escaped East Lansing, Mich., with a 17-16 victory.
ASSOCIATED PRESS Enlarge
COLUMBUS — The Ohio State-Michigan State game usually has had a starring role in the Big Ten season since Urban Meyer's arrival six years ago, and this one is no different.
The No. 11 Buckeyes and No. 13 Spartans are tied atop the Big Ten's East Division, and the winner will take sole possession of the lead in the division with two games to play. Barring a total collapse, the winner likely is headed to Indianapolis to play No. 6 Wisconsin in the conference championship game.
Here is how each team can win the game:
Michigan State
1. Reinvigorate LJ Scott. The Spartans' passing attack has been terrific during the past two games, as Brian Lewerke surpassed 400 yards in both weeks. But to beat OSU, the Spartans need a notable game from Scott, who hails from Ohio. He ran for 160 yards in last year's meeting. Largely because of that, the Spartans — a heavy underdog — were a 2-point conversion away from taking the lead late in the fourth quarter.
2. Win Field Position. This is important every game, but especially this week for MSU. The Spartans are built for protecting leads. If they can grab an easy touchdown or two because of field position and force OSU to travel the length of the field all day, their odds are looking good.
3. Stay The Course. MSU has beaten heavily favored Ohio State before. It has the blueprint: Keep it close, don't make any fatal mistakes, and prevent big plays. If that formula worked against a 2015 OSU team loaded with some two dozen future NFL players, it certainly could work again.
Ohio State
1. Don't Panic. When the day took a turn for the worse last week at Iowa, Ohio State's offense collapsed. Wins against Michigan State rarely are pretty, and OSU has to keep its cool, even when it is forced to punt. Against MSU, there is no reason to force anything.
2. Feature J.K. Dobbins. Urban Meyer admitted the six carries Dobbins had last week is not enough, and the Buckeyes should make a concerted effort to involve their best back. Good things happen with the ball in his hands, and he should be seeing 12 to 20 carries per outing — even against one of the best run defenses in college football.
3. Clean It Up. Iowa was excellent last week, but so much of Ohio State's demise was self-inflicted. The Buckeyes are last in the Big Ten in penalties, they turned the ball over four times against Iowa, and their defense was full of blown assignments. Against an MSU team that has built its identity on winning close games, those types of mistakes can be the difference between winning and losing.
Contact Nicholas Piotrowicz at: npiotrowicz@theblade.com, 419-724-6110, or on Twitter @NickPiotrowicz.
Guidelines: Please keep your comments smart and civil. Don't attack other readers personally, and keep your language decent. Comments that violate these standards, or our privacy statement or visitor's agreement, are subject to being removed and commenters are subject to being banned. To post comments, you must be a registered user on toledoblade.com. To find out more, please visit the FAQ.