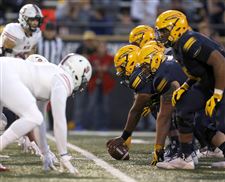 The MAC West race could come down to Toledo and Northern Illinois.
THE BLADE/KURT STEISS
Enlarge | Buy This Image
The Mid-American Conference West division race is heating up. With two games left Toledo is in the driver's seat with Northern Illinois in close pursuit. Central Michigan and Western Michigan are looking to get back in the mix but would need a lot of help from UT and NIU. Here are the current MAC West rankings:
1) Toledo (Last week: 1) – The Rockets suffered their first conference loss in a 38-10 setback at Ohio. However, they are still tied with Northern Illinois for the MAC West lead heading into tonight's game against rival Bowling Green. If Toledo wins out, then they will go to MAC title game.
2) Northern Illinois (Last week: 2) – The Huskies need some help from Toledo to reach the MAC title game. They have a big home matchup today against Western Michigan after routing Ball State 63-17 last week.
RELATED: Shakeup in MAC East Division power rankings 2.0
3) Central Michigan (Last week: 3) – The Chippewas are at 5-2 in the conference after defeating Kent State 42-23 last night. CMU hosts Northern Illinois next Friday in a key MAC West matchup.
4) Western Michigan (Last week: 4) – The Broncos beat Kent State 48-20 last week and have a big game against Northern Illinois tonight. At 4-2 WMU would need a lot of help to get back to the MAC title game.
5) Eastern Michigan (Last week: 5) – The Eagles lost 42-30 to Central Michigan last week and are a disappointing 1-5 in the MAC. They travel to Miami today to take on the Redhawks.
6) Ball State (Last week: 6) – The Cardinals were crushed 63-17 by Northern Illinois last week and look to rebound with their first conference win when they face Buffalo tomorrow.
Contact Brian Buckey at bbuckey@theblade.com, 419-724-6110, or on Twitter @BrianBuckey.
Guidelines: Please keep your comments smart and civil. Don't attack other readers personally, and keep your language decent. Comments that violate these standards, or our privacy statement or visitor's agreement, are subject to being removed and commenters are subject to being banned. To post comments, you must be a registered user on toledoblade.com. To find out more, please visit the FAQ.