With a third-quarter touchdown pass against Bowling Green, University of Toledo quarterback Logan Woodside set the UT record for most career touchdown passes.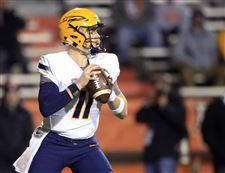 Toledo's Logan Woodside passed Bruce Gradkowski to become the Rockets' all-time leader in touchdown passes during Wednesday's 66-37 win over Bowling Green.
The Blade/Kurt Steiss
Enlarge | Buy This Image
Woodside passed Bruce Gradkowski, who had 85 scoring passes from 2002-05.
Woodside found Jon'Vea Johnson on a 45-yard touchdown strike to set the record, then later hit Diontae Johnson on a 41-yard scoring pass.
On a 31-yard pass to senior Darryl Richards in the Northern Illinois game two weeks ago, Woodside surpassed Gradkowski's career passing yardage mark of 9,225 yards to become the school's all-time leader in that category. Woodside came into the Bowling Green game with 9,551 career passing yards.
"It's crazy to be honest," Woodside said after setting the all-time passing yards mark. "It's something that was a goal of mine since I first stepped on campus here, was to try to go down as one of the greatest quarterbacks of all time. Me and Bruce have always joked about it.
"He's definitely been a big mentor for me. I give him a lot of credit for my success. Obviously there's a lot of great receivers that we've had and we've had a great offense here at Toledo. I'm just going to continue to keep pushing on the rest of the season."
BG HONORS SENIORS: Before the game, the Falcons honored 21 seniors who were playing their final contest at Doyt Perry Stadium.
The players honored were linebackers Nilijah Ballew, Aaron Banks, and Nate Locke; offensive linemen Clark Clancy, Ryan Hunter, Andrew Lucke, and Tim McAuliffe; running backs Josh Cleveland and Donovan Wilson; punter Joseph Davidson; kickoff specialist Nick Fields; tight ends Hunter Folkersma and Leonard Skattebo; defensive backs Ben Hale, Marcus Milton, Matt Robinson, and Tavaraus Wade; receivers Pete Norris, Teo Redding, and Trevor Roop; and defensive lineman Gus Schwieterman.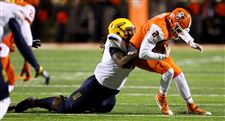 Toledo defensive tackle Marquise Moore, left, sacks Bowling Green quarterback Jarrett Doege during the first half of Wednesday's game.
THE BLADE/JEREMY WADSWORTH
Enlarge | Buy This Image
SEYMOUR TIES RECORD: UT redshirt freshman Shakif Seymour tied a Toledo single-game record with five rushing touchdowns. He scored on runs of 3, 2, 10, 1, and 23 yards.
SWANSON STARTS FOR UT: Rockets senior running back Terry Swanson started after leaving the Ohio game early with an ankle injury. Swanson got off to a good start with five carries for 52 yards on the opening drive and finished with 23 carries for 192 yards.
DOEGE SHARP EARLY: BG quarterback Jarret Doege had a strong first half with 162 passing yards and three touchdowns. He threw two of them to Teo Redding and one to Andrew Clair. He added a 27-yard touchdown pass to Scott Miller in the third quarter.
GAME CAPTAINS: Game captains for BG were seniors Locke, Milton, Davidson, and Hunter. Toledo's were Woodside, Elijah Nkansah, Marquise Moore, and Trevon Mathis.
SERIES NOW TIED: With the UT win, the all-time series is now tied at 39-39-4.
Contact Brian Buckey at bbuckey@theblade.com, 419-724-6110, or on Twitter @BrianBuckey.
Guidelines: Please keep your comments smart and civil. Don't attack other readers personally, and keep your language decent. Comments that violate these standards, or our privacy statement or visitor's agreement, are subject to being removed and commenters are subject to being banned. To post comments, you must be a registered user on toledoblade.com. To find out more, please visit the FAQ.