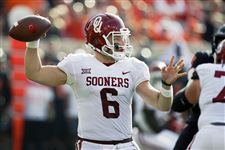 Oklahoma quarterback Baker Mayfield and the Sooners are 10-1 heading into their final game. They play West Virginia to conclude the regular season.
ASSOCIATED PRESS Enlarge
The College Football Playoff Watch will project the country's four best teams each Monday during football season.
Cupcake Week predictably did little to disrupt the order at the top of college football. Alabama and Clemson played guarantee games before they finish the regular season against their respective rivals, and Oklahoma played the worst Power Five program in the country.
The only school that found anything close to trouble was Miami, but the Hurricanes recovered in the second half to keep their perfect record.
In the Big Ten, Wisconsin edged Michigan to stay unbeaten, while Ohio State crushed Illinois. The Buckeyes have now clinched the East Division and will play the Badgers in the conference championship game. Both teams currently sit outside the top four, however, and in OSU's case, it will need some help – and just might get it this week.
But before, here is how the committee should vote after 11 games:
No. 1 Alabama (11-0, 7-0 SEC)
Last week: def. Mercer 56-0
This week: at Auburn
In its highly anticipated battle with Mercer, the Tide scored a narrow 56-point victory. This week is a bit more fun. Alabama travels to Auburn for the Iron Bowl, the de facto championship game in the SEC West. The winner will meet Georgia in the SEC championship game, which is very likely a playoff to gain entry into the playoff.
Everything has gone to plan so far for Alabama, but its two biggest games are yet to come.
No. 2 Clemson (10-1, 7-1 ACC)
Last week: def. The Citadel 61-3
This week: at South Carolina
Clemson, like Alabama, had an easy time with an FCS team. The Tigers already have clinched their spot in the ACC title game, but they can't afford another loss, let alone to South Carolina, a decent team that would love nothing more than spoil Clemson's season. Especially on the road, this is a tricky end-of-season date for Clemson. It doesn't have to be pretty, but the Tigers have to win.
No. 3 Miami (11-0, 7-0 ACC)
Last week: def. Virginia 44-28
This week: at Pittsburgh
There was some nervousness in Coral Gables as Miami struggled with UVa. The Hurricanes trailed 28-14 early in the third quarter, but rattled off 30 unanswered points to end the game and keep its playoff hopes very much alive. Miami only needs to leave Pittsburgh with a victory, then it would face a play-in game with Clemson in the ACC title game.
No. 4 Oklahoma (10-1, 7-1 Big XII)
Last week: def. Kansas 41-3
This week: vs. West Virginia
Oklahoma did not play a guarantee game, it just felt like it. Kansas – which has 15 wins this decade – was easy fodder for Baker Mayfield and the Sooners' offense. If Oklahoma avoids an upset bid from West Virginia, it is headed for a likely rematch with TCU in the Big XII championship game. This path is clear: two more wins and Oklahoma is a lock for the playoff.
Contact Nicholas Piotrowicz at npiotrowicz@theblade.com, 419-724-6110 or on Twitter @NickPiotrowicz
Guidelines: Please keep your comments smart and civil. Don't attack other readers personally, and keep your language decent. Comments that violate these standards, or our privacy statement or visitor's agreement, are subject to being removed and commenters are subject to being banned. To post comments, you must be a registered user on toledoblade.com. To find out more, please visit the FAQ.