The University of Toledo women's basketball team turned up the defensive pressure from the beginning and kept it going throughout in a 68-50 win over Dayton on Wednesday night at Savage Arena.
The Flyers came into the game averaging 73 points per game, but Toledo made everything tough and Dayton stumbled offensively, shooting 30 percent from the field and turning the ball over 19 times.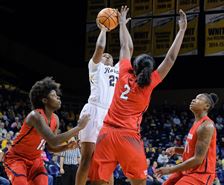 Toledo forward Tanaya Beacham shoots over Dayton forward Jordan Wilmoth Wednesday at Savage Arena. Toledo won the game, 68-50.
THE BLADE/JEREMY WADSWORTH
Enlarge | Buy This Image
"I was extremely proud of the enthusiasm and the effort of our players," UT coach Tricia Cullop said. "Not only to start this game, but to be consistent with that effort and work ethic throughout the game against a very good team was big. We have so much respect for the Dayton program and this has turned out to be a nice in-state rivalry between the two teams. They are coming off a big win over Virginia. They are extremely big and athletic and we had to give them everything we could tonight to get the win."
Junior center Kaayla McIntyre paced Toledo (3-1) with 19 points and junior guard Olivia Cunningham added 10 points off the bench.
"Dayton is a great team and we just knew we had to come out with excellent energy," McIntyre said. "I think that we did pretty well all the way around. We had to play excellent defense. They have a great guard [Jenna Burdette]. We just had to make sure she felt our pressure so she couldn't just easily pick us apart."
Burdette did lead the Flyers (4-1) in scoring with 19 points, but Toledo made it tough on her by hedging on screens and getting in the passing lanes to make it tougher to find open teammates.
"Burdette is a heck of a player and we knew what a great shooter she is," Cullop said. "I think the biggest thing was we were just trying to make her life a little harder tonight, because we have so much respect for her. She can shoot the 3, she can shoot off the dribble, and she's a great passer. We just felt like she is the engine that makes that team go and we just wanted to make her life a little bit harder tonight."
Toledo shot 42 percent from the outside (8-of-19) and had the pick and roll working to perfection with McIntyre benefitting with some easy baskets down low.
"I think Kaayla is really kind of growing into her own," Cullop said. "She's really doing a nice job of setting great screens, rolling hard to the basket, and being a big threat from the inside. The nice thing is we were shooting it that well from the perimeter, so it was hard to double off of her. Kaayla's not afraid to make the extra pass if people double down on her. I'm really proud of how hard she worked and that she was just a big low-block threat."
Toledo came out firing and led by as many as 21 in the first half. Burdette hit a 3-pointer just before halftime and the Rockets took a 36-18 edge into the locker room.
The closest Dayton came in the second half was 16 points after two free throws from Jayla Scaife. But Toledo's Mariella Santucci answered right back with a 3-pointer and Toledo extended the lead to as many as 23 points in the fourth quarter.
Dayton was able to outrebound Toledo 50-33, but the Rockets were able to offset that by taking care of the ball and winning the turnover battle.
"We came out hot and the one thing I was really proud of was that we took care of the basketball," Cullop said. "You look at the turnover battle and it's 19-7 and we only had one turnover in the first half. That's the first time that has happened this year. If you look at the boards it was 51-33. We knew they outrebounded Virginia by about 13 to 15. So we knew that we had to make it up somehow and we made it up by taking care of the basketball. We took good care of the basketball and we executed very well. We got some great looks because our kids are really unselfish and they have really bought into our team style. Twenty-one assists to seven turnovers, I'll take that any night."
Contact Brian Buckey at bbuckey@theblade.com, 419-724-6110, or on Twitter @BrianBuckey.
Guidelines: Please keep your comments smart and civil. Don't attack other readers personally, and keep your language decent. Comments that violate these standards, or our privacy statement or visitor's agreement, are subject to being removed and commenters are subject to being banned. To post comments, you must be a registered user on toledoblade.com. To find out more, please visit the FAQ.