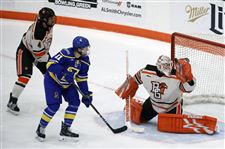 Bowling Green's Ryan Bednard watches the puck in a game earlier this season. Friday Bednard was named WCHA goalie of the month for November.
BLADE/ANDY MORRISON Enlarge
BOWLING GREEN — Two members of the Bowling Green State University hockey team were honored by the Western Collegiate Hockey Association for their play in the month of November.
Sophomore defenseman Alec Rauhauser was named WCHA defenseman of the month, while sophomore goalie Ryan Bednard was selected as WCHA goaltender of the month, the league announced Friday.
Rauhauser led all WCHA defensemen with three goals and four assists in eight November games. He was named the league's defensive player of the week for his play against then-No. 5 Minnesota State when he posted a multi-goal game and a three-point night against the Mavericks.
Bednard had a 1.67 goals-against average in November, the best mark among WCHA goalies. He posted a 2-0-2 record between the pipes for the month and surrendered just eight goals in six games.
Guidelines: Please keep your comments smart and civil. Don't attack other readers personally, and keep your language decent. Comments that violate these standards, or our privacy statement or visitor's agreement, are subject to being removed and commenters are subject to being banned. To post comments, you must be a registered user on toledoblade.com. To find out more, please visit the FAQ.