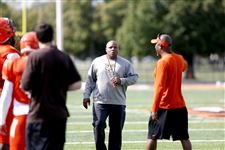 Perry Eliano, center, talks with BG head coach Mike Jinks, right, during a Bowling Green State University football scrimmage at Doyt Perry Stadium in August. Eliano was fired as defensive coordinator of the Falcons on Sunday.
BLADE/JETTA FRASER Enlarge
BOWLING GREEN — The Bowling Green State University football program announced Sunday that associate head coach and defensive coordinator Perry Eliano will not return next season.
"This was a difficult thing to do," BG coach Mike Jinks said in a phone interview. "But it's part of the job; it's the nature of the beast.
"It was evident there had to be a change."
Statistically, the Falcons had one of the worst defenses in the country last season. Bowling Green surrendered an average of 506.6 yards per game, the worst mark in the Mid-American Conference; only four of the 129 other Football Bowl Subdivision schools surrendered more yards per game.
The Falcons allowed 253.3 rushing yards per game to rank No. 126 among 129 FBS schools. The pass defense allowed 253.3 yards per game (No. 104), and the pass efficiency rating of opposing quarterbacks last season was 141.21, which ranked 103rd nationally and 11th in the MAC.
BG also gave up 38.0 points per game to rank next-to-last in the MAC (Ball State allowed 40.7 points per game) and No. 122 nationally.
VIDEO: BGSU fires defensive coordinator
Eliano was in his second season as defensive coordinator for the Falcons. In 2016, Bowling Green ranked 113th in total defense, surrendering 464.3 yards per game, and was tied for 118th in scoring defense by giving up 38.3 points per game.
In 2016, the Falcons set a dubious school record by allowing 77 points in the opener at Ohio State, a number Memphis matched three weeks later. In 2017, BG surrendered a season-high 66 points in a loss to arch-rival Toledo at Doyt Perry Stadium.
Jinks said there were no other staff changes at this time.
"I don't want to overhaul this staff," he said. "This staff has good coaches, good recruiters, and good people.
"I want to keep it intact."
Jinks said the program's next defensive coordinator will come from outside the current staff.
"We will allow him to bring in one of his own guys to our staff," Jinks said, noting FBS coaching staffs will be permitted to add another assistant in 2018, raising the total of assistants to 10. "From there, we'll restructure the staff as need be."
Contact John Wagner at: jwagner@theblade.com, 419-724-6481, or on Twitter @jwagnerblade.
Guidelines: Please keep your comments smart and civil. Don't attack other readers personally, and keep your language decent. Comments that violate these standards, or our privacy statement or visitor's agreement, are subject to being removed and commenters are subject to being banned. To post comments, you must be a registered user on toledoblade.com. To find out more, please visit the FAQ.