ATHENS, Ohio — The University of Toledo women's basketball lost its Mid-American Conference opener Sunday, falling to Ohio 78-61 at the Convocation Center.
Junior Mikaela Boyd led three Toledo players in double figures with a season-high 20 points and 10 rebounds. Junior Kaayla McIntyre added 18 points for the Rockets (9-4, 0-1 MAC), and senior Jay-Ann Bravo-Harriott scored 12 points on four 3-pointers.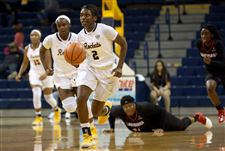 Mikaela Boyd scored 20 points at Ohio, but Toledo fell to the Bobcats in its MAC opener.
Blade/Lori King Enlarge
Dominique Doseck scored a career-high 27 points, including five 3s. Cierra Hooks added 12 points for the Bobcats (7-5, 1-0 MAC) and Taylor Agler chipped in with 11 points.
Toledo struggled to get going offensively, shooting a season-low 28.1 percent (16-of-57) from the field, including 18.2 percent (4-of-22) from 3-point range, and 83.3 percent (25-of-30) from the free-throw line.
The Rockets got off to a quick start, taking advantage of seven points from McIntyre and six by Boyd to take a 13-11 lead after 10 minutes. The Toledo duo shot a combined 4-of-7 from the field and perfect 5-of-5 from the free-throw line in the first quarter.
In the second, the Bobcats used a balanced offensive attack to take a 35-32 lead into halftime. Gabby Burris and Agler led the way with six points each in the quarter, and Doseck contributed five to give Ohio a lead it would not surrender.
The Bobcats scored the first eight points of the third to stretch UT's deficit to double figures, 43-32, at the 8:20 mark. Ohio outscored Toledo 29-15 in the quarter and took a 64-47 lead into the fourth.
UT pulled within 10 points late in the fourth but would get no closer.
Ohio finished the game shooting 42.3 percent from the field, 31.8 percent from the 3-point line, and made 27-of-32 free throws.
The Rockets will return to action at 7 p.m. Wednesday when they host MAC East Division foe Akron.
Contact Brian Buckey at bbuckey@theblade.com, 419-724-6110, or on Twitter @BrianBuckey.
Guidelines: Please keep your comments smart and civil. Don't attack other readers personally, and keep your language decent. Comments that violate these standards, or our privacy statement or visitor's agreement, are subject to being removed and commenters are subject to being banned. To post comments, you must be a registered user on toledoblade.com. To find out more, please visit the FAQ.