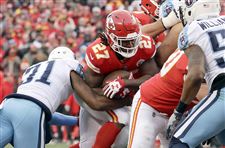 Kansas City running back Kareem Hunt led the NFL in rushing this season.
ASSOCIATED PRESS Enlarge
After leading the NFL in rushing during his rookie season, Kansas City Chiefs running back Kareem Hunt earned Rookie of the Year honors Wednesday from the Pro Football Writers Association.
Hunt, who left the University of Toledo as the school's all-time rushing leader, rushed 272 times for 1,327 yards and eight touchdowns this season. He edged Los Angeles Rams running back Todd Gurley for the rushing title, after Gurley finished the season with 1,305 yards.
Hunt is the first Kansas City player to win the award. He was selected in the third round of the 2017 NFL draft, as the Chiefs moved up to make sure to draft the talented runner.
The PFWA is made up of writers who cover the NFL and its 32 teams daily.
The Associated Press Rookie of the Year Award will be announced Feb. 3, and Hunt is expected to be in the mix for that award as well along with Alvin Kamara, a rookie for the New Orleans Saints who played collegiately at the University of Tennessee.
Guidelines: Please keep your comments smart and civil. Don't attack other readers personally, and keep your language decent. Comments that violate these standards, or our privacy statement or visitor's agreement, are subject to being removed and commenters are subject to being banned. To post comments, you must be a registered user on toledoblade.com. To find out more, please visit the FAQ.