BOWLING GREEN — The Bowling Green State University men's basketball team suffered a loss Saturday to Central Michigan that was easy to explain and painful to experience.
"We relaxed because we thought the game was over, and they took advantage," Falcons coach Michael Huger said. "And that was the ball game."
Bowling Green State University's Daeqwon Plowden tries to power through Central Michigan defenders Innocent Nwoko, left, and Kevin McKay during Saturday's game at the Stroh Center in Bowling Green.
Blade/Amy E. Voigt Enlarge
BG relaxed because it had a 15-point lead with 12 minutes to play, but the Chippewas used a 35-11 finish to claim an 84-75 victory against the Falcons at the Stroh Center.
"I thought we just didn't finish the game," Huger said. "It was on us.
"They took the game from us, sure. But we gave it to them."
PHOTO GALLERY: Central Michigan 84, Bowling Green 75
RELATED CONTENT: BG women fall to Ohio ■ BG hockey posts comeback win over Anchorage ■ Toledo men top Kent State for 5th straight win ■ UT women fall on road at Buffalo
All five starters finished in double figures for Bowling Green (12-7, 3-3 MAC), led by 16 from Rodrick Caldwell. Demajeo Wiggins posted a double-double with 13 points and 11 rebounds in just 18 foul-plagued minutes, while Dylan Frye also had 13. Justin Turner scored 12 and Derek Koch added 11.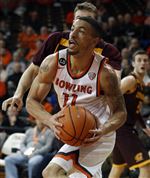 Bowling Green State University's Antwon Lillard takes the ball to the hoop against Central Michigan.
Blade/Amy E. Voigt Enlarge
Shawn Roundtree scored 19 points — all but two coming in the second half — to lead Central Michigan (12-7, 2-4 MAC), while Josh Kozinski collected 11 of his 14 points in the second half. Luke Meyer and Kevin McKay each added 16 for the Chippewas.
While the Falcons held the lead for the majority of the first half, BG's advantage never was greater than six points. CMU led by as many as four late, but a 3-pointer by Frye with 52 seconds left gave the Falcons a 37-34 lead at halftime.
Bowling Green came out red-hot to start the second half, hitting 11-of-14 shots from the floor – including 4-of-5 on 3s – to build a 64-49 advantage after a 3 by Antwon Lillard with 12:21 to play.
But Meyer hit a 3, and Central Michigan was off to the races. The Chippewas hit seven of their final nine 3s, which seemed to spark their defense.
Meanwhile, the Falcons struggled offensively as they seemed to press when asked to match CMU's offensive spurt.
"It may have sped us up a little bit," Turner admitted. "In the back of our heads, we knew we had to have an answer when they were scoring. …
"We just weren't careful with the ball."
Bowling Green made just three of their final 15 shots from the floor and turned the ball over six times, and each miscued seemed to lead to an easy CMU basket. The Falcons finished with 18 turnovers that led to 25 points for the Chippewas.
"They were live-ball turnovers, so they could go down and score — either 3s or and-one baskets," Huger said. "If we have a dead-ball turnover, we can set our defense.
"On live-ball turnovers, they would score in transition. They got hot, and once you see one or two go in, the gates open up."
When asked if Huger considered calling multiple timeouts to stop the decisive run — CMU called a 30-second timeout at 8:24 with the lead cut to nine, and BG called time with 4:56 to play after a 3 by Kozinski gave Central Michigan a 72-70 lead — he said, "You have to save them for the end of the game, too. [In the possessions] after timeouts, we turned the ball over and we had a missed shot and a turnover.
"If you call a timeout and don't score, then you end up with the same problem and no timeouts. Then how do you stop the next run?"
After Kozinski's 3, Bowling Green got a free throw from Caldwell, then turned the ball over on three consecutive possessions and came no closer than three points as Central Michigan, which is ranked second nationally among Division I schools in free-throw shooting, made four of its final five to seal the game.
"We felt we dropped this game," Turner said. "There's a lot we have to clean up."
Contact John Wagner at: jwagner@theblade.com, 419-724-6481, or on Twitter @jwagnerblade.
Guidelines: Please keep your comments smart and civil. Don't attack other readers personally, and keep your language decent. Comments that violate these standards, or our privacy statement or visitor's agreement, are subject to being removed and commenters are subject to being banned. To post comments, you must be a registered user on toledoblade.com. To find out more, please visit the FAQ.