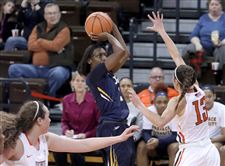 Mikaela Boyd is showing off her versatility this season with 11.7 points, 8.2 rebounds, and 4.3 assists per game.
BLADE/LORI KING Enlarge
University of Toledo women's basketball coach Tricia Cullop knows she is seeing something special from junior point guard Mikaela Boyd this season.
As the orchestrator of the Toledo offense, Boyd is fulfilling her point guard duties by initiating the offense, finding open teammates in transition, attacking the basket off the dribble, and hitting open shots. That is reflected in her statistics, as her 11.7 points per game are third on the team and her 4.3 assists per game lead the Rockets.
But what makes Boyd a unique and versatile player, is her elite rebounding ability from her position. At 5-foot-7, Boyd is mixing it up with the tallest players on the court and is Toledo's top rebounder at 8.2 boards per game.
"Her rebounding is just special," Cullop said. "I've had a few kids in my career in coaching like that. Inma Zanoguera was one of them, too, who was a tremendous rebounder even though she plays the perimeter. It takes someone that outhustles people, that understands angles, that has good quickness to beat people to the basketball, and also has a relentless effort.
"She is relentless and she's so competitive. I can't tell you how many times she has saved us by going and getting an extra possession for us and pulling down an offensive rebound."
In Mid-American Conference play, Boyd is rebounding at a higher rate, ranking second in the conference at 11.6 per game. She had a 19-rebound outing at home Jan. 10 against Ohio and has racked up double-digit rebounds in seven of the Rockets' nine conference games.
Right now, Boyd is a threat to record a double-double in every game, and that simply is not common from a point guard.
In Toledo's win Saturday at Bowling Green, Boyd had 16 points and 10 rebounds in helping the Rockets improve to 14-7 overall and 5-4 in the MAC.
"I only really got into rebounding since I got to college," Boyd said. "In high school, I didn't think about it too much. I know that we need to do it, so I just do my best to get rebounds. I just look at it as it gives us extra possessions, so I just try to rebound as much as possible."
Offensive rebounds often are a direct result of hustle and determination, and Boyd's 50 offensive rebounds on the season lead the team.
"She's always been a very good rebounder," senior Jay-Ann Bravo-Harriott said. "People don't expect her to crash in for a rebound. I think we learned that last year. Her rebounding is important for us, especially on offense because it gives us extra possessions."
Cullop said what stands out about Boyd is her drive to do whatever she can to help the team.
"She knows she is a great rebounder, so she brings that to the table," Cullop said. "She's also a very unselfish kid, so she's not afraid to find the open person. She just wants to do whatever she can to help us win. The great thing about her is she really doesn't care about her stats. She could care less what she has as long as we win.
"Not every kid is built that way, and it's really special to see when your best player is that unselfish."
As Boyd's role with the Rockets continues to expand, her leadership is developing as well.
"I'm definitely still working on it," Boyd said. "I think I've grown since last year, but I still have a ways to go."
Cullop said she does see Boyd leading in her own way, and that has resulted in a great deal of respect from her teammates.
"The area that I've been most pleased in seeing her develop is her leadership," Cullop said. "She by nature is a very quiet kid. She's not quiet because she doesn't understand what's going on; she's quiet because she's very humble and she's always let others step up. It's been neat to see her step up this year as a vocal leader.
"She doesn't have to be loudest person in the room to be very effective. She's someone when she does speak, she has something important to say and the players really respect her. I treasure those moments because she has a lot to offer our program on the court, but also mentally, because she is such a tough kid."
Contact Brian Buckey at: bbuckey@theblade.com, 419-724-6110, or on Twitter @BrianBuckey.
Guidelines: Please keep your comments smart and civil. Don't attack other readers personally, and keep your language decent. Comments that violate these standards, or our privacy statement or visitor's agreement, are subject to being removed and commenters are subject to being banned. To post comments, you must be a registered user on toledoblade.com. To find out more, please visit the FAQ.