ANN ARBOR — C.J. Baird and Rico Ozuna-Harrison are in the midst of every wanna-be basketball player's fantasyland.
The freshmen are walk-ons for the Michigan Wolverines. And their stories aren't your traditional "star high school player is recruited to be a walk-on" tale. Both joined the team under storybook situations.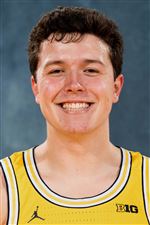 Baird
Baird, a 6-foot-5, 220-pound forward, was a two-time captain at Detroit Catholic Central, where he averaged 15.7 points, eight rebounds, and four assists per game his senior season. Baird's 85 percent free-throw percentage placed him in the top 10 of the state. But the University of Michigan's academic programs were what lured him to Ann Arbor.
Over the summer, however, Baird's high school coach encouraged him to walk on. After meeting with coach John Beilein and then-director of basketball operations Waleed Samaha, Baird was told there were no open roster spots and instead given an opportunity to become a manager. Beilein included the caveat that if a roster spot came open, Baird could try out.
"I was pretty content with being a manager," said Baird, a finance major.
The duties focused on helping practice run smoothly. He would set up and help run drills, as well as do the grunt work that's usually associated with being a college basketball manager — pass out Gatorade, chart plays, clean uniforms, and sacrifice time when friends are doing things college kids do.
In October, when walk-on Fred Wright-Jones, who's attending Michigan on a full academic scholarship, decided to leave the team to focus on school, the elusive roster spot for Baird opened up.
Now, he needed to prove his worth on the court.
"I was pretty excited and nervous to try out," Baird said. "It took a long time to get through the whole process, but it was definitely worth every minute. When coach Beilein walked in the room and said, 'We'd love to have you on the team, C.J.,' my heart was racing, my eyes lit up, and I had a huge smile on my face. I would actually say it was one of the best days of my life.
"When I walked in front of the team, I almost had nothing to say. I was so awestruck. It had taken me so long to finally get this, and I worked so hard for it. At the end of my high school career, I thought my basketball career was over. To get another opportunity like this made it even more special."
Ozuna-Harrison
Ozuna-Harrison's journey from being an everyday student to a member of the basketball team contains a few sharp turns. The 5-foot-11, 165-pound guard from Detroit Cass Tech grew up a Michigan fan and often pictured himself playing for the Wolverines. He realized it wasn't realistic when he arrived on campus, so he went the manager route to be around the game.
Problem is he didn't get the job. So then Ozuna-Harrison backtracked to his original goal and participated in walk-on tryouts at the urging of a friend, joining 17 other hopefuls.
"I just tried to work hard," said Ozuna-Harrison, a pre-med student who hopes to work in osteopathic medicine. "I think that was the most difficult part — exhausting every effort I could to try to get noticed. I knew I played well. It was one of those things where you have a good vibe, but I wasn't sure how it would play out."
The first positive sign for Ozuna-Harrison came when he was asked to be a body at practice, beginning in October. At the conclusion of a December practice, Beilein huddled the team together and told them they had a new teammate.
"I immediately called my parents. I was so happy," Ozuna-Harrison said. "I feel blessed every day. I enjoy going to practice. A lot of times it's the highlight of my day. I get to learn a lot from the coaches and players. They've provided a great atmosphere to practice in. I love my teammates. It's an all-around great experience. I'm just trying to make this moment the best I can make it."
It's also come with newfound fame, at least for Ozuna-Harrison, who said he gets recognized in public on occasion.
"It's pretty cool," he said. "I'm quiet, but when people come and speak to me, I feel the spirit. All the fans at Michigan support us a lot. When someone says, 'Good luck at the game,' I feel like I'm part of something great."
Baird has appeared in two games, recording two points, one assist, and one turnover in seven minutes. Ozuna-Harrison is 0-for-1 shooting with one rebound in three minutes.
"When we give a guy an opportunity to play, it is vetted," Beilein said before the season. "I've been vetting this for two weeks, watching our team. What do we need? It's not just, 'Let's grab a walk-on.' I want a walk-on that can learn, has everything together, has good grades, is a guy we can really embrace, and he is there for the whole year with both feet in."
Beilein needn't worry about Baird and Ozuna-Harrison's intentions. Both players are prepared to occupy a roster spot for four seasons.
"It's honestly surreal," Baird said. "It's hard to describe. As simply as I can put it, I'm living the dream. It's everything I imagined it being. I practice against some of the best players in the country and get to witness some of the best teams in the country. It's even better that I know what's going on. It makes the experience even better because I have a hand in it. I've put my time in at practice and get to see what it looks like on the court."
Contact Kyle Rowland at krowland@theblade.com, 419-724-6110 or on Twitter @KyleRowland.
Guidelines: Please keep your comments smart and civil. Don't attack other readers personally, and keep your language decent. Comments that violate these standards, or our privacy statement or visitor's agreement, are subject to being removed and commenters are subject to being banned. To post comments, you must be a registered user on toledoblade.com. To find out more, please visit the FAQ.